Overview
The Hawksbill loop is a three mile loop referenced as the Appalachian Trail route on the main page. It starts with a steep 700' hike up to the summit in less than a mile, and then winds gradually back to Skyline Drive on the side of the mountain with excellent views. An added bonus to this route is the opportunity to take additional time (if not satisfied with just a three mile hike) to climb up boulder fields and even cliff tops if you are feeling adventurous.
Getting There
As noted on the main page, the trailhead is off of Skyline Drive. If you are coming from the North (which is often the case for Northern Virginia travelers) you must reach the small parking area around milepost 45.6, referred to as the Hawksbill Gap Parking area. If you are coming from the North, you'll see that the trail starts on the right side of the road. There you'll find a route description. The loop trail starts and ends at the Hawksbill Gap parking area. It is much better to start with the trail that heads right up to the summit.
Route Description
The trail to the summit is just short of a mile and is straight-forward. It is in the middle of the woods, without any views of the surrounding mountains. You take it until you reach the summit area, and you'll find a hut. To the side of the hut a sign says, "50 yards to Hawksbill Summit". Take that to get some of the gorgeous views the mountain has to offer.
To get back, you can take the loop via the Appalachian trail which is directly across from the "50 yards to Hawksbill Summit" sign. Along the route it is pretty gradual, with many views of the surrounding peaks. Blue markers along the way will point you back towards the Appalachian Trail. In about 0.8 miles you will reach the AT (signified by two white marks on a tree), and have 1 mile to go. Along this route, in particular the last mile and a half, you will see various boulder fields and even cliffs.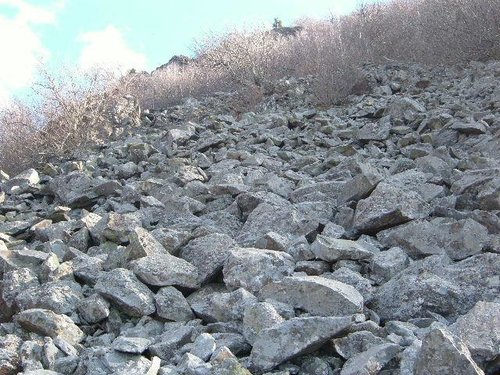 Once you reach the AT, you continue the trail down, and don't be confused by more double white marks near the bottom. From there you have just a couple hundred yards left on the AT. You follow that until you see the Hawksbill gap parking area.
The whole loop should take between 90 minutes to 2 hours. Elevation gain is about 700'.