Overview
Þingvellir NP was founded in 1930, on the 1000th anniversary of the establishment of the Alþing here (see below). It is a World Heritage Site for historical and geological reasons. The name is pronounced "THING-vet-leer."
Though there's some hiking and light climbing, this national park isn't really oriented for the kinds of things that the SP crowd likes. But almost every visitor to Iceland visits it, and you probably will, too.
The park has three kinds of resources: historical/cultural, geological, and biological. First, this is really the most important historical site for the entire country of Iceland, something like the US sites in Philadelphia, Boston, and Washington DC rolled into one. From 930 AD until 1798, this was the site of the Alþing (pronounced "ALL-thing"), which is generally labeled the world's first (or oldest) legislature. It was really something like a giant town meeting for the better-off farmers, as well as a site where both criminal and civil disputes were resolved.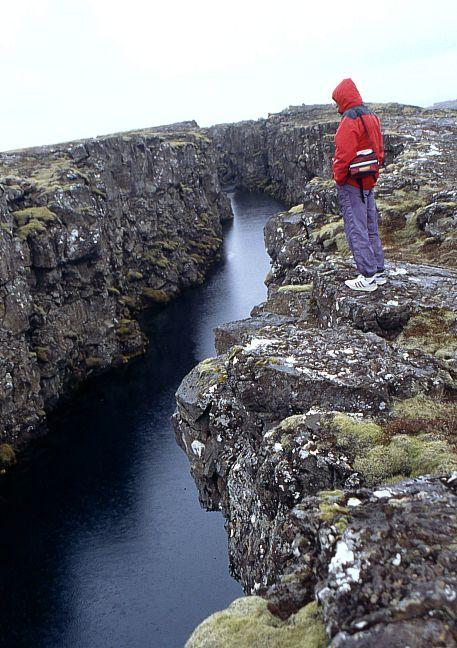 The Öxurá ("Axe River," sort of pronounced "UCKS-oor-ow") flows over the escarpment in a beautiful waterfall before entering a defile and small pool, after which it eventually flows into the Þingvallavatn (Þingvellir Lake, pronounced "THING-vaht-lah-vahtn"). Women sentenced to be executed were drowned in the pool, while men were either beheaded - - hence, "Axe River" - - or, later, hanged.
The park's geological resources stem from its location atop the North Atlantic Ridge, where the North American and European plates are separating from one another. Evidence of geologic activity is everywhere. The region is very scenic, especially the Þingvallavatn, while the visible mountains are some distance away.
The natural resources stem from the intersection of the Öxurá's small estuary, high mineral content in the catchment are of lake, and other features of the surrounding region. As a result, 40% of all of Iceland's species of flora are found here. Four morphs of Arctic char are found only in the lake, as is a species of brown trout that can reach 30 pounds in size. The birdwatching opportunities are also very good (see album).
The park has two visitor centers. The first one, Hakið, you reach first from Reykjavík. It has a series of interactive screens that allow you to choose information about the historical and natural resources of the park, in Danish, English, German or Icelandic. Hakið also serves as the trailhead for the more interesting descent into the Almannagjá gorge, which then connects with a variety of trails. The second visitor center has a gift shop, lunch counter, and is where you purchase camping permits. There are many trails close by but none quite connect with the visitor center and require a little walking on the roads.
There's an extensive network of hiking trails that connects to both visitor centers. The trails connect the two visitor centers, the church and hotel across the Öxurá from the informational center, and two former farm sites: Hrauntún and Skógarhólar. Some trails are accessible to horse traffic, while others are single-track hiking paths (only one boot wide in places).
The two farms both lie inside the Bláskógar (blue woods, pronounced "PLOW-sko-kahr" with the first syllable rhyming with "ow" as in "ouch!"). This is an extensive forest that consists mostly of willows, and it extends some distance to the north and east of the Þingvellir site. The entire forest lies on top of a mix of tundra, sand, old lava flow, and occasional fissures.
Though the hikes were interesting, they weren't particularly scenic compared with other options in Iceland. The birdwatching opportunities were very good, if that's your thing. If your time in Iceland is limited, you probably will want to spend it exploring other destinations than this one. However, this makes for a scenic choice of developed campground.
Getting There
The normal approach is to take Highway 36 from the Ring Road (Hringruntan, Highway 1), just after Mosfellsbær on the northeast side of Reykjavík.
Two roads go further into the mountains from the Þingvellir site. Highway 52, which rapidly becomes unpaved, goes up into the Bláskógaheiði (Blue Woods Heath) between several mountains and ultimately near several glaciers. Highway 365, mostly unpaved, goes east to the "Golden Circle" tourist sites of Geysir, Gullfoss, and Skálholt. It would be easy to arrive at Þingvellir from the Golden Circle from that route, or up from Selfoss by Highway 36.
Gullfoss National Park
Less than an hour's drive away from Þingvellir, in the "Golden Circle" tourist area, you'll find
Gullfoss
("Golden Falls," pronounced "KOOTL-foss). This is a small national park, protecting only the waterfalls and surrounding area. There is no camping there, but there's a developed area further up the (dirt) road.
There is only a short tourist trail out to the falls, but you do want to take that as the view is spectacular. Be careful, it's very wet and can be slippery. Iceland being Iceland, the path also ices up pretty easily when it's cold.
There's usually a very pretty rainbow over the falls.
Camping
Camping is allowed only in marked campgrounds, all of which are accessible by road. The campgrounds each have a building with toilets and cooking sinks, with windbreaks for cooking. Most have picnic tables or similar. You pitch your tent or RV on a large grassy lawn, with no assigned sites as in US campgrounds.
Two campsites are for tents only, and both are along the Þingvallavatn. These are lovely sites, and they attracted a lot of fishing activity when I was there. They also have a lot of loud birds feeding off the fish and the moderately abundant insect life.
The fee for tent camping was IKR 300 per person when I was there, or about 4-5 dollars/euros.
External Links
Þingvellir Official Site
Gullfoss Official Site
Icelandic Environmental and Food Agency
lists the national parks of Iceland—except Þingvellir, which is located administratively under the office of the Prime Minister.
Summit Log
Because Area/Range pages don't normally have a summit log, I've used the work-around here. You can find the log
here
.
If that gives you trouble, go to my profile, scroll down to my summit logs for Thingvellir, and click through from there.
style="display:block"
data-ad-format="autorelaxed"
data-ad-client="ca-pub-6523272176520096"
data-ad-slot="7132222476">