Overview
Gilbert Peak at 13442 feet is the third highest peak in Utah. It is probably the easiest Utah 13000 footer to climb with snow conditions. As the crow flies it is only 9 miles one way from a plowed road. The route described is fairly direct and is 10.8 miles one way. The first 3.1 miles are along an unplowed dirt road. In spring time, you might be lucky and be able to drive part of that making the route even shorter. It is ideal for skiing, but snowshoers might like it too.
Thanks to Mike Berry for telling me about this route.
Getting There
If coming from the west on I80 in Wyoming, take exit 34 and head towards Fort Bridger. Pass through Fort Bridger until you reach a 4 way intersection with Route 414 with a blinking red light. Turn right/south on Route 414.
If coming from the east on I80, take exit 39 and head south towards Mountain View on Route 414. Go straight at the blinking red light.
Just south of Mountain View, turn right onto Route 410. Follow Route 410 for 7 miles until it makes the second sharp right bend where there is a sign for Robertson. At this bend, you go straight onto a very well maintained dirt road #072. Follow this road about 12.2 miles to a big well marked intersection. Turn left onto the road leading to Henrys Fork #017. Follow this road about 7 miles to the Henrys Fork Winter Parking Area where you will find the turn off for the Henrys Fork Campground #077. The road to the campground is not plowed. If the road has too much snow on it to drive, then stop here. Otherwise, continue straight onto #077 as far as you can, or at most 2.8 miles to the intersection with the road going to Hole in Rock #082. Turn left onto #082 and go about .3 miles to Joulious Creek and park. Most likely, you will not be able to drive this far. If you can, then you will probably have to start out on foot via on skis.
Stats
Start elevation: 8972 feet
End elevation: 13442 feet
Elevation gain: 4470 feet
Treeline elevation: about 11000 feet
One way distance: 10.8 miles
Dirt road distance: 3.1 miles
Above treeline distance: about 3.4 miles
Straight line distance from start to summit: 9 miles
Route Description

From the Henrys Fork Winter Parking Area, go south on #077 for 2.8 miles.

Turn left onto road #082 until you reach Joulious creek in about .3 miles.

Turn right off of the road and start heading up, generally keeping the location of the stream in mind, for about 3/4 mile until the terrain starts opening up. I started out on the left/east of the creek and then switched to the right/west. It may have been better to just stay on the right/west the whole time. This 3/4 mile is the only difficult part of the whole trip. There are some steep sections of uneven terrain with closely spaced trees that are not ideal for skiing. However, snowshoers should have no problem.


At about 10000', take a gradual line to the stream bed, trying not to loose any elevation. Then, simply follow the stream bed until treeline. This section is a cross country skiers delight. It was like some one cleared a nice path through the trees just for me. Sometimes the stream bed is obvious, and sometimes it just looks like a wide open spot.


Even narrow sections with open water had enough room on the sides to ski comfortably. I never once had to duck under or step over a downed tree.


There were places where it was so wide and the trees were lined up so nice that it looked like I was skiing on a road. Furthermore, the stream pretty much flows in a straight line, so no time is lost meandering all over the place as in the Henrys Fork stream, about 1.5 miles west, on the way to Kings Peak.


A large meadow is reached at about 10360'. Here you can see the start of the ridge that leads to Gilbert. But, the ridge is so wide that you don't even come close to seeing the summit. There is one last band of trees to cross.


After crossing the band of trees, you need to make your way up to the ridge. I skied up the very end of the ridge towards the right of the picture just above the sparse trees. This section is a little steep, but then it flattens out again and the next 1000' is gained gradually over about 1.6 miles.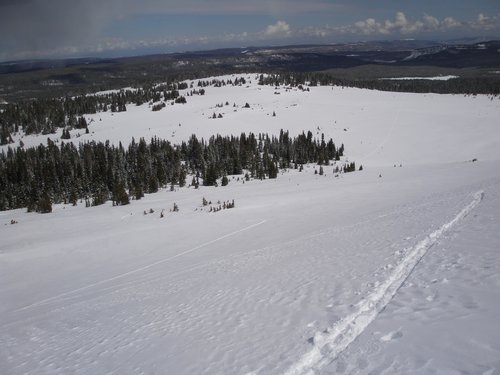 At about the 12600' level the terrain rises steeply for about 80' as seen on the far right of this picture. I was lucky and had abundant snow cover and was able to ski up it, but it is pretty rocky and you might have to take your skis off. The summit is visible on the left of the picture.


Next comes a 200' very gentle vertical gain. There was one short, flat, very wind blown spot with scant snow cover that I had to gingerly walk across, being too lazy to take off my skis. After this, it's a steady 600' climb to the top. The summit itself is almost flat. Unfortunately for me, it was completely socked in when I got there so I had no views from the top. The best I can do is this view of Mount Powell that I took part way up.

Mountain Weather
Click
here
for the forecast for Gilbert Peak.
Click
here
for the forecast for the route start.
Essential Gear
You had better be good at navigation because above treeline, there aren't many features to guide you. If there is a whiteout you may not be able to see your tracks to follow back. I would not do this route without a GPS.
AT gear is overkill for this trip as most of the route is gently sloping. Backcountry touring skis with fishscales work best. My skis are 69-56-63mm wide and I just used kicker skins.
Red Tape
Normal wilderness restrictions apply.
Camping
If you can drive all of the way to Henrys Fork Campground you can camp there for free. It is about .6 miles from the intersection with the Hole in Rock road. There are 4 campsites with picnic tables and firerings as well as an outhouse. There is no water. Otherwise, you can camp at the start of the unplowed road to the campground.
When to Climb
In the dead of winter, you probably want to do this route regardless of using skis or snowshoes, when it is as warm as possible and the weather is stable.
In the spring if you are skiing, you probably can't have both good weather and good snow for this route. If it is too hot, the snow will be mush and in the afternoon, you may be sinking in a foot or so. The best time to go is just after a storm when you will have fresh snow and when typically the temperature has dropped significantly. However, just after a storm, the weather is still likely to be unsettled. I did it in the middle of May of a heavy snow year. April might be a more typical time to do it.
If you are snowshoeing in the spring, then it would be best to find a cold day after it has not snowed for awhile so that the snow is as crusty as possible. However, on the way back, if it warms up, even with snowshoes on, you may find yourself sinking in an unpleasant amount.
Map
Note that the terrain at the very north end of the map isn't as steep as it looks because at that end, the contour interval is only 20' vs 40' elsewhere.