Overview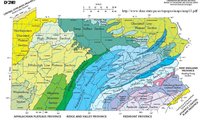 Laurel Mountain is the central ridge in the Allegheny Mountain Section in southwestern Pennsylvania. The Laurel Highlands stretch 70 miles from the picturesque Youghiogheny River At Ohiopyle, PA to the Conemaugh Gorge near Johnstown, PA. The ridge runs southwest to northeast and spans Cambria, Fayette, Somerset and Westmoreland counties. The main feature of the ridgeline is the Laurel Highlands Hiking Trail, which features trail shelters for overnight camping.
The Allegheny Mountain Section consists of broad, rounded ridges separated by broad valleys. The ridges decrease in elevation from south to north and the ridges have no topographic expression at the north end of the section. The ridges occur on the crests of anticlines that have been eroded enough to expose the very resistant rocks that form the crests of the ridges. However, not enough erosion has occurred to breach the anticlines and create parallel ridges such as occur in the Appalachian Mountain Section. The southern parts of these ridges form the highest mountains in Pennsylvania. The valleys are broad, undulating surfaces with shallow to deep stream incision. Relief between the ridge crests and the adjacent valley lowland can be greater than 1,000 feet. Local relief on the broad, valley lowland is generally less than 500 feet. Elevations in the Section range from 775 to 3,213 feet, the highest elevation in Pennsylvania at Mt. Davis.
The Section occurs in southwestern Pennsylvania approximately 55 miles southeast of Pittsburgh and includes all of Somerset County, about half of Fayette and Cambria Counties, and parts of Westmoreland, Indiana, Blair, and Bedford Counties.
Scenic routes across this Section Interstate 76 (Pennsylvania Turnpike) from the east boundary of Somerset County to New Stanton; US Route 30 from the east boundary of Somerset County to near Latrobe; and US Route 40 from Maryland to Uniontown. Similar routes across the Section are: Pennsylvania Routes 31, 711 and 653. Routes providing drives the length of the section north from Maryland are: US Route 219 and Pennsylvania Routes 281 and 381.
Outstanding Geological Scenic Features in the Section include of Bald Knob, Baughman Rocks, Baughman Spring, Bear Rocks, Blue Hole, Blue Hole Spring, Casselman Gorge, Cole Run Falls, Conemaugh Gorge, Conemaugh Water Gap, Elk Rock, Indian Creek Gorge, Jumonville Rocks, Mount Davis, 90-Foot Rocks, Ohiopyle Gorge, Seven-County Scenic View, Suncliff, Vought Rocks, and White Rocks. Also present in the Section are: near 90-foot Rocks - Adams Falls, Grove Run Spring, Flat Rock, Wolf Rocks, and Beam Rocks; near Elk Rock - Cow Rock; near Jumonville Rocks - Fulton Knob and Washington Springs; at Ohiopyle Groge - Ohiopyle Falls and Horseshoe Bend; and near Mt. Davis - High Point Lookout.
Pennsylvania State Parks in the Laurel Highlands: Ohiopyle, Laurel Hill, Kooser, Laurel Summit, Linn Run, Laurel Ridge and Laurel Mountain.
Notes about Maximum Elevation along the Laurel Ridge:
Summit Post Member "desainme" writes,"Laurel Ridge seems to have a maximum elevation of 2936 feet at Bald Knob south of Wolf Rocks and north of the PA Turnpike, but a bit higher a few maps south of the Turnpike at Kooser Knob(tower) at 3060 feet. "
The Laurel Highlands Trail guides claim that the highest point along the trail is 2,950 feet at Seven Springs ski resort. Seven Springs website and ski trail map claims an elevation of 2,994 feet at the top of the North Face slopes near their reservoir, Lake Tahoe. This may be the high point along the Laurel Ridge.
Getting There
The Donegal Exit of the Pennsylvania Turnpkie puts you right in the middle of the Laurel Highlands recreational area.
Red Tape
Hiking and Activities can be done year round.
External Links
In addition to hiking and rock climbing there are lots of fun things to do in the Laurel Highlands, such as white water rafting, both cross-country & downhill skiing and golf.
Refer to these websites for many Laurel Highlands activities:
Laurel Highlands Visitors Bureau
Downhill Skiing:
Seven Springs Ski Resort
Hidden Valley Four Season Resort
Whitewater Rafting:
Laurel Highlands River Tours
Ohiopyle Trading Post
Wilderness Voyageurs
Camping
Regulations
To protect hikers and the trail, the following regulations have been established.
Overnight Reservations are Mandatory
Reservations for the entire trip are mandatory. Reservations can be made up to 30 days in advance, but will not be accepted more than 30 days in advance. Reservations for the use of tent sites and camping shelters along the entire length of the hiking trip will be made on a first-come first-served basis.
An overnight camping fee is charged per night/per individual in the backpacking party.
For current rates, please contact at the park office at 724-455-3744 or call 888-PA-PARKS for a current Pennsylvania State Parks Price Guide.
Contact the park office at 724-455-3744 for reservations and additional information. Summer Season - The park office is open from 8 a.m. to 4 p.m. daily from Memorial Day to Labor Day. Off Season – The park office is open 8 a.m. to 4 p.m. Monday through Friday. It is closed weekends and holidays. However, phone reservations can be made 24 hours a day, 7 days a week through the park voice messaging system. Park personnel will return your call the next business day.
Camping is only permitted in the shelter areas and overnight stays are limited to one night at each shelter area.
Backpacking groups are limited to the use of one shelter at each overnight stop.
A typical shelter can accommodate from four to six campers. Areas adjacent to the shelter are available for setting up campsites for additional backpacking party members. All excavations for wet weather tent drainage must be filled in to the original grade before departure.
One responsible adult (18 years of age or older) is required to accompany each 10 campers.
The responsible adult for each backpacking party must phone the park office prior to starting an overnight trail hike to register the backpacking party. Please be prepared to provide the following information when you call the park office to register your hiking party:
· Group Leader Name
· Group Leader Address
· Emergency Phone Number and Cell Phone Number (if one is being carried during the trip)
· Date(s) of Overnight Stay(s)
· Name of Shelter Area(s) your group will be using
· Name of Entry Point to the trail
· Description of Vehicle(s) left at designated parking area(s) (please do not leave valuables in vehicles)
· Number of people in the hiking party
Backpacking groups are limited to the use of one shelter at each overnight stop.
Park rangers may verify your reservations each night at all shelter and tent areas.
Campers must clean and remove litter daily at: toilets pump platforms and surrounding areas, parking areas and campsites.
Dispose of dishwater in latrines and do not use sinks for personal hygiene. In no instance will dishwater be disposed of on a campsite or in an adjacent area. This causes unsanitary conditions for the camper and the next user of the site. Unsanitary conditions attract skunks, raccoons, mosquitoes, flies and ants.
Fires are only permitted in camp stoves, fireplaces or in designated locations.
Fires must be extinguished when unattended. Leave all ashes in the fireplaces and do no rake them onto the ground. This prevents ashes from entering the shelters during wet weather.
No horses, bicycles or motorized vehicles are permitted on the hiking trail or in the shelter area. Pets are prohibited in shelter areas.
Alcoholic beverages are prohibited.
All garbage must be placed in provided refuse containers.
Refuse containers shall not be removed from designated "pick-up� stations. Burying garbage is prohibited.
Horseplay and climbing onto the roofs of buildings is prohibited.
These activities not only damage park resources and facilities, but also can lead to serious or fatal accidents. When backpacking, hikers can be many hours from medical attention.
Please no frivolous 911 calls.
Laurel Highlands Hiking Trail
This major 70-mile hiking and backpacking trail from Ohiopyle to near Johnstown is the main feature of the park. The trail traverses state parks, state forests, state game lands, other public lands and private lands.
The Laurel Highlands Hiking Trail is open year-round and is blazed approximately every 100 feet with 2-inch and 5-inch yellow blazes. Connector trails lead to and from parking and shelter areas and are marked with blue blazes. Mileage monuments are every mile.
A Hiker's Guide to the Laurel Highlands Trail is available from the Pennsylvania Chapter of the Sierra Club, P.O. Box 8241, Pittsburgh, PA 15217. The guide describes the trail and aids in planning outings. Included in the guide are detailed topographic maps plus information on geology, climate, plants and wildlife.
Large wooden signs mark trail access points at every major highway crossing. Six 30-car parking areas provide starting points and water. In addition, voluntary day use registration booths are located in each of the parking areas and the trail user is encouraged to fill out information cards for vital park Attendance data and for use in the event of an emergency. For overnight use of the trail see below Laurel Highlands Trail Regulations.
Shelter Areas
There are eight overnight shelter areas. One is located approximately every 6 to 10 miles along the trail. Each area contains five Adirondack-type shelters with fireplaces, two non-flush toilets, a water supply and spaces for 30 tents.
In order to better serve you, please participate in our survey about backpacking trails.
Summary of Parking Lots and Trail Shelters
Facility Mile Comments
Ohiopyle Trailhead Parking Lot 0 mi. No water
Ohiopyle Shelter Area 6.3 mi.
Maple Summit Road 11.2 mi. No water
PA 653 Shelter Area 18.5 mi.
PA 653 Parking Lot 18.8 mi.
Grindle Ridge Shelter 24 mi.
PA 31 Parking Lot 30.6 mi.
PA 31 Shelter Area 32.5 mi.
PA Turnpike Shelter Area 38.2 mi.
US 30 Parking Lot 45.8 mi.
US 30 Shelter Area 46.5 mi.
PA 271 Parking Lot 56.9 mi.
PA 271 Shelter Area 56.9 mi.
PA 56 Decker Ave. Shelter Area 64.9 mi.
PA 56 Seward Parking Lot 70 mi. Northern end of the trail. No Water
Hiking Tips
Every hiker's pace varies but a suggested pace of 1.5 miles per hour is average. In general, Laurel Ridge is cooler and receives more precipitation than the surrounding valleys.
Know the climate and weather conditions on the trail. Dress appropriately and layer clothing. Bring extra clothing, rain gear, water, insect repellent, sunglasses, sunscreen, and poison ivy block.
Drink only from provided water sources.
Supervise children in you care. This is particularly important when hiking.
Leave a copy of your plans with friends or relatives. Include contact phone numbers and other important information.
Wear fluorescent orange during hunting seasons when hiking in hunting areas.
Familiarize yourself with the natural hazards of the trail.
Bring emergency equipment like a first aid kit, whistle, compass, matches and a blanket.
Don't forget the camera.