Overview
This is a pleasant, laid-back route that takes the hiker meandering through the woods before striking steeply up the northern slope of Limestone Ridge to the summit. This makes an excellent snowshoe in the early season when you can still drive to the saddle / trail junction indicated at the head of McGee Gulch. Heavy snows will render this hike much longer in distance and elevation gain.
Roundtrip Mileage:
About 3.25 miles
Elevation Gain:
About 700 feet
YDS Rating:
Class 2
Getting There
From Hwy 24, approximately 7 miles east of Johnson Village
• Head north on CR/FS 305 (McGee Gulch Road)
• Follow CR/FS 305 for about 3 miles up McGee Gulch
• Park at the top of the gulch, in a flat plateau area, at the junction with FS 376 (Lenhardy Cutoff Road)
Note that when snowfall is not present, a capable vehicle and driver can continue on the road to the toe of the north slope. However, this section of the road is gated for a winter vehicle closure during snow season.
Route Description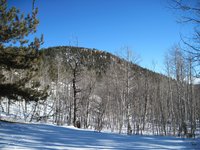 • From the parking plateau, head east on FS 376/Lenhardy Cutoff Road.
• Follow FS 376 for about one mile to the saddle between UN 10350.
• Leave the road at the saddle and begin bushwacking southeast up the northwest slope of Limestone Ridge.
• The off-trail portion begins gently but quickly steepens.
• After less than a half mile of steep hiking through timber, arrive at the Limestone Ridge summit area.
• Search around for the highpoint, which is not readily apparent during snow season.
• Be certain to enjoy fabulous views to the west from a clearing south of the high point.
• Carefully retrace your steps to your vehicle.
Essential Gear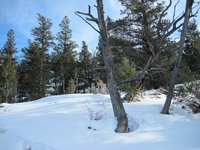 • Trail map (Trails Illustrated #129 (Buena Vista, Collegiate Peaks) would meet most needs)
• Compass
• Sturdy hiking boots
• Snowshoes or skis after a heavy snowfall
• Water and snacks
• A camera to save memories of the high country views
• First aid kit
• Other standard backcountry essentials