Overview
McMenemy Trail is a major artery connecting two major canyons in the
Santa Ynez Mountains
of Santa Barbara, California.
I have written at some length about San Ysidro Canyon and and its popularity with the local, as well as the visiting, hikers and nature lovers. San Ysidro Canyon is also popular with rock climbers because of San Ysidro Rock.
Hot Springs Canyon
is located immediately to the west of
San Ysidro Canyon
and McMenemy Trail connects the two canyons.
McMenemy Trail, however, is much more than a connecting trail; it's a major independent hiking trail in its own right. This trail was deeded to the public by Colonel Logan T.McMenemy. This trail is very well maintained and it offers some of the most impressive views of the Pacific Ocean,
Channel Islands National Park
and the cities of Montecito and Santa Barbara. The trail itself is on mostly low angle terrain crossing San Ysidro Creek once and continuing through a heavily wooded Eucalyptus grove. Finally, it traverses open and scenic hillsides. You are also treated to the birds eye view of the multi-million dollar mansions the city of Montecito is famous for.
Trailside attractions
Route Description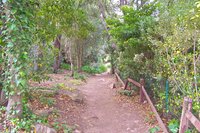 Route description:
Start your hike at the same trailhead as San Ysidro Canyon Trail. Much of this trail is in private property with legal public access. There are several signs to help you stay on the trail as you walk in between two short fences on either side of the trail. For a short while you are walking next to paved road to reach a fire road with a locked gate. Go around the gate and continue up the fire road for a few hundred yards to its junction with McMenemy Trail one half of a mile from the trailhead. There is a sign indicating the junction. Drop down and cross the San Ysidro Creek. This is your only creek crossing.
In less than a quarter of a mile from the creek, the trail heads to the right and up a gully and a small meadow. You may run into a few side trails, but there are a number of trail signs keeping you on the McMenemy Trail. In about one and a half miles and going up some steep switchbacks you reach "The Hitching Post" and a "Stone Bench." You could make this your point of return, or you can continue westward toward Hot Creek Canyon. If you continue on the McMenemy Trail, you will pass by a huge water tank and cross a small drainage as the trail goes up and down on the south side of a hill. After about a half of a mile from the hitching post you will get to your next landmark which is an oak tree. The trail splits at this point. Take the left fork which finally connects with Hot Springs Canyon in another one half of a mile.
How to get to the trailhead
From Highway 101 take the San Ysidro Exit and head toward the mountains. Drive to Montecito Village where San Ysidro Road intersects East Valley Road. Turn right on East Valley Road and cross a small bridge to Park Lane. Turn left on Park Lane and veer left onto Mountain Drive. A short drive up Mountain Drive will bring you to the trailhead sign. Park off the pavement, please. We'd like to keep the access open and free.
Camping
Unfortunately, there are no campgrounds close and convenient to McMenemy Trail.
There is, however, one very large and well developed campground at Cachuma Lake, and a few less developed ones along Paradise Road off Highway 154. There are also a few campgrounds along Highway 101 at El Capitan State Park and Refugio State Park.
El Capitan Beach Camping
Refugio State Beach Camping
Cachuma Lake