Overview
Misunderstanding
is a two pitch crack climb on the north facing cliff at the base of Whiskey Peak. It is located approximately 100 yards right (past as you're approaching) of
Frogland
and just about a similar distance left of
Triassic Sands
. The line climbs varied cracks on pitch 1 followed by a traverse under a roof that leads to a great, wide hands splitter on pitch 2. All guidebooks for the area (Swain, Brock, Urioste, and Supertopo) describe a 2 pitch "version" of this line though Urioste guide mentions that the FA party likely went up 1 or 2 pitches higher but that put them in a dangerously loose gully. As a result, all guidebooks recommend only the first two pitches as described here.
Getting There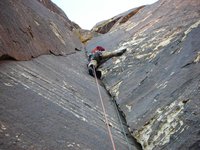 Follow the approach directions on the
Frogland
page. Once above the chossy, red cliff band (that runs below and parallel to the north face cliff of Whiskey Peak) and just about 50 yards below/before start of
Frogland
, find a faint trail that traverses the top of the red cliff band near its edge. Follow the trail and just about 100 yards past Frogland, you'll see the roof-capped dihedral marking pitch one of
Misunderstanding
. Approach time is approximately 30-45 minutes from trailhead.
Alternatively, you could likely hike up to
Triassic Sands
and traverse left from there.
Route Description
Pitch 1:
5.9, 80 feet. Scramble up to the base of the obvious dihedral. Climb easy cracks (5.7-5.8) up to the roof. Traverse left under the roof (crux of pitch) and move up to a bolted stance.
Pitch 2:
5.9, 80 feet. Climb the wide hands crack (on the wide side of a #3 C4 cam) to a small ledge/roof. Step right and move up a few more feet via wide crack/easy face to another bolt anchor.
Descent:
Either rap in one shot with two ropes or do two rappells.
Essential Gear
Cams: 1X #0.5 C4, 2X #0.75-#2 C4, 4X #3 C4 (might be able to substitute a #3.5 Camalot for one #3 but I'm not sure), 1X #4 C4 (optional for top of P2).
With 4 #3's, I did have to "walk" a couple of them up with me ('cause I'm weak).
External Links
(1)
Nice photos and TR
here
.
(2)
Beta page from mountainproject.com is
here
.