Overview
Unnamed Peak 12670 ft (Cats Eye Peak) rises in the Elk Mountains of Colorado near the town of Marble. A trail goes to the 12240 ft saddle to west of the summit of Cats Eye Peak. This trail can be reached from the south starting at Silver Creek Trailhead or North Fork of Lost Creek Trailhead. It can also be reached from the north via multi-day hiking starting at various trailheads.
The route described here via North Fork of Lost Creek Trailhead is longer and has more of a vertical gain than Silver Creek Trailhead but it requires much less four wheel driving. I was able to reach the trailhead in a front wheel drive high clearance vehicle (in dry conditions).
Getting There
Although I was able to reach the trailhead in a front wheel drive high clearance vehicle, the road is officially four wheel drive. Use your judgement. From Beaver Lake at the east end of the town of Marble drive 2.5 miles east on Lead King Basin Road. There is enough space for 2 or so cars to park just before crossing North Fork of Lost Creek, see attached map.
Route Description
This hike is 11 miles roundtrip with 3725 ft uphill (per GPS). Trailhead elevation is 9070 ft.
From the signed trailhead on the west side of the North Fork of Lost Trail Creek, the trail follows the creek north uphill in an aspen forest.
After crossing the creek, the trail goes in and out of forest giving views of The Raggeds to the southwest.
At around 10000 ft elevation, the trail gets on top of an interesting little ridgeline where you can see streams to the right and left.
The trail turns west going into a drainage to the north of Arkansas Mountain. You will go past the signed junction with Buckskin Basin Trail. The 12610 ft Mt. Daly comes to views to the northwest.
Chair Mountain to the southwest.
Meadows.
As you reach the 11300 ft saddle to the north of Mount Arkansas, Cats Eye Peak comes to view.
At the saddle, you will reach the junction with Silver Creek Trail. Turn left and follow the trail up toward Cats Eye Peak.
Looking back south at Arkansas Mountain.
Beautiful alpine bowl.

The trail then makes a number of switchbacks going up toward the 12240 ft saddle.

View of Meadow Mountain.
View of Treasure Mountain.
Cats Eye Peak from near the 12240 ft saddle.
At the 12240 ft saddle, the spectacular Capitol Peak appears to the north.
You can now leave trail heading west toward the summit. Fun hiking on the north side of the crest of the ridgeline, gets you around a series of crags.
Base of the summit.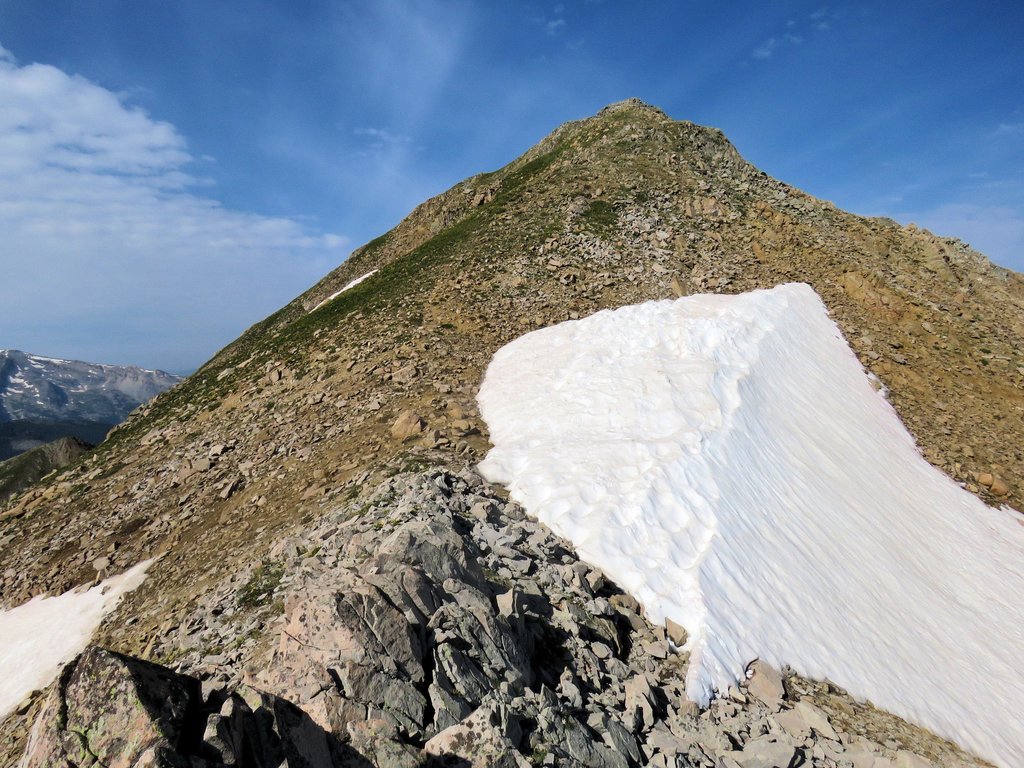 The last piece is a steep pile of rubble.
Views from the summit.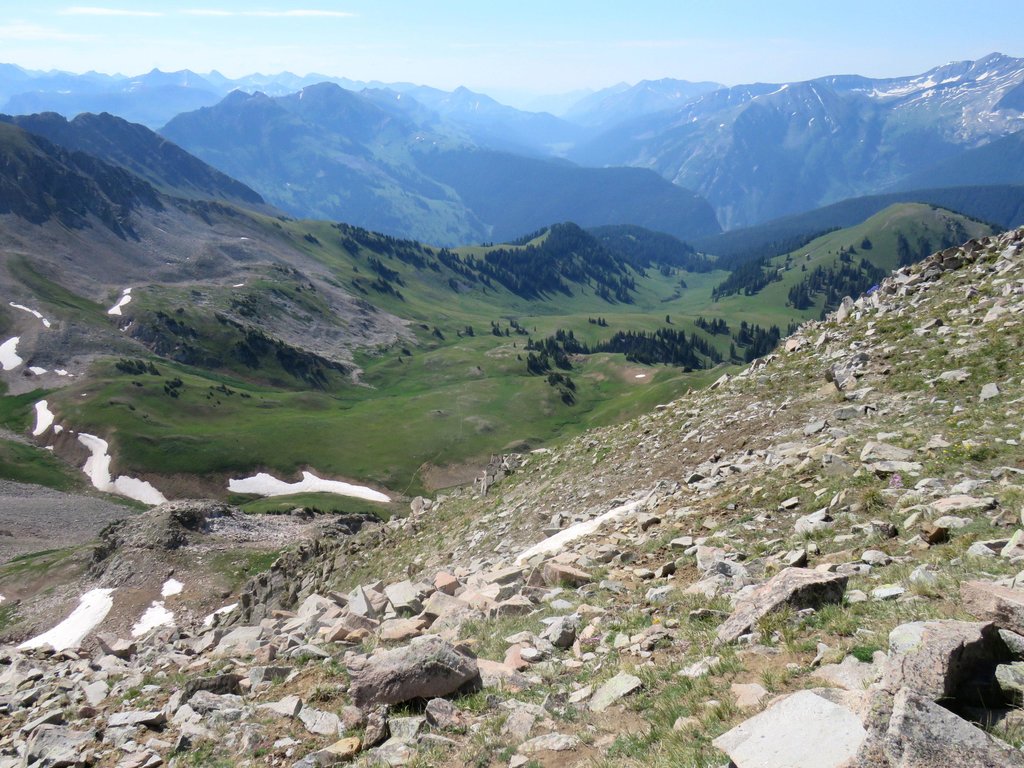 Essential Gear
Hiking equipment.