Overview
This is an exhilarating route to the summit of Winchester Mountain from Low Pass. I have not heard of anyone ascending Winchester via this route previously. It works well to combine in a trip from Mount Larrabee or High Pass, making for a nice end loop. The ridge looks very intimidating from below and can either be climbed up a steep, scree and dirt filled gulley and the knife edge ridge adjacent to the gulley. Be warned, the gulley is steep with rock fall potential and the ridge is very exposed. Both are mainly class 3 but I would rate as having a 4th class crux. Not sure what it would be like to climb with snow.
Route Description
From Low Pass head directly up the steep slope/ridge keeping over the the east side of the ridge heading south towards Winchester Mountain's summit (Winchester's northern ridge). It gets really steep really quick. At first you need to grab heather and small trees to prevent yourself from slipping, especially when wet. Very slippery and would be hard to descend. Continue up through a cliffy section to what looks like a gravel trail. Follow this trail (game trail?) to a knife edge ridge. Here you can either drop down into the gulley to the west or continue up the ridge with a ton of exposure and nice views of Low Pass (plus people can easily see you). Variation: You can also traverse west around the ridge and follow the scree and dirt filled gulley all the way up. Not as fun as the ridge, but probably best for those who don't like exposure. Then, either ascend the gulley all the way up, past a chockstone (the crux of the gulley route) or ascend the ridge up to the top where it levels out. The ridge route has one section that I would call 4th class at about the same elevation as the chockstone. Once ascended the gulley or ridge, follow the ridge to the clearly visible summit of Winchester. We ascended the final steep section of the actual summit on the east side and it went easy. A short jump, skip and a slip and you at the lookout. Have a nap if you want.
Essential Gear
A rope might be handy for those not comfortable on 3rd borderline 4th class. Ice axe and crampons any other time of year than summer.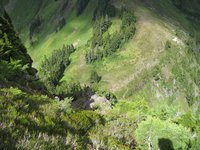 External Links
Add External Links text here.