Overview
The Northeast Spur is probably the best route up the peak from the east. Because of all the elk in the area, there is only very minor bushwhacking. The northwest or southeast ridges are gentler, but may have access issues.
Getting There
From Highway 40 about two miles east of Maybell, turn south on County Road 57 (the road is signed for Price Creek). Follow this paved county road south to the junction of County Road 23, which is on the right. From the junction, continue along the paved County Road 57 south a very short distance to where the road begins to drop off a steep hill. Park before the road drops down the hill.
Route Description
From where you parked your vehicle, notice the two fences (also see the rather hidden "Entering Public Lands" sign on the opposite side of the road). The fence parallel to the road is the county road right of way fence and the fence running perpendicular to the road marks private land. The land to the north of this fence is private while the land to the south of the fence is public. Please stay on the public land at all times.
From the car-park, head west along the little valley and towards the obvious spur. There is brush around, but look for elk trails. Hike up to the spur. If you get caught in the brush, rather than try to bash up it, look around for an elk trail that will take you through.
You can follow this steep spur to the summit ridge. Once you are half way up, the spur gets steeper, but the elk trails are more defined. Simply follow the spur up until it fades away near the cliffs. The steepest part of the climb is the final slope to the Northwest Ridge, but it's a pretty easy scramble. Once on the NW ridge, follow it SE to the summit.
The route is only 2/3 of a mile long with over 1000 feet elevation gain, but there is no marked trail and parts of the route are quite steep.
Also, from the summit consider following the Southeast Ridge south for a ways in order to get a good look at the
interesting badlands
.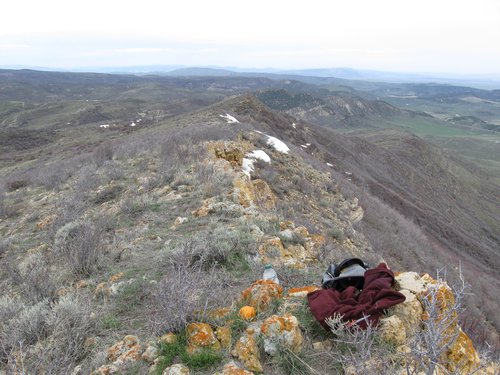 Essential Gear
A good pair of boots is needed.