Overview
The Pyramid Buttes aren't too high for the Bitterroot Mountains, but they're still fun for a moderate day out or novice climbers. I don't know anyone who has summited Pyramid Buttes, but I'm sure there are a lot of people who have. This is the route I stumbled across on my first attempt to climb the Buttes. I did it with the upper lakes still frozen and lots of snow so I'm not sure how the route is in the summer (without snow). Any beta/other routes from people who have summited would be great.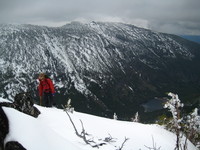 Getting There
Hike up the Sweeney Ridge trail. You will pass Peterson Lake with some nice camping sites. The trail fades out after Duffy Lake on the alpine slopes just below Mills and Holloway Lake. Use your best judgment as to when to leave the trail as a nice snowpack will allow you to take a more direct route.
Route Description
Look for the large couloir on the west side of the mountain. The couloir tops out on the ridge and then it's a short ridge walk to the east summit. Continue to follow the ridge to the west summit if you want.
Essential Gear
Sturdy hiking boots, gaiters, ice ax, a sense of adventure, and all the other essentials.