Overview
This is a little route that Rob Kennedy & I did on January 10, 2010. To our knowledge, this particular route had not been completed before, & likely for good reason- this route is characterized by terrible rock, questionable to non-existent protection opportunities, committing sequences that would be undesirable to reverse, and if you encounter conditions like ours, a thin layer of snow over slab. Once you start, rappelling is likely not viable. Doing this route late winter/early spring would likely have conditions much more conducive to climbing (i.e. a reliable layer of solid snow, as opposed to the thin layer of powder we encountered). For comparison's sake, this is considerably more difficult than either the standard W ridge (recommended descent) or Crescent Moon Couloir.
The Approach
Start at the Sno Park (Sno Park pass needed) located at Carson Pass. Follow the well-worn ski/snowshoe tracks south, past the Elephant's Back (on your left), to Winnemucca Lake. Good camping here, should you so desire. ~1.5 mi.
Directly past Winnemucca Lake, head up & left, where the approach to both the standard route (W ridge) & Crescent Moon Couloir go right.
Some steepish (if you're on skis with skins, anyway) ground heads up to a broad, low-angled ramp that goes to the left, at a manageable grade. You'll be heading straight for Round Top's impressive east ridge. Continue past the obvious northeast ridge, on your right. When this ends, you'll abruptly enter a broad valley.
Head up this valley towards the head of the cirque. Hang a right and head uphill, going below, & parallel to, the east ridge. I would be extremely careful in this area if avalanche conditions were at all suspect.
The slope gets steep at a fairly distinguishable point. Stash your skis/snowshoes here, as well as any other stuff you don't want to climb with. Head up steepening snow slopes to the obvious buttress- the start.
Route Description
P1
Now comes the interesting part. Start up the buttress (the snow slope at its base is the logical place to do the first belay from). Our starting point began at a small, upwards-right trending ledge- once the leader attains this initial section, if the rock we encountered is still present, there is a thin crack that can take a pin. A steep gully that goes all the way down to the bench below is below this point.
Head up the buttress to a small ledge.
From this small ledge, traverse right (where it is most logical) and slightly up on unobvious holds. Crampons beneficial. If you're lucky, you'll find a few cracks for pro'. When we were on this, it was powder-covered rock.
Past this traverse, take a somewhat steep yet manageable snow slope up & right to a notch in the northeast ridge. "Belay" here. If you're lucky, the snow here will be consolidated enough to put in some reliable snow pro' for an anchor. If conditions are similar to what ours were, put in unreliable snow pro' for an "anchor."
P2
From the belay, go straight up the steepening snow slope above to an obvious step, 20 - 30 ft. above. This almost-vertical step is the first crux of the pitch; stemming is useful here, & protection unlikely. The step above this is the 2nd, and overall, crux of the pitch. Potential psychological protection opportunity here. Surmount this to the decent ledge on top; committing mantle likely (falling here not suggested).
Traverse right and up on snow, underneath a short rock band. Gain the ridge above. Follow this to a short rock step (climber's left) that leads to low angle slopes above. Small pine grove here provides a useful & solid belay.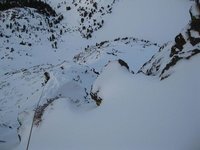 Last part
Go up & over slope directly above belay. Cross the obvious saddle to the summit dome. Go up to true summit.
The Descent
Taking the standard route (west ridge) down, followed by traversing back to ski/snowshoe cache, is recommended.
Recommended Equipment
Crampons, ice axe, 60 m. rope, tool with hammer head, 1 set of small to medium nuts, small selection of thin to medium pitons (Lost Arrows & knifeblades most useful; there were 1 or 2 places where we managed to find a place for an angle as well), a few pickets/flukes for snow protection (if available).