Overview
Oyster Dome is a Chuckanut classic rock outcrop located near Bellingham. The rock outcrop only has 145 feet of prominence from the higher Blanchard Mountain but is the only drawback being on this summit. The true summit as pretty much no view through the trees however there is a nice small outcrop that looks off to the northeast east nearby. To the west of the summit a stunning rock outcrop is home to incredible views of the San Juan Islands, the Puget Sound and into Canada. This would be an excellent sunset hike as the picture below will show. It is very popular year round and attraction people of all abilities and you will usually all different types people on this trail even if the weather is not great.
Oyster Dome can be approached as either a simple walk up or
high Class 5 rock climb
. Both options can be done on this excellent rock outcrop which is home to solid granite similar to nearby southern neighbor Mount Erie. The hike from the Puget Sound features a 6 mile; 1950 foot elevation gain hike to the top of the Dome with options for more is one is interested in summiting the highpoint of Blanchard Mountain as well. The elevation gain can be greatly reduced if the Samish Bay Overlook is open. During of the summer of 2013 this trailhead though was closed due to logging in the region.
The Samish Bay Overlook has since reopened
as a shorter option to Oyster Dome and the view is still as good as always.
Directions to the Trailhead
VIA THE TRAILHEAD BY THE PUGET SOUND: From Duseks
Head South from Bellingham on Chuckanut Drive (State Route 11) until just past milepost 10 (just past Chuckanut Manor). In a general sense remember that this hike is up Blanchard Mountain which is just south of Chuckanut Mountain (though they are really the same thing), so you will have driven past much of Chuckanut Mountain. The trailhead is on the East Side of the road and hard to see. Look for parked cars.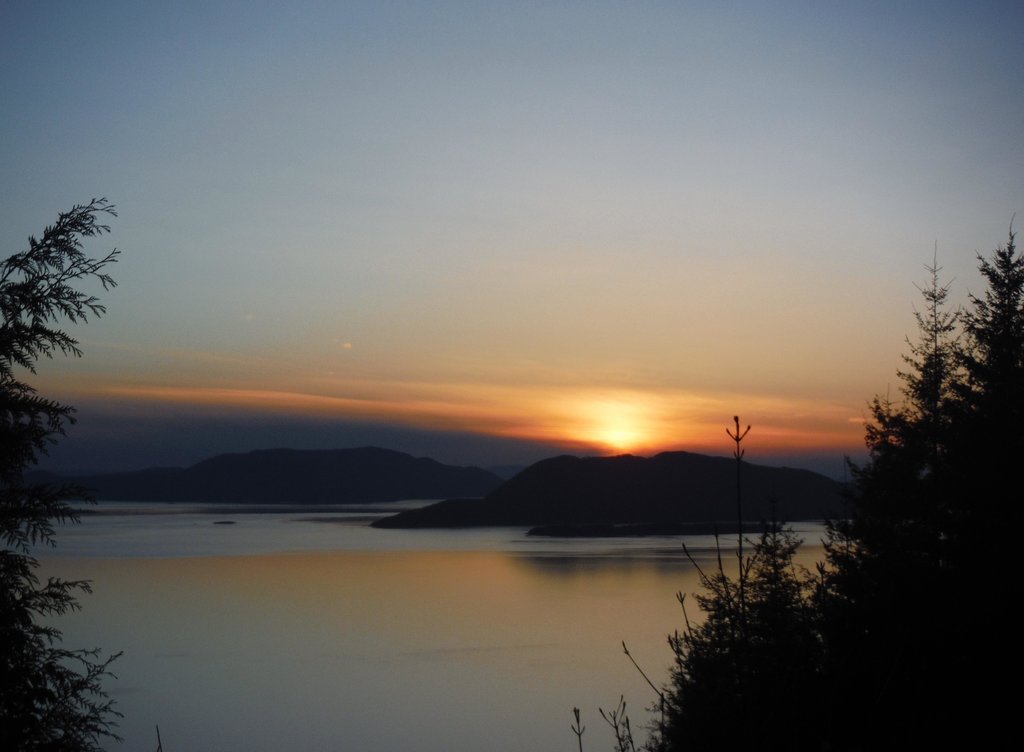 VIA THE SAMISH POINT TRAILHEAD: From I-5 get off on Exit 240 and west on Lake Samish Road. At 0.7 miles make a left onto Barrell Springs Road. At 0.7 miles make a right onto Blanchard Hill Climb road where the road will eventually become a gravel road. Take that road all the way to the Samish Point Overlook where good views will await.
Route Description
This trail is part of the Pacific Northwest Trail which, in bits and pieces, goes all the way to the continental divide. This is its West terminus. For more info on the Pacific Northwest Trail
Click Here
. The trail switchbacks up for about a mile through dense forest, gaining about a thousand feet. At this point (and it is easy to miss) it forks. The right for leads to the Hang-Glider launch and excellent views of Bellingham Bay and the San Juans seen
here
. The Left fork takes you to Oyster Dome and the Bat Caves. Take the left for and follow the trail for another mile until you reach another fork this time the left fork will lead to the Bat Caves (where there is also a bolted sport climb, I'll add more info later), and the right for will take you to the famed views atop Oyster Dome seen
here.
The last section of trail is steep before going to the Oyster Dome turnoff and can become treacherous when wet. The trail has been majorly renovated from the WTA and is in much better condition now. The top of Oyster dome itself is a place to use caution especially when it is when. The slab are mildly angled and if wet or icy they can be death traps. When dry they are not bad and footing is general good on them. A fall from Oyster Dome though is going to be fatal, so be smart when you're up there.
It is also possible to drive to the Samish Bay Overlook (hand gliders launching areas) and proceed from there. This cuts off over a mile and a thousand feet of elevation gain. The Samish Bay Overlook is also very pretty in its own right and it is a great place to watch sunsets.
Essential Gear
What you gear you will bring will determine what you are doing. If you are just hiking up to the top of Oyster Dome than you will just want to bring essential hiking gear and sturdy shoes. However if you are rock climbing make sure that you have the proper gear for the potential route that you are doing. There are some routes on the Dome that rank up to 5.13 in difficultly so know your routes well.
Red Tape
A Discover Pass is required in order to use both trailheads.
Camping
Lily Lake is an established backcountry camping area located only a mile from the summit of Oyster Dome. Though lake can be popular on weekends being so close to Bellingham but would make a great introductory backpacking destination to anyone.
External Links
Special Thanks
Special Thanks to Duseks the original maintainer of this page for putting up this beautiful rock and overlook.