Overview
I write the route of South ridge because is the most beautiful and for this reason is better the climb of Piskerra in first time descending from La Gorra across the North ridge. It's possible to walk from North to South but I think that you enjoy much more in direction South-North.
Getting There
See the main page to approach to trailhead of Cabaña de Piskerra
Route Description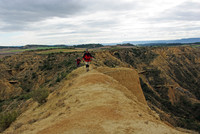 You climb Piskerra across its normal route crossing the labyrinth.
From the summit of Piskerra you must descent across its East face using a steepy path between both summits to reach the green field below the peak.
Your second target is Angarillones, a rounded and wide peak in left side with the white vertex in the summit. You walk using differente path to connect the fields to reach the track just under the S.E. ridge of the peak. You walk behind it in right side always in paralel to the ridge. You can walk over the edge if you like it but it's not necessary because it's not the real summit. You reach the bottom of the summit but you can walk in right side to enter to a less steepy area to attack the hillside of left side. In the summit of Angarillones the landscape is wide and interesting.
You descent from Angarillones to a new wide area with more green fields and you must walk always with the reference of the edge of left side to reach the bottom of the nice South ridge of La Gorra. It's the most beautiful area walking in a narrow shoulder over the ridge (you must be careful with rain because the fall is dangerous). You reach a first summit (461m) but you descent to a little col to attack the last ridge to the summit. In this point is a good idea to walk with a few of meters between the people to enjoy taking pictures with the impressive fall in West side. The summit is really narrow and you must be careful to walk over it.
For the return to the car you follow the North ridge until the descent to a good track. The track goes in direction to the crosspaths between Rallón and Piskerra but in the middle you can find a track to right side connecting with the track that goes to left side to the car.
Essential Gear
Boots. A pair of cans are very useful to walk in the ridges with security.
External Links
Add External Links text here.
style="display:block"
data-ad-format="autorelaxed"
data-ad-client="ca-pub-6523272176520096"
data-ad-slot="7132222476">