Overview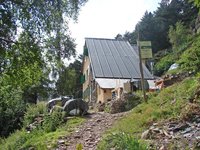 Refugi Vall Ferrera
Areu
-Propietary:
FEEC (Federació d'Entitats Excursinoistes de Catalunya)
web:
www.feec.org
-Reservation: Tel: 973 624 378 12:00 to 16:00
-Open: June to October.
-Places: 50 (or even 60) after the new construction (before only 21).
-Winter (Not kept): 21 places (?, I don't know after the works).
-Service: lunch and breakfast
-W.C.: yes
-Showers: yes
-Web:
Refugi Vall Ferrera
-Nearby refuges (not all with keepers): Baiau, Estany Pinet, Baborte and Broate.
-Trekkings: G.R.-11,
porta del cel
.
-Climbs: Pica d'Estats (3.144m), Sotllo (3.073m), Pica Roja (2.902m), Romazet (2.857m), Baborte (2.936m), Monteixo (2.905m), Tres Pics (2.651 m).
Getting There
Vehicle: Road from Llavorsí to the end in Àreu. Bad forest track from there to the end in pont de la Molinassa (1.806m). From there you must walk 15 minutes across G.R.-11 to refuge.
Walking: Àreu (3h 30min), Baiau (2h), Baborte (3h), Boavi (6h), Broate (across Port Sotllo) (8h) and Estany Pinet (7h).
External Links
Pirineos 3000

madteam.net
porta del cel