Topographic isolation: 15 km
Nearest higher peak: Obersberg (1467 m)
Prominence: 638 m

Overview
Reisalpe is the highest mountain of the Gutenstein Alps (Gutensteiner Alpen in German). It is 1399 meter high. The prominence of the mountain is 638 meter. With this value it ranks #9 on the prominence list of Lower Austria.
This is a limestone mountain, but generally it can't be seen for the first look because it is mostly covered by forests and by meadows. The only place where the bare limestone rocks can be seen are on the northwestern rim of the summit plateau.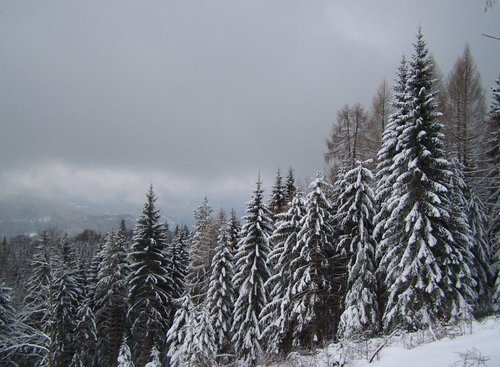 Reisalpe was a favourite tourist destination already in the 19th century, and still it visited by many people in all seasons of the year. The tourist hut on the peak - called Reisalpen Schutzhaus - was opened in 1898, and on the opening ceremony there were 700 people! Most of them were hikers from Austria. Now the mountain is visited mostly by hikers, by ski mountaineers and by snowshoe walkers. The popularity of the mountain can be explained by the fact that it's only 70 km far from Vienna (1 hour's driving time).
The Peak
The top of the mountain is a grassy plateau, with steep hillside on the northwestern side. There is a 4 meter high summit cross on the peak. Nearby there is the Reisalpe refuge hut.
The peak offers a wide panorama view around. This panorama view is famous in Lower Austria because in good weather very distant mountains can be seen from here - even ones that are in the neighbouring countries of the Czech Republic and Slovakia.
This is the panorama around:
xxx - Northeast: Hochstaff (1305 m) in 3 km distance and Záruby (768 m) in 143 km distance
xxx - East: Unterberg (1342 m) in 12 km distance
xxx - Southeast: Schneeberg (2076 m) in 24 km distance
xxx - South: Rax (2007 m) in 30 km distance
xxx - Southwest: Göller (1766 m) in 22 km distance
xxx - West: Ötscher (1810 m) in 36 km distance and Großer Priel (2515 m) in 123 km distance
xxx
- Northwest:
Großer Peilstein
(1022 m) in 57 km distance
Hochstaff
I must also mention Hochstaff. It is a 1305 meter high mountain in northeast direction from the summit of Reisalpe, in a distance of 3 km. Though Hochstaff is a bit lower mountain than Reisalpe, it is more impressive than Reisalpe with ist steep hillsides and with its pyramidal shape.
Nature
Except for the forested areas the mountain looks to be a little bit overgrazed by cattle. Nevertheless the Alpine climate is so favourable for the flora and fauna that local nature can still produce good things even in these conditions. Some examples:
Routes
There are several marked and unmarked routes leading to the summit of Reisalpe. Let me list the most popular ones:
| | | | | |
| --- | --- | --- | --- | --- |
| Direction | Trailhead | Trailhead elevation | Distance | Net elevation gain |
| Northeast | Ebenwaldhöhe | 1020 m | 5 km | 380 m |
| Northeast | Kleinzell | 480 m | 8 km | 920 m |
| Southeast | Kumpfmühle | 545 m | 6.5 km | 855 m |
| Southeast | Hohenberg | 475 m | 7 km | 925 m |
| Northwest | Lilienfeld | 383 m | 16 km | 1015 m |
If you start from Kleinzell or from Lilienfeld, then you can also admire their beautiful historical buildings:
Weitwanderweg 04
- that is one of the long distance hiking tours of Austria.
For a good online map of the area please click
here
Tourist Hut and Campings
Tourist huts
:


Reisalpenschutzhaus
(1397 m a.s.l.)
On the summit of Reisalpe
+43 680 1233 924
http://www.reisalpe.at/107536783

Ebenwaldhütte
(1000 m a.s.l.)
Address: Ebenwald 30, 3171 Kleinzell
+34 2766 3212
E-Mail:
gertrude.thalhammer@gmx.at
Campings:


Auwerk Camping, Hainfeld
(400 m a.s.l.)
Address: Gölsen 39, 3170 Hainfeld
+43 676 7390 031
http://en.camping.info/austria/lower-austria/auwerk-camping-19451/location


Voralpen Camping, Kleinzell
(510 m a.s.l.)
Though this camping is nearest to Reisalpe, this place is a bit "suspicious" for me. A few years ago I spent here a night. I didn't find the Reception, and I didn't find free parcels for tents - just long term mobilehomes. Finally I erected my tent in the forest in front of the gate of the camping...
Address: Kleizell 14, Kleinzell 3171 Kleinzell
+43 664 2340 933
http://en.camping.info/austria/lower-austria/voralpencamping-kleinzell-19296


Terassen Camping, Traisen
(410 m a.s.l.)
Address: Kulmhof 1, 3160 Traisen
+43 (0) 27 6262 900
http://www.camping-traisen.at/en/