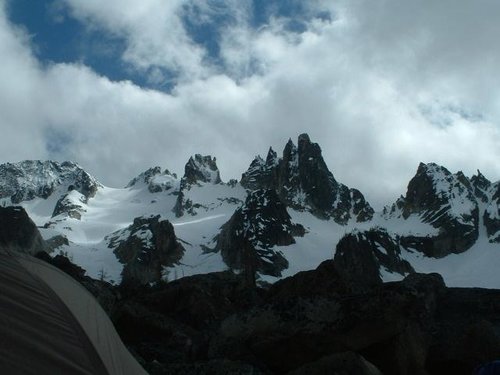 Overview
In the spring while there is still good snow cover, approaching Silver Star Glacier from the north via Silver Creek is a great ski or snowshoe trip and an excellent alternative to the shorter, but much steeper Burgundy Col approach. Camping in spring conditions can be done most anywhere in the upper basin of Silver Star Creek and the views of Vasiliki Ridge, the Wine Spires, and Silver Star Mountain are well worth the trip. Later in the summer, considerable brush, scree and steep talus make this approach less pleasant.
Approach
There is parking at Silver Star Creek on the North Cascades Highway. From the parking spot, a trail leads about two miles up the east side of the creek. When the trail disappears, trend westward across the valley then climb more open talus slopes toward Burgundy Spire. Where the terrain allows, traverse easily to the glacier. Beckey reports that there are reasonable campsites with water above the creek basin at about 6400 feet on this approach.
With snow cover, it is still easiest to travel on the east side of Silver Star Creek for the first several miles. Once in the upper basin of the creek, travel and camping are possible most anywhere (remaining aware of avalanche hazard).
Route Description
Climb the glacier to the prominent col to the west of the summit. From the col, scramble to the summit. Early in the season, the summit ridge will be mostly steep snow. Snow free, it is a Class 3 scramble.
Early Season Climbing Photos
Essential Gear
Normal glacier travel gear. Skis or snowshoes in early season.