Overview
Wonderful route that can be done during a day for the more trained skiers.
For those who want a relaxed way, it's advisable to stay at the Cabane de Dix (2928m), located more or less at the half way up.
Along various up and down, the drop is about 2000 meters. From Arolla village (1998m), a comfortable skilift, that opens at 8.30 am allows to earn about 400/500 meters.
The itinerary is very long because it covers 3 different sides of the mountain, and cross two steps. The first, the Col de Chèvres (2855m) is certainly the most annoying, where an iron ladder descend for 50 meters to the glacier.
The second, the Col de Cheilon (3243m), can be crossed easily skiing.
The ski itinerary, usually finish on the top of the secondary summit. 3827 meters.
For those who want to reach the main top, where the difficulties are more, add at least one hour more.
The route
From Arolla, follow the ski pist, keeping the skilift on the right side. At the and of the pist, follow the flat valley that leads to Col de Chevres.
From the pass descend the iron ladder for more or less 50 metres. From the base of the ladder, the mountain is visible and also the Col de Cheilon at the foot of it.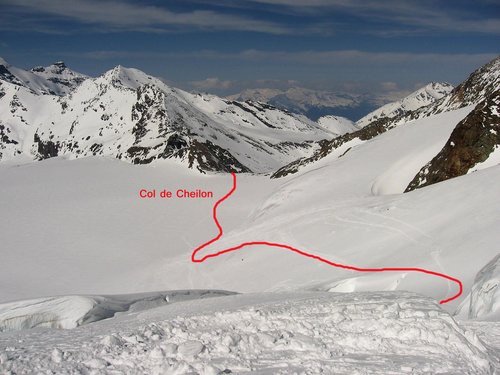 In case of overnight stay, the refuge is placed an a hill above the glacier(your right side).
From the refuge, follows easily the ski tracks untill the Col de Cheilon. From here, reach the base of the west ridge, circumventing the ice serracs.
Continue on a snow saddle, not very steep, keeping the rocky ridge on the right side.
The saddle finish at the foot of a small peak, which is the secondary summit of 3827 meters.
From here the main summit is visible 200 meters over. Leave the ski, and walk on the snow ridge between the 2 summits, and finally on easy rocky passage (II°/II°+).