Overview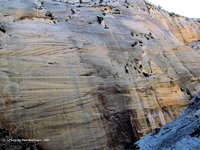 The Sneak route starts at an open area called the crossroads. It takes over an hour of bushwhacking from where you left the West Rim trail to work your way down to the Crossroads area. From here Imlay Canyon is divided by another open area (great lunch spot) that divides the technical section of the route up fairly evenly. There are several technical "keeper" pot holes that require "mad scientist" like ingenuity to escape from in both sections. The first is the coldest and most time consuming section.
However, the second section down to the final rap into "The Narrows" offers the most difficult single pothole escape in my opinion.
I took no photos in the canyon as our team was kind of obsessed with speed and efficiency. Somebody had to be to work by 5:00 pm and you know it was not me. To mess with dry bags and to get situated with the light, keeping your camera dry, messing with exposure, etc, takes quite a bit of time in a technical canyon.
Route Description
From the Grotto trail head area in Zion Canyon, ascend to the West Rim trail like you are going to Angel's Landing. Continue along the West Rim trail which is hand paved believe it or not and cross a small bridge as you descend into Telephone Canyon Trail. Follow a few cairns as you traverse the canyon. Look for an easy ramp on your right to get across the deepest chasm. Continue northeast along slick rock into a heavily treed section (stay left of the south-north canyon floor). Descend to your right down steep loose ground to the canyon floor. The next few miles involve quite a bit of bushwhacking. Continue down canyon until you come to a short steep section that can be bypassed on the left. Continue in the same direction with a steep wall on your left down this subsidiary canyon that eventually leads to a steep drop off in the canyon floor. Bypass this obstacle to the right on slick rock and continue towards a massive sheer wall which rises over the northern flank of Imlay. Descend to the main Imlay Canyon running southeast. At times you will not see any footprints or evidence of a trail. This canyon is not overly done. Suit up here.
We utilized hooking (existing holes) twice in the first section as I recall and twice in the second section as well as one assist (shoulder stand).
The rest was pretty much swimming and rapping. We did not count, but various guidebooks suggest
40+ rappels
several of which we used "batman" techniques on cordellete to save on time. Most rap stations are well fixed. We did one short rap off of a large log in the 2nd narrows.
On a busy summer weekend day, you can hear people hiking "The Narrows" during your final portion of the 2nd section, about the final 6 raps or so. The last rap is approximately 140', mostly free air, down into "The Narrows". There is some funky webbing set up to allow you to tie off onto allowing you to swing out to a set of bomber chains on the wall to set up rappel.
To be honest with you, the 5 miles or so you have to exit "The Narrows" after that last rappel can be a pain in the ass. I swear there were over 1000 folks wading through the Narrows the day we exited, yet we were the only party in Imlay. Now I remember while visiting Zion these past six years, why I have never been tempted to hike "The Narrows".
Essential Gear
Although you can filter the pothole water, doing this trip in the heat of summer when the water has stagnated, will have you filtering out dead mammals and snakes along with quite a few smaller microbes I imagine. I took 3 liters in late June and had plenty to spare, but we moved at a very fast pace and accomplished the canyon in 11 hours. You need a dry or 7mm wet suit.
I advise the wet suit, but if you are renting a dry suit, do not rent one with booties built in.
Every drop of water that leaks in (and it does, canyoneering is hard on dry suits) flows to your feet. So these booties end up holding tons of cold water against your feet the entire trip. Instead, use thick neoprene socks independently of any dry wear on your feet.
We took a 150' 9.2mm static rope, a pull cord of the same length and my 30m dynamic 8mm Beal alpine-glacier rope which is bomber in canyons. It is well treated and does not pick up extra weight that most dynamics would. Since that last rap was a single line free air rappel with a biner block, it was nice to rap on the thicker 9.2 static. Neoprene gloves, drybag(s), hammer, 3/8" drill, at least two talons and sky hooks, pair of aiders, slings, extra webbing for replacement on the stations.
You might want to wear some long pants for the approach, it is kind of a thrash.
A camera is only useful if you bring a tripod and have time to burn. We had another commitment later that day and I never even took mine out of the dry bag in the canyon. Without the proper equipment and knowledge, it will be difficult and hardly worth it to attempt to take photos.
Conditions, External Links
North Fork Virgin River Flow
The
Zion National Park
website has most everything you need including trail conditions or closures, wildlife notices, weather conditions, camping permits, canyon water levels, etc.
Best True Technical Clothing and Accessories in the Outdoor Industry, Hands Down....the Legit Climbers Gear at Real Prices
Scarpa has surpassed La Sportiva in terms of quality, function, value and actually stand by their warranties
Osprey Backpacks, Not a Second Choice
Great Outdoors Depot
style="display:block"
data-ad-format="autorelaxed"
data-ad-client="ca-pub-6523272176520096"
data-ad-slot="7132222476">