Getting There
Three Mile Trailhead:
Drive southwest from Denver on US 285 approximately 40 miles to Grant. Turn right (north) onto Park County 62 (towards Guanella Pass), and drive 2.8 miles to the trailhead on the right (east) side of the road. There is space for about 8 -10 cars at the trailhead.
Last two miles are on a dirt road (suitable for normal passenger cars) - no winter maintenance before 8 am and after 3 pm
Route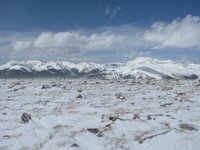 The first part of the trail follows Threemile Creek in its narrow, forested canyon. You will have to cross the creek numerous times. As the trail swings half way around Spearhead Mountain it gradually begins to open up into a meadow. A small stone man marks the spot where a faint trail splits of the main trail and begins to rise steeply away from the main valley, climbing up a side valley in a series of switchbacks. At the top of the switchbacks the trail begins heading north. Most the time you will hike through pine and aspen forest.
Shortly, you will emerge from the trees into open tundra. Kataka Mountain will be on your left (west).
Topomap is only showing the first half of Three Mile Creek Trail!
The trail might be hard to find when snow covered, work your way up the valley along its left (upward looking) side through stands of aspen trees until you see the tundra of the main summit above you.
Hike up the steep slopes of Kataka's summit and enjoy the great views!
Trail will be most likely very busy on weekends - especially in its lower parts - in winter you will have the mountain most likely all to yourselves
Gear
Sturdy boots in summer.
Snowshoes in winter. Summit is hit by very strong and very cold winds in winter - be prepared
Mountain Conditions
Lightning strikes are a serious risk in summer.
Slope of the main summit above Three Mile Creek valley is comparably steep. Slopes are normally blown free/snow is compacted by strong wind - but they might slide under exceptional snow conditions.