Getting There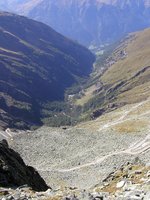 The starting point is the village Heiligenblut. From Heiligenblut you drive on Glocknerstrasse to the first big turn and ther you turn right to the smaller road and you drive over this road to the altitude of 1700m. There is a big parking place.
Route Description
From the parking place you start hiking on the nice macadam road. It is very comfortable if you have a mountain bike and you drive on it all road to the altitude almost 2600m. It is very useful on the descent. But if you don`t have bike and if you are in a hurry you can use the marked route which is steeper but a bit quicker.
Before you reach the Kleinfeisskees (glacier) you have two options. You can reach it from Zirmsee (reservoir lake)over the SE slopes of Goldzechkopf (3042m) (the left option) or you can reach it over the steeper slopes below the glacier on the right (the right option). It is good if you traverse both routes (one on ascent and one on descent).
So finnaly you come on the glacier on the altitude around 2800m. The glacier is not steep and you have almost always footpath, beacues this route is rather popular. Over the glacier you reach the pass between Hoher Sonnblick and Goldbergspitze (3072m) where also comes the route from Rojacherhütte (2718m) from the east over the Goldbergkees (glacier). Now you reach the summit over the steep south slopes of Sonnblick.
If you want to descend to Heiligenblut you descend by the same route.
Essential Gear
Good hiking shoes, ice axe and crampons and other main hiking gear.
External Links
This route is very popular also in Winter time for tour skiing.
If you have information about this route that doesn't pertain to any of the other sections, please add it here.