Approach
The climb is accessed by crossing the foot bridge between upper and lower Cascade Lakes.
Once over the bridge keep right until reaching a streambed. Follow the streambed to the base of the climb. The waterfall is very obvious and to your right.
The overall approach is 2km from the road to base of the falls.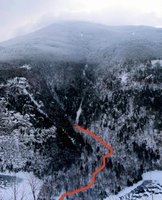 Getting There
You will see a turn off to your right if heading on the 73 from Lake Placid to Keene after the Cascade Mountain trailhead. If heading on the 73 from Keene to Lake Placid the turn off wil be to your left shortly after the main Pitchoff climbing areas.
Depending on snow conditions you can take turn off and park below in a picnic area between the 2 lakes, if the road is snow covered drive to the next available pull off and walk. The Cascade Pass area has many places to stop so you will find something.
Route Description
This is a VERY good climb for new leaders and not a good spot for top roping with only 1 short difficult spot on each pitch. This climb is generally a WI2 climb but thin ice conditions can raise the rating to 3 on the vertical areas.
Each pitch has an easy start and harder parts near the end. Once at the top of the first flow (140') a good tree will be found to the right on a flat surface the perfect belay spot. A Second near hanging belay off trees can be found 10 feet higher on the left side of the flow (covered in slings)
Pitch 1
Pitch 2
[img:364047:alignleft:small:]
Descend route direcly in 2 rappels or walk off near trees, you can also rappel the Green Gully.
Gear Needed
Cascade Pass is a very cold area for ice climbing, bring proper clothing.
3-4 Ice Screws (1 Long for the 1st Buldge)