Overview
Trabuco Peak
is a prominent peak located in the
Santa Ana Mountains
, just south of
Santiago Peak
. With around 830ft of prominence, Trabuco Peak is the third most prominent peak in the Santa Ana Mountains. Trabuco Peak is also on the
Lower Peak List
of the Sierra Club. The peak is located at the top of Trabuco Canyon and above Temescal Canyon, giving it a commanding view both canyons. Not only does it stand prominent over these areas, it also has amazing views over much of Southern California. However, the actual summmit has no view due to a very dense covering of Manzanita and chaparral. However, if you walk around the summit area, the views you will see make up for that lack of views on the actual summit. The summit lies on the border of Orange and Riverside Counties, like much of the range does.
Route Info
There are a few ways you could access this peak. The most popular way is via the
West Horsethief Trail
. This trail begins at the end of Trabuco Creek Road in Trabuco Canyon and follows the Trabuco Canyon Trail. The trail then splits and the West Horsetheif Trail works its way up to the Main Divide Road. This part of the trail is around 4 miles. From here, you just head NW 1.5 miles along the Main Divide Road to Trabuco Peak. Its just over 10 miles roundtrip with 2600ft of elevation gain
Another possible route is taking the
Holy Jim Trail
. For more info on the Holy Jim Trail, look at the
SummitPost Holy Jim Trail Page
by
Scott M.
. But after you reach the Main Divide Road, head east for 3.5 miles till you reach the peak. This route is around 16 miles roundtrip with around 2800ft of elevation gain.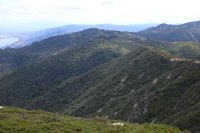 Another route you could use is by just taking the Main Divide Road straight to the peak. The Main Divide Road (technically called a truck trail) runs the entire length of the range that is run by the Cleveland National Forest. Actually, you can practically drive up next to this peak along this road, but thats cheating. Plus, the Main Divide Road isn't always open to vehicles. Check the Cleveland National Forest Website for
current road conditions
. The Main Divide Road starts after Blue Jay Campground off of the North Main Divide Road. You follow this road for 5 miles and then you will be at the base of Trabuco Peak. This route is around 10 miles round trip with 1241 feet of elevation gain.
Alternate routes can be used from the East Horsethief Trail, further north from across Santiago Peak, and from the Indian Tuck Trail. But these routes are longer as less popular.
What ever route you take to the peak, you have to take the Main Divide Road for some amount of time. The Main Divide Road doesn't go all the way to the peak however. There is a little trail, probably just under half a mile long, that comes off from the Main Divide Road. It is really steep and is Class 2 in a steep and slippery section. The trail winds its way in and out among the chaparrel till you reach what seems like the summit. Then there is a little side trail, probably only 20ft long, that leads to the summit. Don't forget to sign the summit register.
The Name Trabuco
On July 23, 1769, Gaspar de Portola led an expedition into what is now Orange County and camped a few miles east of the San Juan Capistrano area. On July 24, the expedition headed inland to avoid the many streams and swamps in the area. They found a large plateau area and camped that night on its western edge by a canyon which the Franciscans named San Francisco Solano. This was on the eastern side of Trabuco Creek about three miles downstream from the present Trabuco Oaks. While camped here on July 24-25, one of the soldiers lost his "
trabuco
" or musket, a most valuable possession to any soldier. To mark this loss, the stream was named Trabuco.
(information from OCParks.com)
The name eventually grew till it became associated with everything in the area.
Santiago Peak
was even referred to as "Trabuco Peak" for awhile. Obviously, the name didn't stick, so Trabuco Peak was placed on the peak just south of Santiago Peak. It is a fitting name since the real Trabuco Peak overlooks all of Trabuco Canyon.
Red Tape
An
Adventure Pass
is necessary in order to park at the trailhead. You can purchase a $5 day pass or purchase a $30 year pass at local shops or at sporting good stores.
Also, the Cleveland National Forest periodically closes the forest roads to cars for maintenance or for other reasons. Forest road closures will only affect those depending upon the forest service roads for access. Those coming up from the
Holy Jim
or the East/West Horsethief Trails won't have issues with road closures. For more information about the road conditions, click
THIS LINK
.
Camping
The closest camping can be done in Trabuco Canyon at
O'Neil Regional Park
, which is maintained by Orange County.
O'Neill Regional Park
30892 Trabuco Canyon Road
Trabuco Canyon, CA 92678
(949)923-2260 or (949)923-2256
Overnight camping is
not
allowed inside the Cleveland National Forest. However, they do have established campgrounds, but most are far away from Trabuco Peak. The closest one is
Blue Jay Campground
, which is north of the Ortega Highway along the Main Divide Road.
Getting There
To Trabuco Canyon-
There are three maintained hiking/mountain biking trails that begin in Trabuco Canyon that can be used to accessed Trabuco Peak; The Holy Jim, West Horsethief and the Trabuco Canyon Trail.
(Directions taken from the SummitPost Holy Jim Trail Page by Scott M..)
If you are approaching from points north you should either exit the 55 freeway at Chapman and head east or Interstate 5 at Jamboree heading north. Where Jamboree and Chapman intersect in east Orange (gas and market) you will either go straight if coming from the 55 on Chapman or turn right if coming up Jamboree on to Santiago Canyon Road. Follow Santiago Canyon Road for just less than 13 miles to Live Oak Canyon Road. You will be turning left here. There is a popular road house for the "Harley crowd" here at this intersection known as Cook's Corner.
If approaching from the south exit off Interstate 5 at El Toro Road and go north for about 7.5 miles to this same intersection. You will be turning right here.
From Cook's Corner head east for about 4.4 miles to a fairly obvious wash. You will pass a small store on your left and O'Neill Park on your right. The store is your last chance for supplies. Adventure Passes may be available at the store.
Turn left up on the dirt road (Trabuco Creek Road) immediately after the wash and follow this rough road for 4.7 miles to the trailhead parking area. No services or piped water. The parking area is immediately after the Holy Jim Fire Station (unmanned). Be sure to display your Adventure Pass. Note: After heavy rains this road may be tough to negotiate since it crosses Trabuco Creek several times (no bridges). Other than these times 4WD is not normally required but high ground clearance is recommended. Passenger cars can make the trip with caution.
After the turn the parking for the Holy Jim Trail, Trabuco Creek Road continues on to the West Horsetheif Trail and the Trabuco Canyon Trails further down
The 241 toll road makes a nice short cut over to Santiago Canyon Road if you are approaching from the Inland Empire on the 91 freeway. From the 91 head south on the 241 to Santiago Canyon Road. Head east for about 11 miles to Live Oak Canyon road. See directions given from there in previous paragraphs.
Note: Alternate approaches can be made from the Main Divide Road, but the trails in Trabuco Canyon are the most popular ways of accessing this peak.
External Links
Cleveland National Forest
- Trabuco Ranger District
Keith Fletcher, District Ranger
1147 East Sixth Street
Corona, CA 92879
(951) 736-1811
Cleveland National Forest
Cleveland National Forest website
Road Conditions
Current conditions of the forest service roads.
Camping
A list of established campground in the Cleveland National Forest.
Weather Conditions
The weather forecast for Trabuco Peak by
NOAA
.
Misc
If you have any more additional information or photos, please contact me or add them to this page. Thank you!!
style="display:block"
data-ad-format="autorelaxed"
data-ad-client="ca-pub-6523272176520096"
data-ad-slot="7132222476">