Overview/Approach
I have helped the Uriostes on a variety of projects but none better than
Twixt Cradle and Stone
. The meaning of the name is quite pertinent.
Jorge (George) Urioste
is one of the more unassuming people you will ever meet which is quite a feat considering his accomplishments in life. He was born in Chile but his father was Bolivian thus he holds citizenship in both countries. A Jesuit Priest candidate, he moved to the states where he was corrupted by a young woman who grew up in the Bronx (Joanne). They met at Cornell University and started climbing together immediately. He obtained his PhD, became a skilled linguist and taught at UNLV for over 35 years. The fact that he became one of the more proficient trad route setters of his time pales in comparison to the example he established for others as a husband, father, professor and valued climbing partner. He no doubt has become a mentor in life for several generations of young men and women.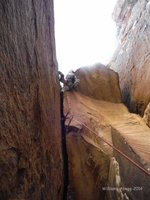 At 79 (2016) Jorge is still climbing and figuring out new lines with the same enthusiasm he has displayed his whole life. If he is not climbing on any particular day, his helpful advice and beta is invaluable to those of us who might be. Twixt Cradle and Stone, equates cradle to grave. And although Jorge is far from the latter, it seems he has already lived two or three lives worth in regards to his knowledge and record of adventure, whether it be politics, religion, love, hunting-conservation-food-fine spirits and/or climbing. I have often said that the only man I know who could possibly live up to the fictitious Dos Equis commercial
"Most Interesting Man in the World
" is Jorge Urioste.
"Stay thirsty, my friends."
Established in
2014,
Twixt Cradle and Stone offers the same quality stone found on the infamous route just to the east that Jorge and Joanne established
35 years earlier, Epinephrine.
The best of the route can be done in
6 long pitches (Handren's 2nd edition might have those same pitches broken into 7 or 8)
and rapped via double 60m ropes. The first pitch is not connected to the main wall where you find Twixt. In other words the majority of the route lays hidden from the depths of the canyon floor. I have climbed a direct version of this first pitch on the lower wall that was established as the first pitch to
Yellow Rose of Texas
in 1978. It is not a pleasant pitch (5.10x). Instead, the start of Twixt borrows a variation first pitch to Yellow Rose and is the easiest pitch of the route: a rather benign and wide left facing corner up canyon 120' from Epinephrine. This pitch lands you on a large bush filled terrace. For Yellow Rose, you scramble up and right just a few meters and then up a varnished crack. For Twixt, you continue right along the base of the main wall and up to the next break which is more of a chimney. From there one long pitch, or two shorter ones, lands you to the base of the beautiful varnished chimney/flake/roof above. The original version of Twixt goes up this varnished chimney and breaks out right until you are eventually converting to hand jamming as you reach a hanging fixed belay.
A cool and obvious variation (I was there on the FA and they eventually named this variation
Plein Air, 5.11a, 2015
) pulls the roof nested in the base of the varnished chimney which is quite physical (and loads of fun I might add). But the original line of Twixt continues from atop the chimney via a right facing corner that
leads to a beautiful finger splitter (crux of the route).
At the top of the splitter, traverse left (bolt) to a fixed belay ledge. The next pitch again has a variation.
I FAed a chossy crack straight up which turns into an amazing varnished and flared finger crack chimney with a 180 degree move at the end to pull a small white roof.
I don't know if they decided to include this in Plein Air or not, but can say it is
my favorite pitch of either route
due to the unique curving overhanging corner requiring a multitude of climbing disciplines (I give it 5.10+). The original line of Twixt (easier pitch=5.9) goes up and right on a varnished left facing corner, passing a few bolts before working its way back left and up to a sloping fixed belay ledge at the same spot that the before mentioned variation pulls the small white roof. The final pitch I have climbed on Twixt (the route can go to the top if you want via much less aesthetic climbing) goes up and right via steep varnished terrain to a corner. The corner is steep and exciting for a move or two as it pulls a small roof (past a bolt) and then angles back left and up to a flat ledge with a fixed rap.
Park at the Black Velvet trail head and hike up canyon as you would for Epinephrine. Approximately 120' to the right of Epinephrine is an obvious white sandstone left facing wide corner (5.7 with a few bolts). This is the start of Yellow Rose of Texas and Twixt Cradle and Stone. For TCS, simply scramble up through the hole at the top of this pitch and hike along the base of the wall for another rope length to the base of an easy chimney for the start of pitch 2.
Route Description
Twixt Cradle and Stone, 1000'+/-, 5.10c
1st Pitch- 80'- 5.7/
An easy chimney pitch protected by two bolts to a fixed belay/rap at top of the chimney. It is run out if you are not used to it, but otherwise easy chimney climbing for the grade to the trees above (fixed anchor).
2nd Pitch- 200'- 5.8/
Coil the ropes and scramble along the wall heading west. You will see where the brush has been cleared. You are looking for an easy chimney start about 100' along the wall. As part of the FA scouting, I lead a line to the right I like as much if not more as what you will find in Handren's guide. Take the obvious crack line up and right over the bulge and follow intermittent cracks up steep face (5.9) and trend back left to end at the same place. The FAer's line runs up the 4th class chimney to an intermediate fixed rap. Traverse up and right past a bolt (crux move of the pitch=5.8) on good rock and follow a crack up and eventually top out on a large ledge below the main chimney that is the mainstay of this route (fixed station).
3rd Pitch- 200'- 5.9/
From the ledge climb the mid-5th ramp (right to left) into the base of the well varnished chimney (another fixed station). Continue up and right on great rock past several bolts before committing back to the chimney. Climb the fun chimney with bolt and gear options via positive features up to where it pinches down to a hand crack. Follow this crack, stemming at times to a fixed belay at a semi hanging stance.
(Plein Air is a two pitch 5.11a variation that takes on the roof out of the base of the chimney and then continues up a fun crack that eventually peters out to bolted face that leads to the same fixed anchor as the top of pitch 4. You can actually make this a three pitch variation by continuing straight up a soft rock hand crack that bleeds into an overhanging tips corner (5.10+) that is one of my favorite short problems in Red Rock. I did the FA on it and it involves stemming, ring locks, chicken wings, flaring chimney technique and an awesome 180 degree finish stem to roof pull)
4th Pitch- 200'- 5.10c/
This is the crux pitch of the route and I have actually fallen on it once. This is the kind of pitch that TC Pros were not made for because the crux involves getting an aggressive toe (like the Miura) into a finger seam. It starts out off the belay by continuing up the 5.9+/10- corner with hands, fingers and stemming. Eventually the corner gives way to a beautiful finger splitter in varnished rock. Small wires and micro cams protect this small seam for about 40' of climbing to a single bolt protecting a left traverse (easy) to a small ledge with a fixed station.
5th Pitch- 180'- 5.9/
Again, a left hand variation goes straight up via a chossy crack which turns into an amazing varnished and flared finger crack chimney with an 180 degree move at the end to pull a small white roof (5.10+). The original route however goes up and right to a finger stem corner. Climb this corner to a jug (bolt). Continue on easier ground to the top of the corner and meander right on solid varnished rock up a few short faces with fun climbing at the grade past another bolt or two to a semi hanging fixed belay below a moss laden short finger corner.
6th Pitch- 170'- 5.9/
Traverse out right on good (but exposed) varnished rock. Head up and right again to a short left facing corner. Climb it up to a small roof pull on a jug (bolt). Then trend back left and up intermittent cracks to a large water worn ledge with a fixed belay.
Climbing Sequence
Descent
Make four double rope raps off of the top four pitches. The pull on the 5th rap (pitch 2) can be a pain.
You can stop at an intermediate fixed station, but a better angle for the pull can be had down on the large bushy tier.
Therefore, you might as well take a full double rope rap down to the large ledge at the base of pitch 2 and walk the rope out away from the wall before pulling it. Scramble back down to the top of pitch one and make a single rope rap to the ground.
Essential Gear
Double 60m ropes.
The crux pitch takes wires and micro cams at its crux.
As before mentioned, I would prefer an aggressive toed shoe for this lead, i.e. a Miura over a TC Pro. Full set of wires and/or off-set cams, single set of cams from micro size to C4#3. Doubles from C4#.3 to #2.
Single set of large cams if you are taking on the variation roof pull out of the chimney.
This is purely a north facing route, but can still be climbed in comfort during January and February depending on the weather.