A Little About Me
With so many peaks, valleys, trails, and vistas in the world, I am constantly dreaming of adventurous trips of life-altering magnitude. I climb, I hike, I run, and I love it.
I have been climbing in the Pacific Northwest since 2009, and occasionally find opportunities in calendar and weather to branch out from my home range. My end goals are both lofty and terrestrial: to experience and capture vivid memories of amazing adventures, and to reach the pinnacle of my own capabilities.
My current goals are about completing the local peaks in Washington, Oregon, and California. The missing pieces include: Mount Baker, Glacier Peak, Mount Rainier, Bonanza Peak, Mount Stuart, Mount Shuksan, Dragontail Peak, Forbidden Peak, Colchuck Peak, Three Fingered Jack, North Sister, Broken Top, Mount Bachelor, Mount Shasta, and Mount Lassen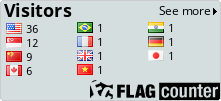 Climber's Logs I've Signed (40)
Mountains & Rocks (30)
Routes (10)
Messages I Posted/ Editable Objects
Messages I've Posted
Content loading here...
Objects I Can Edit
Content loading here...
Reviews I Posted/Reviews Posted to my Gear
Reviews I've Posted
Content loading here... should come from get_reviews_js('53732', '-1', 'MaxMin20', 'showMessages05', 'reviews_i_posted', 'show_reviews_i_posted')
Reviews Posted to my Gear
Content loading here... should come from get_reviews_js('53732', '-1', 'MaxMin20', 'showMessages06', 'reviews_others_posted', 'show_reviews_others_posted')
Objects Others Have Attached to My Objects
Photos Others Have Attached to My Objects