Overview
The Western Slope route leverages the smoother road up Breakneck Pass to the south instead of the more rugged 4x4 road up Browns Pass to the north. Much of the stroll is among the trees, utilizing narrow FS 426. As the route ascends the western slope of Sheep Ridge, the views to the west open up, dominated by Mosquito Range
Ptarmigan Peak
,
Weston Peak
&

Horseshoe Mountain
.
Roundtrip Mileage:
4.5 miles
Elevation Gain:
About 900 feet
USGS Quad:
Fairplay West
Trails Illustrated Map:
#110 Leadville / Fairplay
Getting There
- From Fairplay, Follow Hwy 286 approximately 6 miles south to CR 5 / Weston Pass Road and turn right/west. Weston Pass Road at this point is a well-graded dirt road.
- Follow Weston Pass approximately 2 miles to Breakneck Pass Road (FS 175). Turn right/due west.
- The first two miles of Breakneck Pass Road are nicely graded. Follow Breakneck Pass Road as long as you care to / as far as your vehicle will take you. The summit of Breakneck Pass is approximately 4 miles from the junction with Weston Pass Road.
Park in the broad area at the top of Breakneck Pass. Note that parking is limited along the narrow FS 426 traversing the western slope of Sheep Ridge, hence the suggestion to park at the pass and walk along FS 426.
Route Description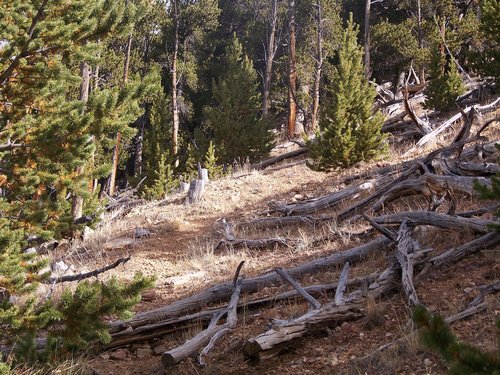 - Depart your 4x4 vehicle in/near Breakneck pass and continue on foot traveling west along the road.
- After a short distance a sign will appear on your right/north indicating the junction with FS 426.
- Traverse the western slope of Sheep Mountain along FS 426 for approximately 1.25 mile.
- Eventually a clearing made by an old fire will open up on your right/northeast. This clearing serves as your manual escalator up the west slope of Sheep Mountain.
- Look closely and you'll pick up on the faintest hints of a footpath. The footpath gains clarity as you ascend, and surprisingly begins gently switch-backing up the mountain.
- Upon gaining the ridge, turn north-northwest and search for the non-distinct highpoint.
- The bald spot on the far northern end of the ridge provides a nice lunch spot and unimpeded views of Sheep Mountain.
- Retrace your steps south-southeast along the ridge to return to the clearing.
- Pick up the faint hints of the footpath that will carry you back down slope to FS 426.
- Turn left (south-southeast) on FS 426 to return to Breakneck pass and your vehicle.
Essential Gear
High clearance 4x4 to drive to the summit of Breakneck Pass.
Trail map (Trails Illustrated #110 (Leadville, Fairplay) would meet most needs)


Compass


Comfortable hiking boots or walking shoes


Snowshoes after a heavy snowfall


Water and snacks


A camera to save memories of the high country views


First aid kit


Other standard backcountry essentials