Overview
This is the only access route that I am familiar with is the Blue Ridge, which is the long ridge extending north from White Cliffs Peak. It is likely by far the best route to climb the peak.
This route is easy and long and follows old logging roads for much of its distance. The last part of the climb has no real trail, but cross country travel is easy. Even though much of the route follows an old and closed road, there are many viewpoints along the way making it a worthwhile route.
This route is 11 miles round trip and has a total of 2200 feet elevation gain.
Getting There
From Highway 40 between Granby and Tabernash and between mile markers 216 and 217, turn west on County Road 55. Follow this good gravel road for 5.4 miles to the top of Cottonwood Pass and turn south (left) onto County Road 555. Follow this road for 3.1 miles and to a 3-way junction. The beginning of the hike is the gated road on the left. Park here.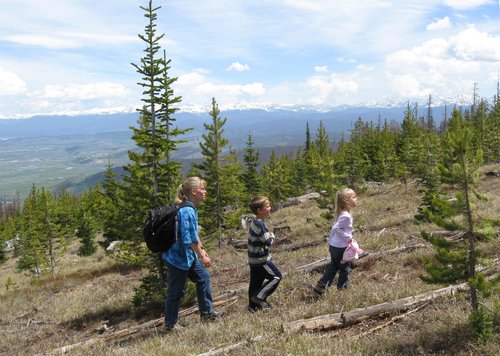 Route Description
From the trailhead, pass around the gate and follow the old logging road south through the rolling forest to a junction (Jct. #1). Turn left here. Follow the old road to the next junction (Jct. #2). Turn right. Again follow the road to the next junction (Jnt. #3) and again turn right, passing a side trail to a nice viewpoint along the way. Keep right at the next two junctions (#4 and #5) as well, staying on the main track. To this point the trail (old road) has stayed to the east of Blue Ridge, but now you will begin to climb to the crest.
The route climbs over the Blue Ridge at a minor saddle and then follows the west side of the ridge a short distance. The old road descends to a saddle. This is just over five miles from the trailhead. Look for the cairn on the right.
Leave the logging road here and climb south using scraps of trail up the slopes to the SSE. There are cairns around, but the trail is faded and if you lose the trail just keep heading up towards the peak.
Once on top of the peak, there are many fine views including Rocky Mountain National Park, Never Summer Range, Indian Peaks, James Peak Wilderness, Vasquez Mountains including Bottle, Ptarmigan, Byers and Bills Peaks, Gore Range, and the Fraser Valley. The White Cliffs themselves are also interesting to view up close.
After enjoying the views, return the same way.
Essential Gear
In summer, only a good pair of boots and normal hiking gear is needed.