Introduction
Group: Carl Dowdy, Marc Barella, Matt Kamper, Ben Conners

Route Summary: Approach via the Durango/Silverton Narrow Gage RR to camp at 10,900` in Chicago Basin (May 13th). Ascent and summit ski descent of Sunlight`s South Face to East Face snow ramp, ascent and summit ski descent of Windom`s Widowmaker Couloir (May 14th). Ascent and summit ski descent of the East Couloir on Mt. Eolus from camp at 10,900`, ascent of North Mt. Eolus, ski descent of east facing couloir into upper Chicago Basin and back to camp, deproach to Needleton (May 15th).

Carl, Marc, and I had been looking forward to this trip for a LONG time. The idea of an extended trip into the Weminuche Wilderness to ski four remote 14ers always sounded particularly rewarding. Initially we had quite a few folks interested, but as often happens with big trips like this, our group size was down to just four a few days prior to departure. Well a small group certainly has its advantages, efficiency being one of them, so we set our sights on skiing the four peaks in a three day, two night push from Durango.
Approach 5.13.10
I met up with Carl and Marc in Copper around 8pm on the night of the 12th where we consolidated gear into Marc`s truck (FYI I left my car in the corner of one of the skier lots and it was never disturbed). Arriving in Durango around 2:30am we were all ready to get some shuteye and didn`t care to put much thought into how/where it was going to happen. Carl`s giant memory foam pad went down next to the truck in the train parking lot and we were asleep shortly thereafter. After a few hours of horrendous sleep, we loaded up on coffee and Sausage McMuffins (56 grams of fat in two of em, rock on!) and went to meet Matt at the train depot. Getting the vehicles parked and gear loaded onto the train was sort of a mad scramble, but it worked out. At 9am we were chugging along enjoying the comforts of Durango`s premier tourist attraction.



(photo: Matt)



(photo: Carl)

This train ride was just as spectacular as I remember it being a few years back, though I can`t say I remember it being so expensive. Probably because it wasn`t. We arrived in Needleton around 10:45am and began prepping for the long approach as the sound of the train whistle slowly faded in the distance.



(photo: Ben)

Our smiles hide the aches brought on by 65 lb packs:



After crossing the Animas the trail turns south for a half mile or so before joining up with Needle Creek. We were all pretty excited at this point and moving quickly as a result. Downed timber was never much of a problem, I know it has been in previous years though.



(photo: Ben)

About a mile and a half beyond the New York Creek crossing we stashed our shoes and switched to boots and skins, though the skinning was patchy at best. At this point in the season it`s probably easier to just boot all the way to Chicago Basin and cut out the futile toiling of trying to keep skis on the feet.

Cloud cover and precipitation were keeping things cool for our trek in:


(photo: Matt)

After lots of annoying transitioning we finally found ourselves in the lower basin, staring at Windom and Peak 18. We elected to camp around 10,900` in the basin on the south side of the creek. As soon as our camp was sorted out, an excellent taco dinner was served. One of the major highlights of our trip was the food, we pretty much spared no weight or expense in this category.

The view from just outside camp, 8:20pm:


(photo: Ben)

To curb our evening boredom, we decided to build an igloo:


(photo: Carl)

Our heads hit the pillows around 10pm, sleep didn`t come easy for me even inside our warm, quiet igloo, but it rarely does on trips like this.

Sunlight and Windom 5.14.10
We woke up around 6am, brewed coffee, and ate some oatmeal. A 7am departure from camp had us at Twin Lakes in an hour and a half.

Skin track nearing Twin Lakes:


(photo: Ben)

As we were skinning above the lakes, the sun decided to show itself for the first time on the trip. We regrouped at the base of Sunlight, stashed our skins under a rock, and began the ascent of the South Face.

Skin stash, tomorrow`s objectives in the background:


(photo: Ben)

Matt setting the boot pack:


(photo: Ben)

Marc and Carl:


(photo: Matt)



(photo: Matt)

Eventually we arrived at the small tunnel which grants access to the upper East Face. After heading through, the group mood became that of focus, the Sunlight summit ramp is not a negligible climb and ski.

Matt and I making an interesting couple of moves above big exposure:


(photo: Carl)



(photo: Carl)

Once across the traverse and up the ramp, we had ourselves a fine summit to enjoy.

Marc and Carl heading up to tag the true summit:


(photo: Matt)

Aware of the fact that we still had a lot of climbing and skiing to do, we didn`t dally on the summit for long. Skis went on at the skiing high point and the descent began. The first turns we took on this trip were some of the most intense, the ramp to get off the summit is steep and resides above a large drop off to the east. We took it conservatively one at a time.

Matt working it:


(photo: Ben)

Marc rides it:


(photo: Carl)

Carl, Marc, and Myself: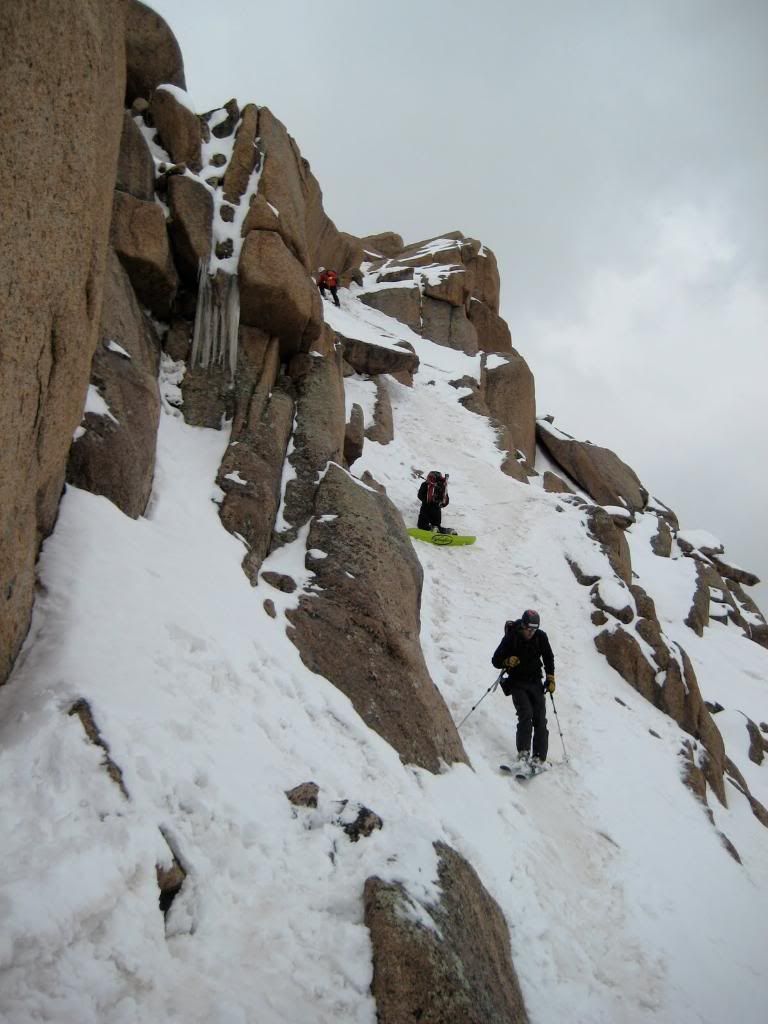 (photo: Matt)

Back through the hole and around the corner the skiing commenced:

Marc:


(photo: Carl)

Me: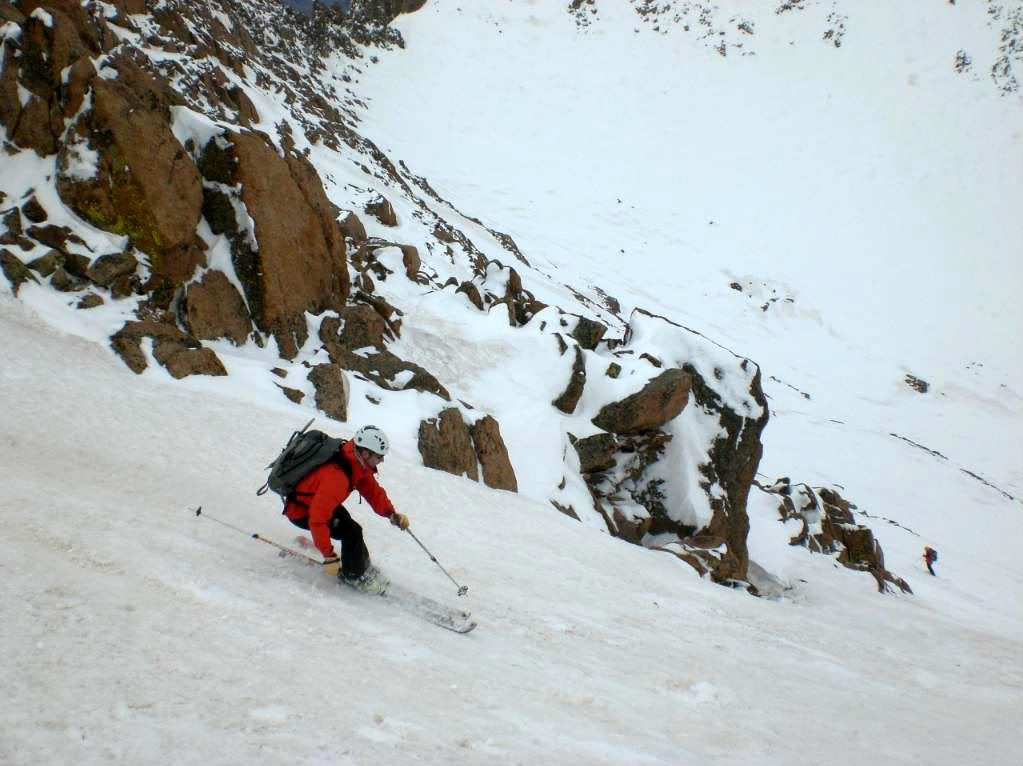 (photo: Carl)

Carl found an air in the middle of the rock face:


(photo: Ben)

The skis came off around 13,200` where our focus became the Widowmaker on Windom`s Northwest Face. At this point some ominous clouds were rolling in but nothing appeared too threatening.

The crew heading for Widowmaker


(photo: Matt)

About halfway up the couloir the clouds socked us in and it started to snow. Now the climbing is getting fun!

Looking up with Matt in the lead:


(photo: Ben)



(photo: Ben)

...and down at Marc, Carl, and I:


(photo: Matt)

The top was windloaded: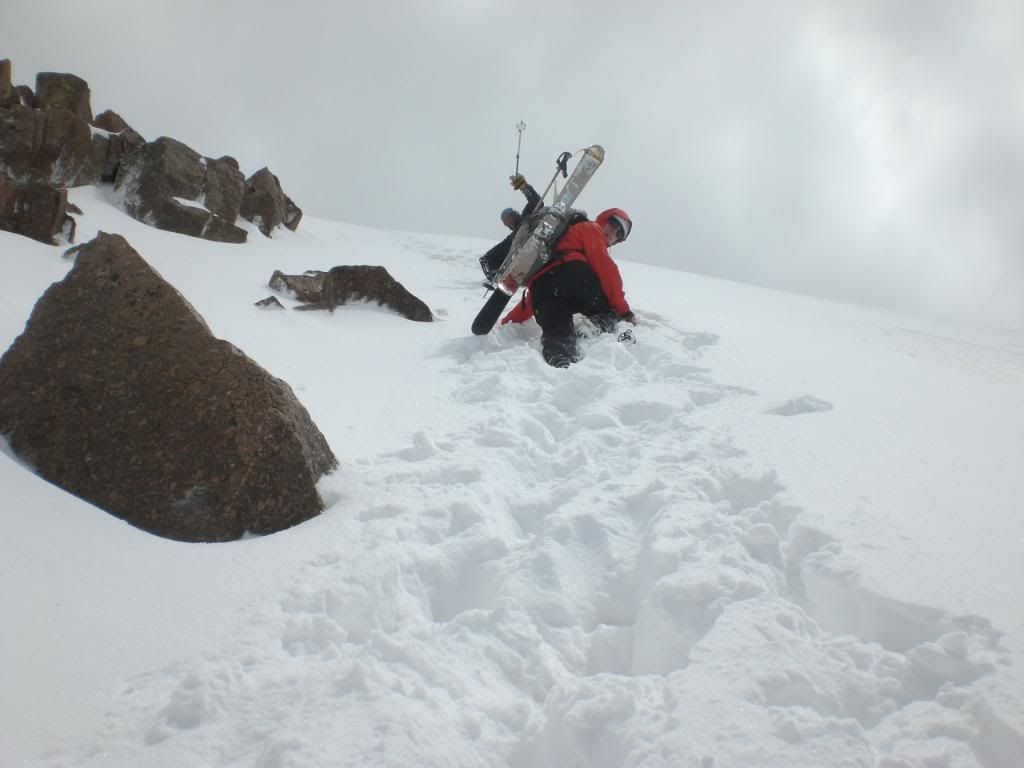 (photo: Carl)

As quickly as it started, the storm dissipated and revealed this gem view:


(photo: Matt)

I bet one of those ski paragliders could make Sunlight Spire go from the top, if they could make it up there...

Carl and I topping out on the summit cornice with Jagged behind:


(photo: Matt)

Looking across at Matt on Windom's summit:


(photo: Ben)

We headed on over to the summit blocks and admired the views in every direction. This truly is an amazing place this time of year. A short break later we began gearing up for the ski descent.

Marc and Carl:


(photo: Ben)

Off the summit: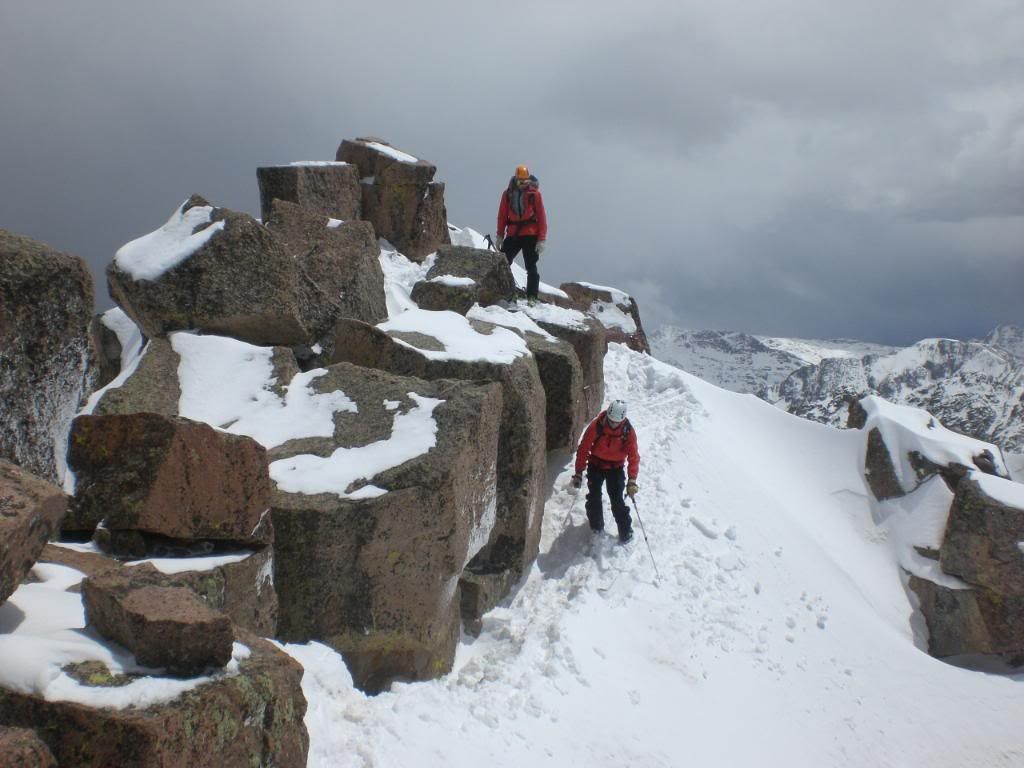 (photo: Carl)

Past the short summit traverse, Carl made a few turns skier`s right of the windloaded section up top. It was a bit sluffy but well behaved overall. The rest of us followed and made some nice, steep turns down to a safe zone where Carl was waiting. At this point we were directly above the crux, which was around 50 degrees and narrow in the condition we found it. Carl made a ski cut above this section and sent a good sized sluff down, then skied it. One more regroup below the crux pitch and we were making wide turns out the mouth and heading towards our gear stash. Now for some photos...

Carl`s up first:


(photo: Matt)



(photo: Ben)

Marc rides Widowmaker:


(photo: Ben)



(photo: Carl)

pioletski hits it:


(photo: Carl)



(photo: Carl)

...and last but not least, your author: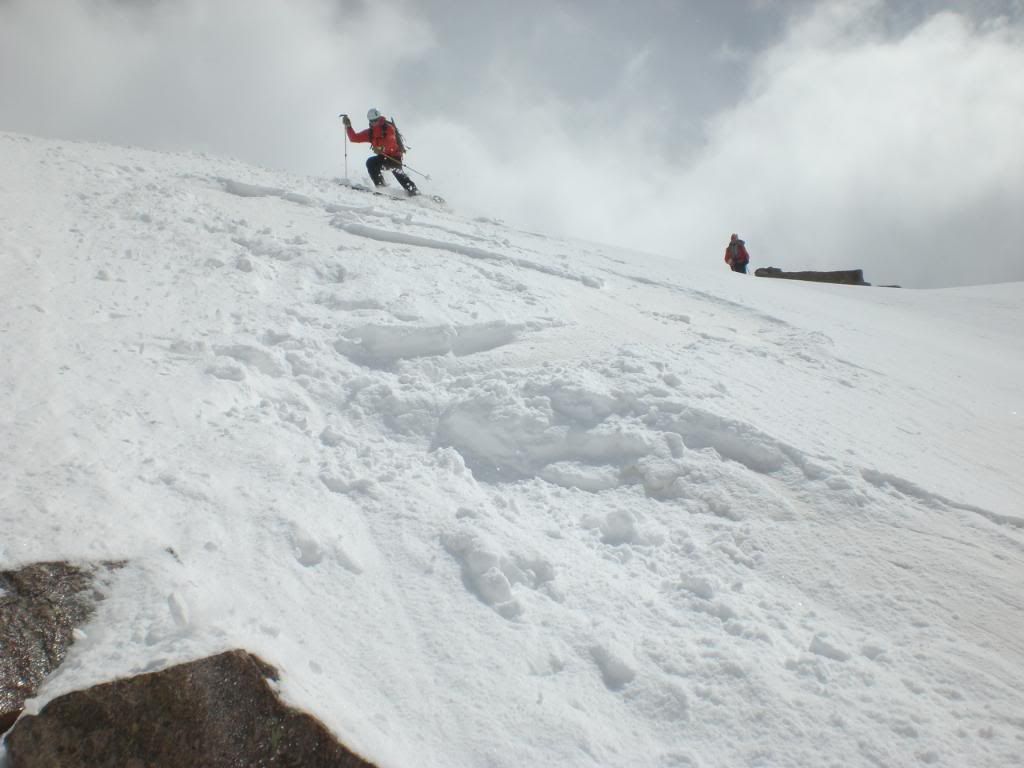 (photo: Carl)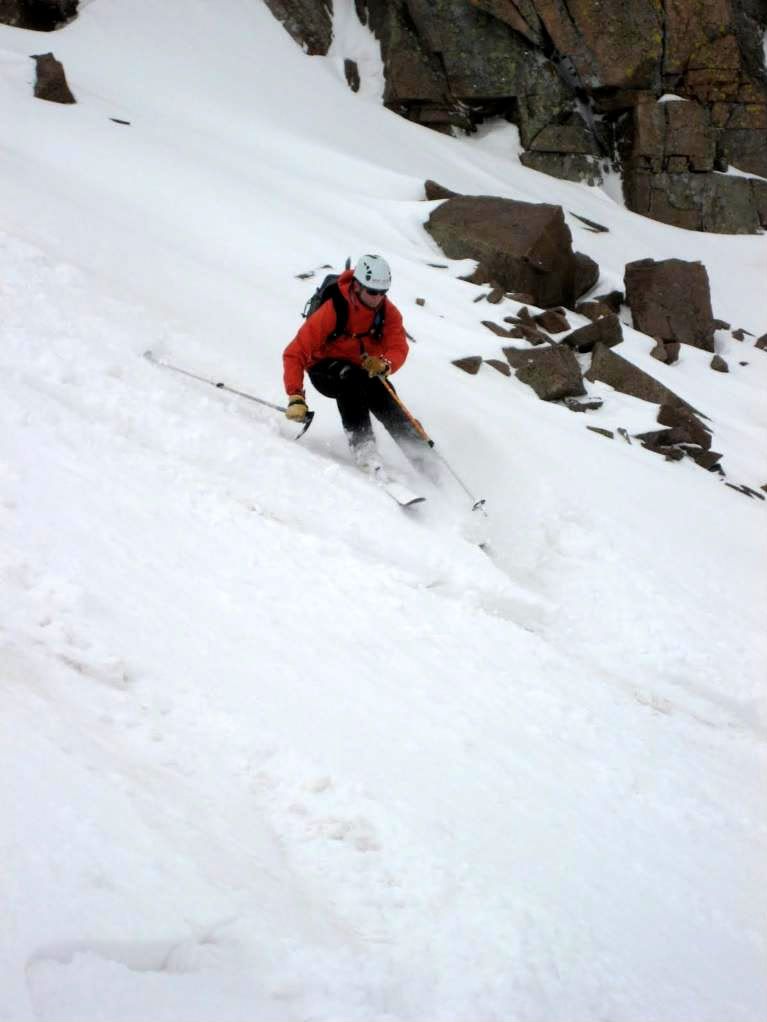 (photo: Matt)

Matt skiing out the bottom, our tracks are barely visible in this photo:


(photo: Ben)

The line as seen from Sunlight earlier in the day, Widowmaker is the central gully heading straight off the top:


(photo: Carl)

We regrouped at our skin stash, where we thought it appropriate to bust out some fried chicken and flamin` hot bbq sauce. Great idea Marc!

Tasting pretty damn good right about now:


(photo: Ben)

We skied back to camp:


(photo: Ben)



(photo: Matt)

...and after another big meal consisting of chili-cheese bratwursts and Cutty Sark blended scotch whisky, we hit the sack. Like I said, we ate like kings up there.

Eolus and North Eolus 5.15.10
This day held some hefty goals for our group: climb and ski two more peaks, break down and pack up camp, and slog it 6.5 miles back to Needleton in time to catch the 3pm train. Though the day seemed daunting, I was fairly confident our group would be able to pull it off. How do you eat an elephant? One bite at a time...

We departed camp at 4am and followed the booter from the previous day`s traffic up the southeast side of Eolus. Because we knew a nice booter was in place (courtesy of a big group that climbed Eolus the previous day) we elected to leave the skins behind. I think the monumental nature of the day had us a bit anxious in the beginning, I say this because we managed to climb 2,200` in the first hour and a half out of camp. In two hours we found ourselves staring up the East Couloir through a thick fog that had slowly settled in on us as we climbed. The mountain weather this spring has continued to be a total tossup.

You can tell Marc is stoked for another early start:


(photo: Matt)

Our first view of the East Couloir, gloomy!


(photo: Ben)

After a short food break the axes came off the packs and we were kicking steps up the chute: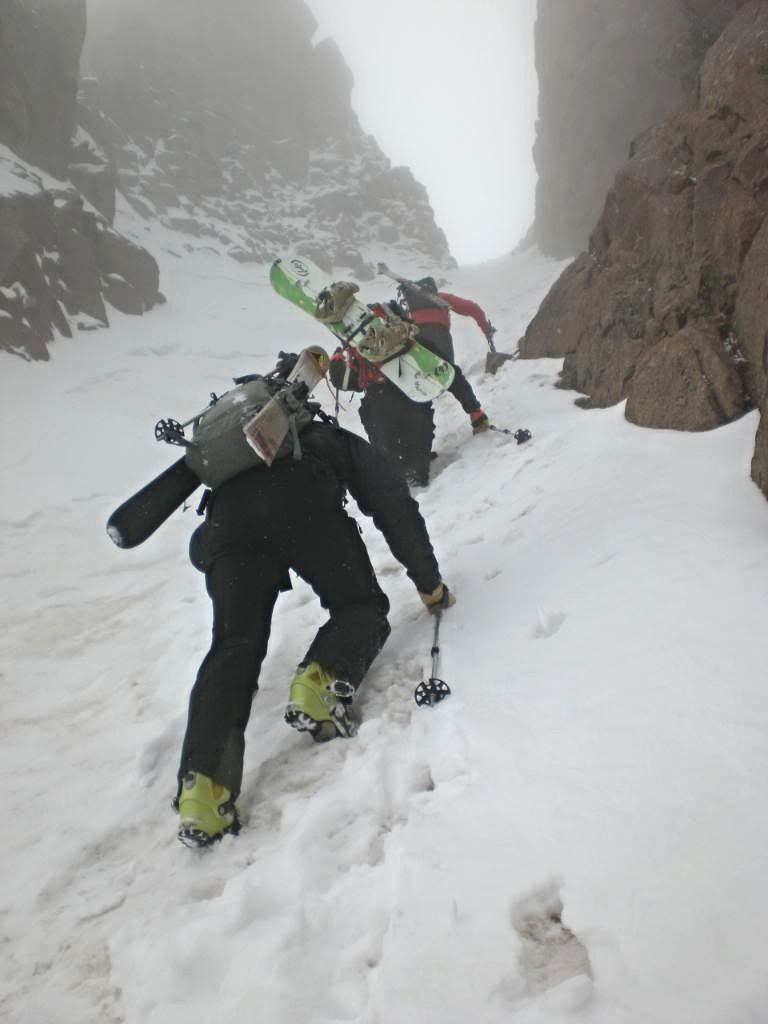 (photo: Carl)



(photo: Ben)

The East Couloir is short and to the point, we topped out in less than 30 minutes and began a climbing traverse up the west side of the peak. Once again we were blessed with a wide snow ramp connecting the top of the couloir to the summit. We arrived on top of Eolus and threw the skis on for the descent back to the couloir.

Wesley summits:


(photo: Ben)

...and Marc:


(photo: Matt)

The section just off the top sported some less-than-desirable conditions: lots of ice, frozen ripples, and dirt crust:



(photo: Ben)

We ended up skiing down the west side a bit below the notch, then side stepping back up with the skis on our feet.

A look back at the route off the summit:


(photo: Ben)

...and down the East Couloir: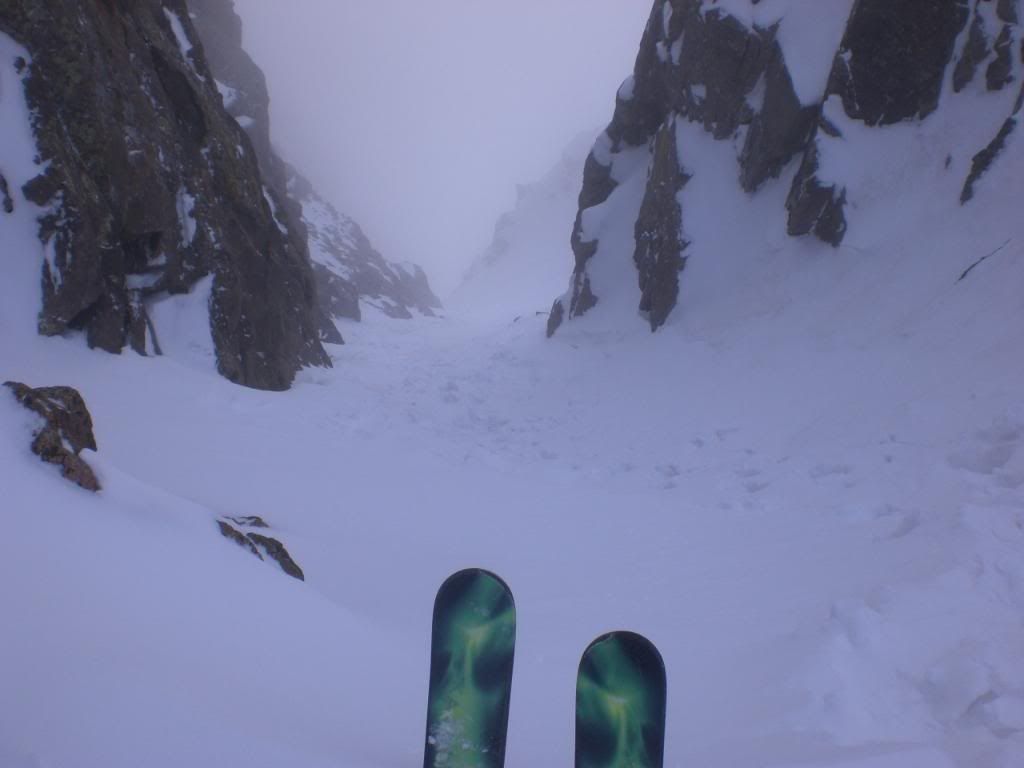 (photo: Carl)

We skied it one at a time, grouping together once at a safe zone skier`s left in the middle of the chute. The conditions lower down were similar to that on the west side, nothing some aggressive turns couldn`t keep in check though.

Matt bags another:


(photo: Carl)

Carl:


(photo: Ben)



(photo: Ben)

Marc:


(photo: Matt)



(photo: Ben)

benners:


(photo: Carl)

The couloir in its entirety:


(photo: Carl)

Three down, one to go. The skis came off and it was back to booting, but not before a small gear malfunction and repair on one of Matt`s FT12 bindings. I`m not exactly sure what the deal was with this, I`m sure either Matt or Carl will have something to say in the comments section...

Heading around the corner: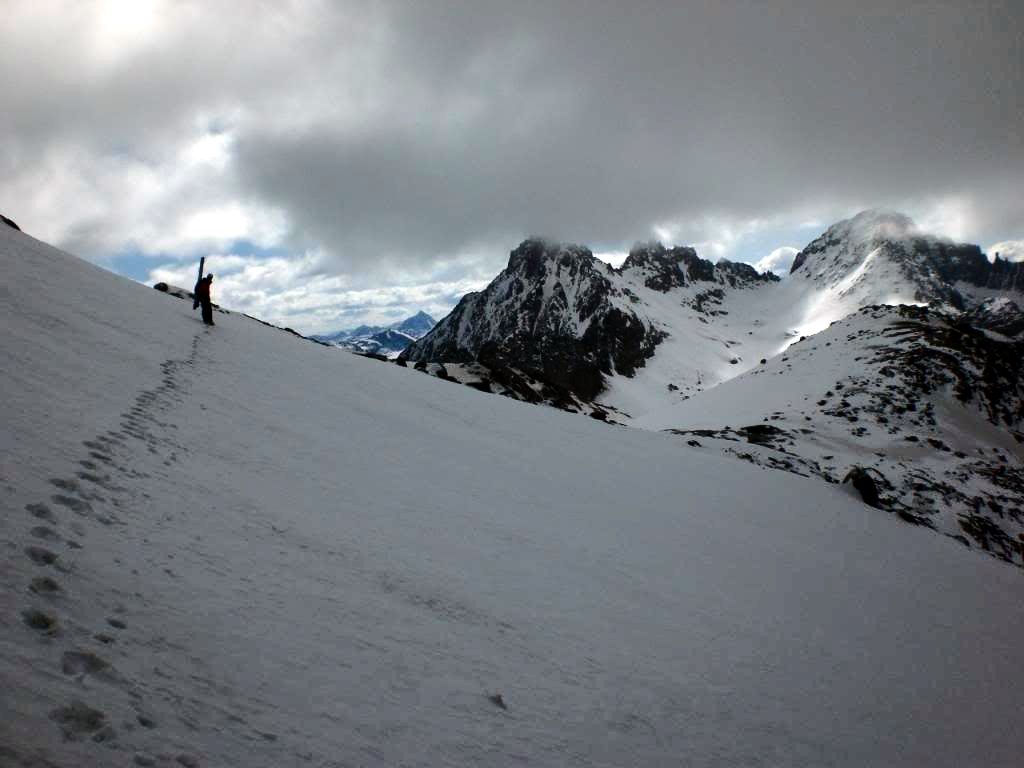 (photo: Carl)

North Eolus did not look far away, less than thirty minutes at the rate we were moving. It was 9:15am so the race was officially on at this point.

On the South Ridge:


(photo: Ben)



(photo: Ben)

Eolus came out of the clouds at the opportune time:


(photo: Ben)



(photo: Carl)

Looking down at the Animas River Valley, where we needed to be in five and a half hours:


(photo: Ben)

We hit the summit at 9:30:


(photo: Matt)

At this point we discussed our ski options. Skiing back down the South Ridge/Face seemed like it was gonna be a time sucker, and we could see a big snow dollup on the ridge northeast of our position that looked similar in elevation to the summit. We thought it was as good a bet as any so Marc began to scramble over to it. After about 20 feet on the ridge proper it was clear a down climb would be necessary to traverse underneath an impassible tower of rock, so off the north side of North Eolus we went.

First we traversed north around a boulder: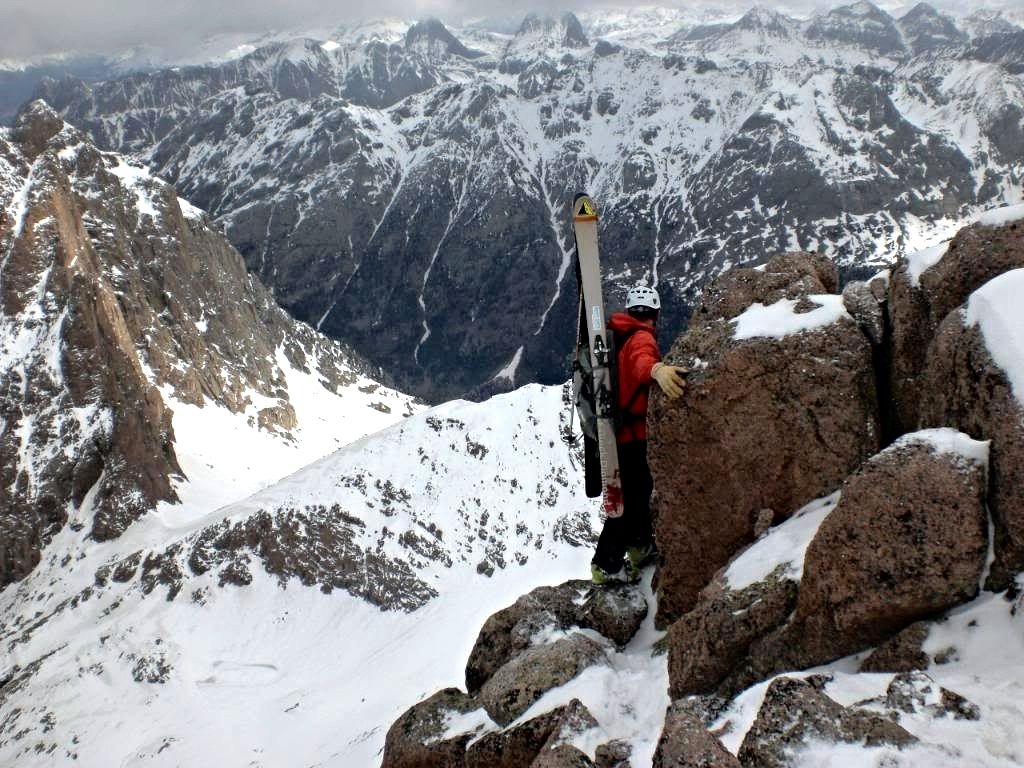 (photo: Carl)

...then began what was easily a class 4, probably low 5 down climb:


(photo: Carl)

Carl and Matt on their way down:


(photo: Ben)

We climbed back up to regain the ridge, and put skis on at the highest logical point we could. From here we skied southeast through a large open bowl and connected to a narrow couloir that drops into upper Chicago Basin. This was a really fun, interesting way to ski North Eolus. Matt, kudos for scouting the route.

Photo of the route (taken the previous day):


(photo: Matt)

Me heading on down:


(photo: Carl)

Looking back at Matt and Carl on their way over:


(photo: Ben)

Once we regrouped, we enjoyed several hundred feet of terrain that finally allowed us to open things up a little bit. This is without a doubt the mellowest thing we skied on these peaks.

Matt hits it:


(photo: Ben)

...then Marc...


(photo: Ben)

...and Carl:


(photo: Ben)

We met up with our ski tracks from the previous day and skied the same route back to camp, arriving with just under 4 hours left on the game clock.

Deproach 5.15.10
At this point we knew we had it in the bag if we could get camp broken down efficiently.

Another shot of the igloo:


(photo: Ben)

Crossing a stream in ski boots with a 50 lb pack is always a bit interesting:


(photo: Carl)

The slog back to Needleton was brutal. I`m sure I could think of a few more words to describe it but that one will have to do. We made it back with about 30 minutes to spare, certainly enough time to grab the beer we had stashed in a mesh bag in the Animas...



(photo: Carl)

I`m not sure when Matt changed into jeans, he`s sort of like Clark Kent in that regard...

Like clockwork, the train showed up at 3pm:


(photo: Carl)



(photo: Ben)

With the gear loaded and the trip in the bag, we enjoyed a long, relaxing ride back to Durango.

A few more for the road, err...I mean tracks:


(photo: Carl)

This was an incredible trip with an incredible group of partners. Thanks for making it happen guys! And thank you for reading!
Images