Overview
Anacram is a route located on
Freeway Wall
in the Lost Horse region of Joshua Tree National Park, California.
Climbers scrambling up the complex boulder-filled gully to the base of the Upper Freeway Wall, usually have one or two objectives in mind. They want to warm up on
Cake Walk
, 5.8, or
Nobody Walks In LA
, 5.9, then jump on Anacram, or at least dream about climbing Anacram, someday. Anacram is sandwiched between those two very popular climbs and it may be considered as the crown jewel of the entire formation.
Anacram, rated 10c
, is only one pitch long, but its sustained nature will make your forearms burn in satisfaction. The route follows an unrelenting crack system that varies from finger to hand size. But you need to be prepared to use your liebacking skills as the crack cannot be jammed for its entire length. There are two bolts on the lower part of the route to supplement your own protection.
Bring a rack of small to medium size nuts and cams
.
To get to the base of Anacram
, drive 7.3 miles from the west entrance to Joshua Tree National Park on Park Boulevard to its intersection with Lost Horse Road. Turn right onto Lost Horse Road which is a dirt road. There is a bathroom and a dirt pullout. Let's call this the first pullout. Drive a third of a mile to the fourth pullout and park. Looking straight ahead you will see a steep boulder-filled gully. Freeway Wall is the prominent formation that sits on the left side of the gully. On the upper wall you will see a crack that jogs to the left half way up the wall. This is Cake Walk. Anacram is the next crack to the left of Cake Walk.
Camping and Environmental Concerns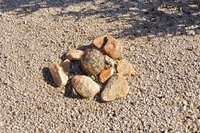 Please tread lightly. The Access Fund has gone to great lengths posting trail marker for approaches to many of the more popular crags. Do your best to stay on these trails, and where you are forced to use a different path, choose the ones that rain can mend in time. Drainages make for good trails where there are no established trails.
Avoid stepping on native and fragile plants, and do not feed the coyotes. Coyotes are very much used to people and often hang around picnic areas and camp grounds in hopes of getting a hand out. It's better to let them live their natural life.
Camping
There are nine campgrounds in Joshua Tree National Park. At the entrance to the park you are always asked if you would care to have a map and a brochure. The brochure will have plenty of information on the campgrounds and the map will guide you to many of the pleasant hikes throughout the park. You may even get the latest information as to availability of campsites. During the peak season (mid winter through spring) finding a campsite may become a major task. It is highly recommended to use the following link to get more information in advance.
Joshua Tree Camping
Noise considerations
When you are camping with friends and sitting around the fire, it is easy to forget that there are other people trying to sleep in the nearby campsites. It is important to put yourself in their shoes. Keep the noise and music to a minimum and certainly not too much past 10 p.m. Your neighbors will smile at you in the morning instead of giving you dirty looks.
Fees and Food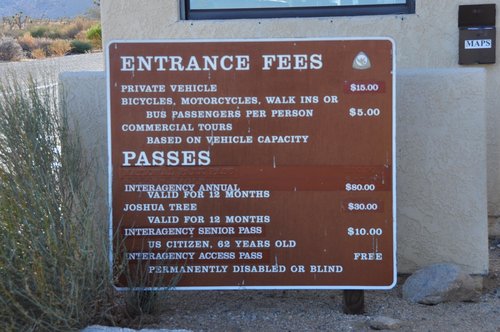 My wife and I have had Thai food in many different restaurants and cities. This Thai place beats them all. In November when the number of visitors to Joshua Tree reaches its peak, this restaurant puts on a Thai buffet, all you can eat for 10.95$/person. But, you must get there early, or be prepared to wait by the door for a table. The latest information indicates that the buffet style will be terminated by the end of February and will resume in November of 2010.
Essential Gear
Add Essential Gear text here.
External Links
Add External Links text here. [