Overview
Freeway Wall is a rock formation in the Lost Horse area of Joshua Tree National Park, California.
Lost Horse region of Joshua Tree is a huge area encompassing flatlands, steep hills, plunging gullies, rocky domes, and rock formations of all sizes and shapes. I have written at length about some of the formations in this crowded neighborhood such as
Hemingway Buttress
,
IRS Wall
,
Dairy Queen Wall
,
Playhouse Rock
, and
Dihedral Rock
. All these formations seem to rise from flatlands of the Lost Horse area. Upper Freeway Wall, in contrast, sits near the apex of a steep and boulder-strewn gully to the west of the other formations.
Freeway Wall is clearly visible from Lost Horse Road. This is a very extensive formation with a lower end nearly bordering the road and with an upper wall rising above the highest point in the gully. Across the gully from Freeway Wall, you will find a small rocky pinnacle/dome. This is "Tiny Tots Rock," and like a little brother to Freeway Wall it stands watch on the top of the gully. Tiny Tots, beside providing a few shorter routes, serves as a sun umbrella for your break time.
Select Routes of Freeway Wall
On the lower part of the Freeway Wall there is a prominent ramp called "Freeway" rated 5.7. This is most likely the first route that was established on this formation, hence the name "Freeway Wall." As is the case with most Joshua Tree formations, Freeway Wall is under ninety degrees, but certainly not low angle. The rock is grainy, but due to many years of hand and foot traffic, especially on the more popular routes, it has cleaned up pretty well. Although there are a number of routes on the lower part of Freeway Wall, the best and most sought after routes are located on the upper wall. There are three crack systems that constitute the majority of the popular routes there. The most famous of these cracks is a route called "Cake Walk, rated 5.7." Cake Walk may be considered the rite of passage to the upper face on Freeway Wall since it's the first one most newcomers to the crag do on their first visit.
In addition to Cake Walk, there are two other crack systems that draw lots of attention; "Nobody Walks In LA, rated 5.9" and "Anacram, rated 10c;" may be considered as the best routes on the entire formation. In addition to these three crack systems, there is now a bolted face climb to the left of "Nobody Walks In LA" complete with with its own anchor. Is "Sport Climbing" coming to Freeway Wall? Well, not really. This route is too sporty to be sport. There are two more routes to the right of Cake Walk, but I have never seen anyone climbing those.  
To get to Freeway Wall
drive 7.3 miles from the west entrance to Joshua Tree National Park on Park Boulevard to its intersection with Lost Horse Road. Turn right onto Lost Horse Road which is a dirt road. There is a bathroom and a dirt pullout. Let's call this the first pullout. Drive a third of a mile to the fourth pullout and park. Looking straight ahead you will see a steep boulder-filled gully. Freeway Wall is the prominent formation that sits on the left side of the gully.
List of the select routes
| | |
| --- | --- |
| | Select Routes of Freeway Wall |
| A | Freeway, 5.7, Runout, standard rack |
| B | Road Rage, 5.9, Standard Rack, pro to 3 inches |
| C | Not sure about the name or the rating, bolts, bolt anchor |
| D | Nobody Walks In LA, 5.9, standard Rack |
| E | Anacram, 10c, Standard Rack, and bolts |
| F | Cake Walk, 5.8, Standard Rack |
Environmental Concerns,
Please tread lightly. The Access Fund has gone to great lengths posting trail marker for approaches to many of the more popular crags. Do your best to stay on these trails, and where you are forced to use a different path, choose the ones that rain can mend in time. Drainages make for good trails where there are no established trails.
Avoid stepping on native and fragile plants, and do not feed the coyotes. Coyotes are very much used to people and often hang around picnic areas and camp grounds in hopes of getting a hand out. It's better to let them live their natural life.
Camping and noise considerations
There are nine campgrounds in Joshua Tree National Park. At the entrance to the park you are always asked if you would care to have a map and a brochure. The brochure will have plenty of information on the campgrounds and the map will guide you to many of the pleasant hikes throughout the park. You may even get the latest information as to availability of campsites. During the peak season (mid winter through spring) finding a campsite may become a major task. It is highly recommended to use the following link to get more information in advance.
Joshua Tree Camping
Noise considerations
When you are camping with friends and sitting around the fire, it is easy to forget that there are other people trying to sleep in the nearby campsites. It is important to put yourself in their shoes. Keep the noise and music to a minimum and certainly not too much past 10 p.m. Your neighbors will smile at you in the morning instead of giving you dirty looks.
Fees and Food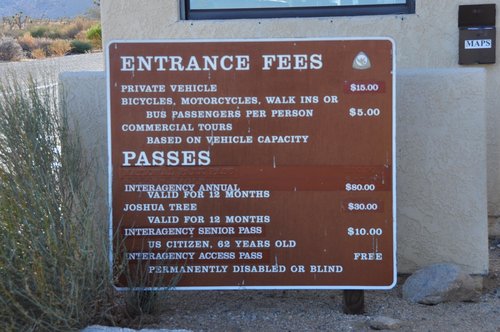 My wife and I have had Thai food in many different restaurants and cities. This Thai place beats them all. In November when the number of visitors to Joshua Tree reaches its peak, this restaurant puts on a Thai buffet, all you can eat for 10.95$/person. But, you must get there early, or be prepared to wait by the door for a table. The latest information indicates that the buffet style will be terminated by the end of February and will resume in November of 2010.