Overview
The Black Elk Wilderness is a 13,426 acre area at the center of the Norbeck Wildlife Preserve. Precambrian rock formations, consisting of granites, slates, and schists, form the central core of the Black Hills.
Black Elk Peak (formerly Harney Peak), the most prominent landmark in the Black Elk Wilderness, is an example of this. There are not many other prominent landmarks actually within the boundaries besides Black Elk Peak and Elkhorn Mountain. However, several prominent Black Hills landmarks and features border the wilderness. Those would include Mount Rushmore National Memorial, Cathedral Spires, Little Devils Tower, Horsethief Lake, and Sylvan Lake.
The entire wilderness area is an incredibly beautiful area of towering granite columns, small streams, and thick forests of ponderosa pines, spruce and aspen. Numerous trails weave through the wilderness, granting hikers and climbers access to this unspoiled area. There is a great abundance of excellent rock climbing opportunities in the wilderness area.
All mechanized forms of travel are prohibited in the wilderness area. There has been some problems with pine beetle infestation in parts of the wilderness, but measures are being taken to curb this and remove destroyed trees from key places.
History of the Black Elk Wilderness
The Black Hills were inhabited by many Native American tribes in ancient times, including the Ponca, Kiowa Apache, Arapaho, Cheyenne, and Kiowa, up to the late 1700's, when the smallpox epidemic broke the hold of the Arikara tribe. After that, the Sioux tribe moved into the Black Hills. The mountains were considered sacred to the Native American tribes. They gave the area the name "Paha Sapa", meaning "hills that are black". The Black Elk Wilderness was named in honor of the Oglala Sioux holy man, Black Elk.
The wilderness was first established as part of the Norbeck Wildlife Preserve, in 1920. In 1980, the Colorado Wilderness Act was passed by congress, which included the establishment of the Black Elk Wilderness Area. The whole area is part of the Black Hills National Forest, and is managed by the National Forest Service's Hell Canyon Ranger District. The wilderness is surrounded by the Norbeck Wildlife Preserve, Mount Rushmore National Memorial, and Custer State Park.
Wildlife
Wildlife found in the Black Elk Wilderness includes mountain goats, bighorn sheep, elk, mule deer, pronghorn, foxes, mountain lions, coyotes, raccoons, porcupines, marmots, and white tailed deer.
Large birds frequently seen include bald eagles, hawks, osprey, pregrine falcons, and wild turkeys. While these birds may be more obvious, another 200 species of birds inhabit the area.
Rattlesnakes are occasionally seen in the Black Hills, though not usually in the higher elevations.
Getting There
Access to the Black Elk Wilderness Area can be from Highway 244 from the north, Highway 16A from the east, or Highway 87 from the south and west. Picking up a Black Elk Wilderness map (free) from the Norbeck Center, at Mount Rushmore, at ranger district offices or at the chamber of commerce offices in Keystone, Custer, or Hill City, will help you decide where you wish to get started.
Red Tape
Custer State Park is adjacent to the Black Elk Wilderness, so you may need a state park permit, if you choose to access it from that side. No motorized vehicles, are allowed on the trails. Neither are carts of any kind, chainsaws, bicycles, strollers, or hang gliders. Pets are required to be on a leash or strict voice control. Camping is not allowed within 1/4 mile of Black Elk Peak. Groups over 25 are not allowed. Open fires are prohibited.
Camping
Camping is allowed, so long as it is not within 1/4 mile of Black Elk Peak. Open campfires are not allowed. The "Leave no trace" principle is encouraged for all visitors. If you prefer to camp at one of the many campgrounds in the hills nearby, please check out the latest camping information on the chamber of commerce links near the bottom of this page.
Black Elk Wilderness Maps
The Black Elk Wilderness lies in the Custer, Hill City and Iron Mountain USGS Quads. Good maps for the Black Elk Wilderness would include the National Geographic Black Hills South map, as well as the free map from the Black Hills National Forest, called "Black Elk Wilderness and Norbeck Wildlife Preserve".
Black Elk Wilderness Trails
The Black Elk Wilderness has quite a few great trails. Many are situated so that one can form loops or use them to access peaks. They are all well-maintained, and few are ever crowded. If you prefer solitude, Trail 9 south from Sylvan Lake to Black Elk Peak would not suit your interest. There are alternate routes to reach the summit of Black Elk Peak. Here is a list of the major trails in this wilderness:
# 2 Lost Cabin Trail - 5 miles
# 3 Norbeck Trail - 6.3 miles
# 4 Little Devils Tower/Black Elk Peak - 3 miles
# 5 Willow Creek/Rushmore Trail - 1.9 miles
# 7 Grizzly Bear Trail - 6.3 miles
# 8 Willow Creek Loop - 2.8 miles
# 9 Black Elk Peak North - 4.7 miles
# 9 Black Elk Peak South - 3.6 miles
# 14 Horsethief Lake Trail - 2.7 miles
# 15 Iron Creek Trail - 2.4 miles
# 16 Iron Mountain Trail - 1.4 miles
# 89 Centennial Trail - 8.9 mile section of the 111-mile trail
# 89B - Centennial Bypass - 1.7 miles
Note: Some of these trails are partly in Custer State Park, but are also in the Black Elk Wilderness. Other trails, such as # 6 Sunday Gulch Trail, the Blackberry Trail, Little Devils Tower Spur, Sylvan Lakeshore Trail, and the Cathedral Spires Trail, are all nearby, but not actually in the the Black Elk Wilderness.
Rock climbers will find many challenges in this whole area. Daryl Stisser, at the Sylvan Rocks Climbing School, advises that no one is currently permitted to guide climbing in the wilderness. So, climbing here is probably best left to those who are either already familiar with the area, or those with great expertise, who can accurately evaluate opportunities. Beginners and those relatively new to rock climbing will find a much more constructive approach by contacting the
Sylvan Rocks Climbing School
which operates in the area next to the Black Elk Wilderness and elsewhere in the Black Hills.
Free trail maps are available at ranger office and the forest service supervisor's office in Custer. These offices also have some individual trail maps, which can also be downloaded by clicking on this link:
Black Hills National Forest Trail Guide Maps
Wilderness Safety
At just over 13,000 acres, this is not a huge wilderness area. Nevertheless, there are still risks to hikers and climbers. Summer storms can bring hail and lightning. Heat can bring dehydration, while winter cold can threaten with hypothermia. Ticks, though small, can carry Lyme disease or Rocky Mountain Spotted Fever. Poison Ivy is found in the hills, particularly along streams. Mountain lions are occasionally seen in the hills, though rarely threaten humans. Rattlesnakes exist in the hills, but are not often seen. If bitten, please seek medical attention as soon as is possible.
Long ago, there were gold mines in the area. There are no comprehensive maps to show the where they all are. So, the wise visitor will stay out of them and watch out for both the horizontal and vertical entrances - sometimes covered by rotten old planks. And, of course there is always the risk of getting lost. That usually happens after dark, in storms, hiking off-trail, or when people do not check out good maps to make sure they know where they are at and where they should be going.
Because of the rock and steep terrain, it is a mistake to assume cell phones will work in the wilderness. Solo hikers should not assume a cell phone will get them out of a bad situation. Please plan your trip in the Black Elk Wilderness wisely, and then enjoy this fantastic area!
External Links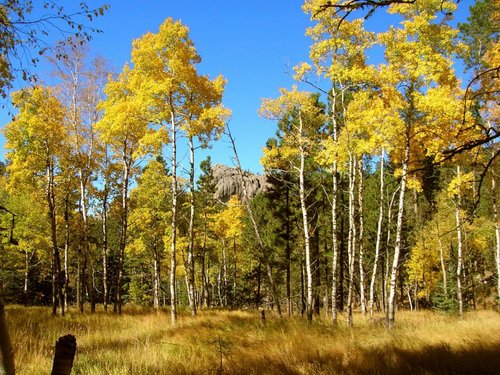 The National Forest Service manages the wilderness through the Hell Canyon Ranger District
(605) 673-9200
. You can get more wilderness information online, including maps at:
US Forest Service
Black Elk Wilderness
For maps and more trail information, click here:
Black Hills Hiking
Wilderness.net also posts information about the Black Elk Wilderness at:
Wilderness.net
Area Camping, Lodging & Dining Options:
Custer Chamber of Commerce
Keystone Chamber of Commerce
Hill City Chamber of Commerce