Overview
Separated into East (10,419ft) and West Black Lion (10,432ft), and among numerous old mines (mainly silver mines), Black Lion Mountain is Montana's Pioneer Range's mineral rich peak. The mountain is covered in silver and copper ore. The boulders shimmer and shine a copper color. Near the top of East Black Lion there are dozens of quartz boulders that contain beautiful crystals.
East Black Lion Mountain sees a lot of visitors to it's base because of its access on foot or on 4-wheeler(if you know the route). West Black Lion seldom gets climbed, probably because no one knows it's there, it is well hidden by East Black Lion. It becomes visible from other peaks in the range and from the Lion Creek Trail.
Getting There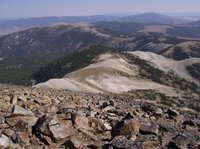 There are two ways of getting to the last road into to the trail to the base of East Black Lion. Quartz Hill Rd.: take I-15 south of Butte and take the Divide Exit, about 20 miles south of Butte. Take Quartz Hill road after about 10 miles of driving on Hwy 43. Follow the road all the way to a where Buffalo Head Gulch Rd takes off to the right.
Canyon Creek Rd.: Take Canyon Creek Rd. 4 miles out of Melrose(off of I-15 32 miles south of Butte.) After about 4 miles on Canyon Creek Road another road will take off up the hill to Vipond Park. Take this road to Buffalo Head Gulch, which will be on the left.
From Buffalo Head Gulch Rd you will side-hill until the road ends at a 4-wheeler road. From this road walk about a mile until the 4-wheeler road turns and goes up the hill. Don't take the turn up the hill, instead go straight west off the turn and head straight up the ridge in front of you. From the top of the ridge there is a faint path and you will be able to see East Black Lion. Follow the ridge south and find a path to the base of East Black Lion. From there pick a way up and go. West Black Lion is behind East Black Lion. To get there either sidehill around East BL or go from the top of East BL, then down onto the saddle, and then up West Black Lion.
The round trip distance to West BL is about 5-6 miles
Rockhounding
This is an excellent place for all you rockhounders to visit. There are many neat rock specimens to see here. Several different ores can be found near the and below the summit. Bring a hammer and chisel if you want to find any crystals. The place to look is near the top of East Black Lion. There is a string of about a dozen quartz boulders that contain pockets of quartz crystals.
When to Climb
East and West Black Lion are faily gentle mountains and can probably be done year-round, if the roads are accessable and passable in winter conditions.