Overview/Approach
Cooper-Kor on
Pigeon Spire
is considered one of the
classic historical lines
in
Bugaboo Glacier Provincial Park
. The
West Ridge
of Pigeon Spire is no doubt the most popular route in the entire park and serves as the
descent for Cooper-Kor
. However the routes are vastly different in terms of required climbing ability, route finding and overall seriousness. Cooper-Kor climbs the
vertical and intriguing east face of Pigeon Spire
via several long traverses that eventually land you on the upper right hand shoulder of the mountain from which you can easily gain the summit.
"Devious"
is the description Marc Piche and Chris Atkinson give the Cooper-Kor route in their excellent guidebook,
"The Bugaboos, One of the World's Great Alpine Rockclimbing Centres."
After climbing it, I concur with that sentiment.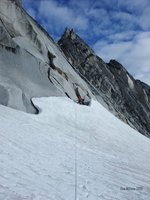 Ed Cooper and
Layton Kor
made it up the east face in 1960 (that had to be an interesting exploration!). Drummond and Buchanan freed the line in 1974. Several issues plague the climb from a challenge perspective, not the least of which is that it can be
quite wet, even in mid-August.
Climbing wet granite slab at this grade (5.9-5.10) can be interesting to say the least. Route finding can be another challenge. There are several instances where you run into
significant granite slab run outs
that require thoughtful and focused climbing to overcome. All said and done though, you will not find a more attractive face to climb in Bugaboo Glacier Provincial Park.
Although the guide book mentions 18 pitches in total, we did it in no more than
14 total pitches
with
double 60m ropes
. Getting over the bergschrund and moat could no doubt be problematic in the coming years. We had to pitch out one rope length on the glacier above the bergschrund but I personally would have been comfortable soloing it to the wall in 2009. The first two pitches involve stellar granite cracks. Eventually a long ledge walk, left to right, puts you below a long easy chimney section with a splitter crack variation out left. Up either one of these options lands you at the
infamous slab traverse
, left to right, with one piton (2009) protecting the whole distance! The ground is steep and slab features few.
Obviously the 2nd will have to be as comfortable with slab skills as the leader on this pitch
. At this point, following the guide book beta is a bit difficult and it could have been written more simply. This is where the aid or higher grade climbing enter the picture. Climb up a corner to its top, then tension down and right into another corner. Climb to this corner's top, then delicately climb or tension the slab out right once again into yet a third corner. Follow grooves in the face along this corner until you can escape through a steep right wall hemmed in by two corners.
This wall can be a nasty muddy mess making it quite the heady lead and crux of the day (as it was for us).
The final pitch is a nice full on 60m pitch, right to left diagonal over vertical cracks to the upper right (northeast) shoulder of Pigeon Spire. Either solo or rope up a few more times ascending to the summit. Descend the west ridge which we did solo after the first two raps.
Access the Pigeon Fork-Bugaboo Glacier which is located on the northeast side of Snowpatch Spire. Put on your crampons and ascend the ice, staying right on the glacier, until the east face of Pigeon Spire comes into full view. Continue as though you were going for the west ridge via this approach.
Veer off to the right as soon as you are at a height that comfortably puts you above the eastern bergschrund of Pigeon.
Traverse above the bergschrund to the moat at the very eastern corner of the face. The route starts among this jumbled looking granite that leads to a perfect hand rail crack that serves as the first pitch of Cooper-Kor.
Route Description
Alpine V, TD-, 18 Pitches, 5.10
Grades are "old school" as they appear to be from the FA in 1960 and trip reports on the internet seem to inflate them from here.
1st Pitch- 40m- 5.7/
Climb up and right over a flake to access a beautiful
hand rail crack splitting granite slab
. Follow it to a semi-hanging belay spot where it makes sense to build a station.
2nd-3rd Pitches- 60m- 5.7/
Old school 5.7. Continue right for a short distance to gain an off-width crack and follow it up as it angles back left. You will run out of rope (60m) right below the huge ledge traverse at a comfortable belay spot.
4th-5th Pitches- 120m- 4th Class/
The guide book calls this ledge 4th class, but it is not even 4th class really. We simul climbed along the ledge to the base of what the book refers to as pitch 6.
6th-7th Pitches- 60m- 5.7/
Old school 5.7 moves. Move up and right to a fun
under-cling
. Continue arcing right on easy ground to a
lie back flake
. Climb straight up this as it enters the left slanting chimney crack above.
8th Pitch- 50m- 5.6/
Run up an easy chimney pitch.
9th Pitch- 60m- 5.6/
Continue up the easy chimney pitch to belay in an alcove of sorts still well below the headwall above.
10th Pitch- 50m- 5.7/
Climb over a small roof section to the headwall, set up a belay below it.
11th Pitch- 30m- 5.8R/
The "money" pitch.
I challenge you to find a more unique alpine climbing setting (run out granite slab, glaciers, icefalls, spires, weather, etc!).
Carefully traverse
run out
slab out right for 30 meters. You will have to
step down
on several occasions as it trends down and right. A whipper here will cost you some skin and maybe a backpack. I chose to smear the granite slab with my hands about a
meter below the headwall
itself. There are few features to work with at first but the traverse is fairly blank and by the time you start to get pretty damn nervous, you can step up to a shallow corner and clip a
lone piton
(2009). Continue down and over easier slab at that point to a
cubical belay
at the base of a more definitive corner. You can get in one solid
.75" piece
backed up with a piton (2009).
12th Pitch- 60m- 5.9 A0/
We made this into
two pitches
as it was a bit
confusing
for my partner who led the first part of it. Climb up the corner (past two pitons-2009) to a
fixed (2009) tension r
ap. Tension down to almost the same level as your belayer, however you cannot see each other. Tension out right into the next corner. We set up a belay here, switched leads and then climbed another 5.9ish corner to its top where you can set up a belay on a flake and piton (2009).
13th Pitch- 60m- 5.10/
The
crux pitch
of the entire route for a variety of reasons, the biggest being that it was
wet and mucky in mid August
, meaning it is probably in that condition most of the year. Either aid (A0) via a short tension traverse right into yet one more corner (albeit dirty corner) or make
run out 5.10 horizontal slab moves directly right into a groove system that runs parallel left of the corner.
In any regard, the grooves present the best line (vs the corner itself) even though they were
full of running water
. Once you reach a junction where two corners form, switch to the left corner and stem back to the right one as you climb the vertical
wet and dirty face above overcoming the most difficult climbing of the entire route in less than optimum conditions no doubt
, unless you caught this section of the wall dry. Once above this heady lead, the ground turns to rubble and thus set up a belay wherever you deem appropriate.
14th Pitch- 30m- 4th /
Move the belay to the right shoulder below a beautiful dark wall full of lichen and good climbing cracks.
15th Pitch- 60m- 5.6 /
Old school 5.6 takes you up wide cracks, constantly traversing left until you have completed a long diagonal that puts you at the upper left hand top of this wall on the final east/north ridge proper of Pigeon Spire.
16th-18th Pitches- 400m- 5th/
The book calls this 200m and three pitches. We just took the belay off and ran the rope out 200m+ to the base of a easy crack going up left. Set up a belay there and climb a short pitch to its top. Then set up a final belay and follow the ramp heading west to the true summit of Pigeon Spire. This whole sequence from the top of pitch 15 is probably closer to 400m, not 200m.
Climbing Sequence
Climbing Sequence II
Climbing Sequence III
Descent
The beauty of this Alpine V route, unlike Beckey-Chouinard on the South Howser, is that a competent climbing team can practically walk off (5.4) the
west ridge
after the first two single rope rappels from the summit. Once down the west ridge, turn left to access the Pigeon Fork/Bugaboo Glacier back to the Kain Hut area.
We soloed this glacier, but most folks would rather be roped up for at least one major snow bridge crossing (2009).
The Snowpatch-Bugaboo col was in sad shape in 2009 and thus this was the preferred descent/access for Pigeon Spire.
Crampons and alpine axe for the glacier travel. We used double 60m 8.0 ropes, which I normally advise for long alpine routes. You definitely need the
60m length
for efficiency. Full set of cams to 3", few doubles here and there, important to include the C3's or small TCU's, you will use them in those grooves on the crux pitch. Small set of off-set nuts. We did not take a hammer and pins, but found a few we enjoyed using en route in 2009. Extra long slings or cordelette stations for slinging here and there.
The grades appear to have been from 1960 FA via the guidebook, so climbing shoes we found to be a must for all the slab granite we did.
Pigeon Spire attracts its own weather, even when the forecast is predicted to be sunny. Do not underestimate this issue regarding clothing. Take a bomber weather jacket. I was glad to have mine in mid August. Plenty of water on the upper section of the route, unfortunate for the climb, but allows you to get by without carrying much water up the face.
External Links