Overview
Červený žľab (Red Couloir) on Satan is 500 m long couloir leading from Satanova dolinka to Sedlo nad Červeným žľabom pass between Predná Bašta (2366 m) and Satan (2421 m). Average inclination: 55°. Top season - early spring. There is a great risk of avalanches after fresh snow falls, and there is fourteen rock bands (8 easy, 6 very difficult) to climb in summer. These rock bands consist of hanging boulders, you can climb over them (technical difficulty III-IV), but there is a great risk of falling stones. Due to all these facts it's advisable to climb in this couloir in the spring, when there is already firm snow.
If you are fond of extreme skiing, you can find a very good conditions here (S4+, E2+).
First ascent: Wanda Jerominówna, Mariusz Zaruski, Aleksander Znamięcki, September 1912. They had to use human ladders in several places. This ascent is nicely described in Mariusz Zaruski's
Na bezdrożach tatrzańskich: Walka na śmierć
.
First winter ascent: Chamrad, Dušan Charvát, Jindřich Dobrovolný, Lubomír Šrámek, Vaněk, Zdeněk Záboj, Václav Zachoval, 27.3.1948
Getting There
Follow the red marked trail from Šrbské pleso (1346 m) to Popradské pleso (1500 m), and from the crossroad above Popradské pleso, follow the blue marked trail leading to Koprovský štít. You have to cross Hincov potok and below the rock face above which is the plateau with Hincové pleso tarn, turn left and through some grassy slopes go down to Satanova dolinka. From there you have to cross field of dwarf pines to reach the couloir.
Route Description
We started at 5 am from a parking lot in Štrbské pleso and we were proceeding through Mengusovská dolina to Satanova dolinka. In 2 hours we found beginning of our couloir and after short breakfast we started ascent at 7:30. First sections of the couloir are not steep (35-40°) and rather wide, and there are no difficulties.
The steepest part is in the middle section (50-55°) and the couloir is gradually narrowing.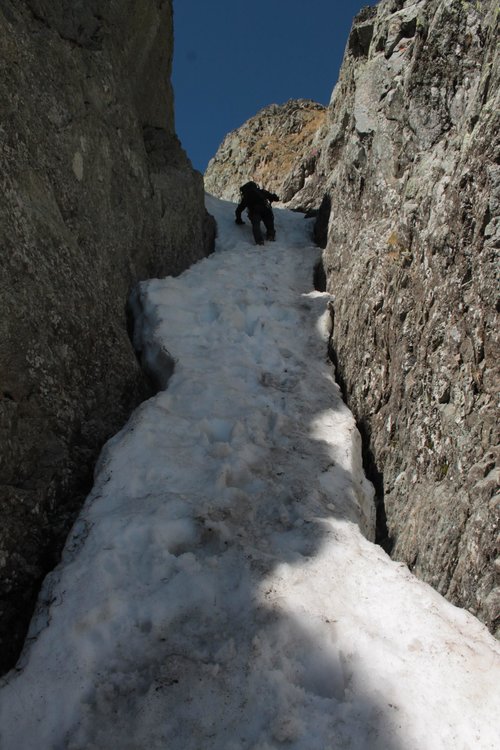 Since we had good snow conditions, we had to climb over only two rock steps, the rest of the couloir was wholly covered by snow. The upper part of the couloir has an inclination of 42-48° and is again wide, so you can easily reach Sedlo nad Červeným žľabom (2 hours from the beginning of the couloir).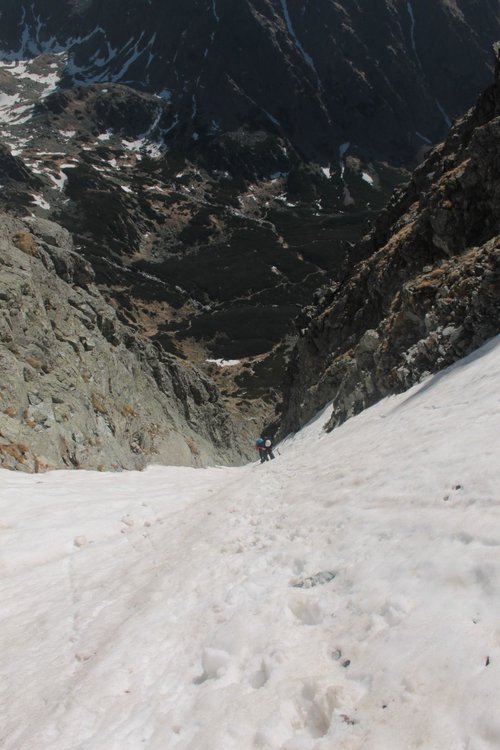 Since the snow was firm enough we didn't use any belay. From the saddle you can follow the ridge leading through Satanova vežička (Satan's Tower) and Satanov zárez (Satan's Pass) to the summit of Satan (2421 m, 3/4 h).
Satan has in fact two summits - northern and southern - with almost the same height connected by a short ridge. Views from the summit are magnificent, and you can see the whole Mengusovská and Mlynická dolina Valleys with all mighty peaks towering above them, especially Vysoká and Mengusovské štíty one one side and Soliskový hrebeň on the other side.
There is several options as to where to descend. You can continue to the northern summit of Satan and from there descend to Satanovo sedlo (2300 m) and further via Satanov žľab (Satan's Couloir) down to Satanova dolinka. The other option is to return down by the same route, which is via Červený žľab. We choose to follow the ridge of Bašty to Patria. We descended therefore by the same route to Sedlo nad Červeným žľabom and from there we continued by the western grassy slopes of Predná Bašta (2366 m) back to the ridge. From there you can easily reach the summit of Predná Bašta. From this point we followed the ridge on the side of Mengusovská dolina, until we reach Sedlo nad Širokým žľabom (2199 m). There is another option to descend via Široký žľab, either to Mlynická or Mengusovská dolina. We proceeded further to the summit of Malá Bašta (2289 m) until we finally reach the last point on the ridge - the summit of Patria (2205 m). Weather was superb, we have a plenty of time, so we decided to find Ihla v Patrii - famous rock tower in one of Patria's couloirs (technical difficulty IV).
Unfortunately, since we weren't planning to do this climb, we choose wrong couloir to descent and after an hour of looking for Ihla we had to return back to the ridge and save Ihla for another visit of Tatras. We descended from Patria directly in the direction of Štrbské pleso, but after a while we encountered an impenetrable forest of dwarf pines - 2 - 3 m high - with no clear route ahead of us. We fought our way throug this dense forest, jumping from one branch to another, and after an hour we emerged, scratched and tired, in Štrbské pleso.
Essential Gear
Ice axe, crampons, rope, helmets.
Story about first ascent of Červený žľab (in Polish)