Overview
This is a fun snow climb on the north face of Storm Peak, offering over 800 feet of continuous snow, up to 50 degrees. Total elevation gained on snow from the tarn is 2100'! The route is in condition* starting mid-late June (we found ideal conditions 06/27/14).
Approach
As for "Grande Couloir." There is parking at the end of CR 52 in Velocity Basin, but avalanche debris may force you to hike in. The Gnar Couloir is the obvious line on the north face which tops out looker's right of the summit.
Route Description
Your first objective is to reach the large snowfield on the north face. Pass the tarn at the end of CR 52 on the west (right) side and continue south until it is possible to climb southwest on snow or scree towards the snowfield. Cross the snowfield on the left side and enter the couloir proper. Climb 40-50 degree snow for 800' to the top and scramble to the summit with a few 3rd class moves.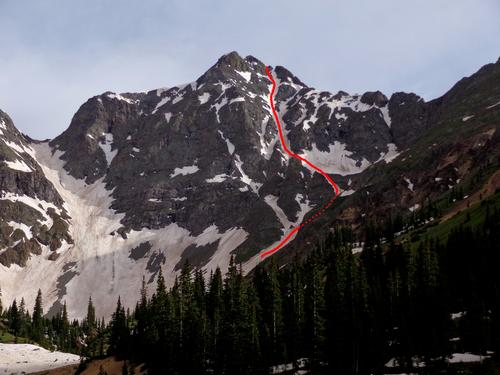 Essential Gear
Mountaineering axe, sturdy boots, crampons. A second tool may be useful if downclimbing (see Notes).
Notes
This line appears to get skied. If not combining with "East Storm", ski or downclimb the couloir; or walk down the south couloir, hike around to the Storm-"East Storm" saddle, and ski, downclimb, or glissade the central ("Grande") couloir.
* hard packed snow when climbed around sunrise.