Overview
Hyalite Canyon is home to the largest concentration of natural routes in the lower 48, behind artificial ice locations such as Ouray, CO. The bulk of the ice here was pioneered in the early 70's, being some of the earliest ice to be climbed in North America. Hyalite Canyon was the playground of Alex Lowe as well.
For up-to-date information on conditions in Hyalite Canyon as well as other climbing areas around Montana, see the
MontanaIce
website forums.
Map
: The Fridley Peak quadrangle map covers the entire area, including the Main Fork and East Fork
Getting There
To get to Hyalite Canyon, take 19th south out of Bozeman for about 6 miles to the Hyalite Canyon turnoff (there is a big brown sign on the left side of the road). Follow this road for 17 miles. Here you'll cross the dam of Hyalite reservoir. Continue another 2 miles to the fork in the road. The right fork is the main canyon, with the left fork leading to the Palisade Falls / Flanders / Emerald Lake trailheads. The bulk of the climbs are located in the main fork, but there are some classics found in the Palisade Falls area and the Flanders drainage.
Road Closures:
Sadly, the roads in this canyon are not open year-round. The east fork road will close mid-winter, typically in January. Many people still park at the gate and hike/ski in to these climbs. The entire road is closed from April 1 - May 15 each year due to rockslides and worsening dirt road conditions.
Climbing Areas
Because there are so many climbs in the area, it is easiest to group them into sections.
Main Fork
Genesis Area
The Genesis Area is the most popular of climbing destinations in Hyalite Canyon. It lies on the west side of Sleeping Giant Mountain, the first mountain dividing the main fork of Hyalite Canyon with the Flanders Drainage. Most routes are topropable, and are good destinations for beginning and expert climbers alike
Genesis I
- 60' WI4-5 I
Willow Gully
- 60' WI3 I
Blackalicious - 50' M5 I
Short N Sweet - 50' M4 I
Ice 101 - 60' WI2 I
Clump Tree Gully - 60' WI2 I
Lower Green Sleeves
- 90' WI3 I
Genesis II
- 150' WI4 II
The Golden Mean - 70' WI4 II
Through Four More - 80' WI4- II R
Hang Over
- 130' WI3+ II
Upper Green Sleeves - 200' WI3 II
Sleeping Giant Falls
- 100' WI4 II
Zack Attack - 520' WI5 5.8 IV
The Soprano - 165' WI2 II
Twin Falls Area
Twin Falls
- 250' WI3 III
Cleopatra's Needle - 250' WI5 III
Airborne Ranger - 275' WI6 III
21 Stitches - 350' WI6 A1 5.8 III
The Matriarch - 220' WI7 5.10+ III R
Marc Antony's Wicked Tool - WI6 III
The Shimmy - 300' WI6 III
Amphitheatre
The Ampitheatre is another popular destination for both beginning and expert climbers. There are a variety of ice, mixed, and pure rock (drytooling) routes here. Only a 1/4 mile from the trailhead, this is a popular destination for locals to climb before or after work and for college students to get some mileage in around classes.
Fat Chance
- 100' WI3+ I
White Zombie - 60' M5 I
Thin Chance
- 60' WI4 I
Sun Vow - 60' M6 I
Desert Dance - 60' M6 I
Snoogles Left - 100' M4 I
Snoogles Right - 100' M6 I
Switchback Falls
- 90' WI3 I
Mummy Cooler I - 60' WI2+ I
Mummy Area
Mummy Cooler II
- 150' WI4- II
Frigid Aire Left - 60' WI4 II
Frigid Aire Right - 70' WI3 II
The Scepter
- 90' WI5 II
The Wand - 50' WI4 II
Crypt Orchid - 180' WI2+ II
The Matrix - 150' WI4 M5 II
Cave and Gully - 150' WI4 5.5 II
Feeding the Cat
- 100' WI3+ II
Mummy III - 120' WI4- III
Mummy IV - 250' WI5+ IV
Winter Dance Area
In the shadow of one of the most spectacular ice climbs in Montana, the Winter Dance area is rich with longer moderate routes. Nearly all just one pitch in length, except for the might Winter Dance itself and The Slot Corner, many of these climbs are done on the same day. The approach is daunting, with lots of vertical feet gained quickly from the trail, but well worth it.
Dielectric Breakdown - 130' WI5+ II
The Slot Corner - 230' WI4 III
Land of the Lost - 200' WI4 III
Curtains - 80' WI4 III
Over Easy - 140' WI3 III
Winter Dance - 450' WI6+ M8 IV
Black Magic Wall
The Black Magic Wall is home to the some of the hardest mixed routes in the canyon. It is a popular destination for experts as it is a short distance from the trailhead and offers a few exciting problems.
Smears for Fears - 250' WI6 5.11 II
Smear Today, Gone Tomorrow - 160' WI6 5.11- II
Black Magic - 140' WI5 5.9 II
The Shores of Pluto - 165' M5+ II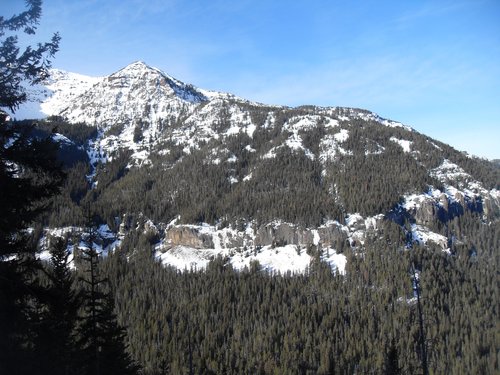 Unnamed / Come and Get It Walls
This long wall is rich in fat ice climbs, such as the Fat One and the Elevator Shaft, to 2 of the hardest 4 mixed climbs in the canyon, Expanding Horizons and Bulldog World. Many days can be spend here exploring the entire wall and the Penthouse above, offering new route possibilities for those willing to hike and find them.
Bingo World - 150' WI5 II
Bulldog World - 150' M7+ II
Good Lookin' One - 150' WI5 II
Jeff's Other Left - 150' M5 II
Jeff's Left - 150' WI3 to M6 II
Jeff's Right - 120' WI3 to M4+ II
Magically Delicious - 70' WI3+ M4 II
Grass Roots Revival - 150' M7 II
Come and Get It - 165' M7 II
Breadfan - 165' M8 II
Expanding Horizons - 165' M8+ II
The Thrill Is Gone
- 120' WI4 M4 II
Sharp Dressed Man - 100' M5 II
The Itchy and Scratchy Show - 80' WI3 to M4 II
The Scrappy One - 75' WI2+ II
The Fat One - 150' WI3+ II
The Elevator Shaft - 150' WI4 II
The Penthouse - 60-120' WI2-3+ III
East Face of Elephant Mountain
Solstice I - 170' WI4 III
Solstice II - 60' WI3 III
Equinox - 80' WI4 II
Palace Butte
Palace Butte Icefall
- 160' WI3-5 IV
The Four Horsemen of the Apocalypse - 250' WI6 III
Kansas Cornfield - 165' WI4 III
Reparation - 100' WI5 IV
The Dribbles Area
Rocket Boy - 250' WI6 5.9 A1 III
Responsible Family Men - 200' WI5- IV
Juvenile Delinquents - 60' M9- IV
The Western - 165' WI2+ II
Avalanche Gulch - 700' WI5 IV
The Dribbles
- 500' WI4 III
Silken Slot - 500' WI3 5.7 III
Silken Falls - 400' WI3 III
The Climb Above The Dribbles - 300' WI5 5.8 IV
The Climb Left of The Climb Above The Dribbles - 70' WI4 IV
The Climb Right of Silken Falls - 70' WI4 III
Maid of the Mist Mountain
A Maid No More - 200' WI3 IV
Long Walk to Freedom - 80' WI4+ IV
Once In A Blue Moon - 80' WI4 IV
Maiden Voyage - 800' M5 IV
Overlook Mountain
The Monkey Ass Wall - 110' WI5 IV
Poseidon - 250' WI3+ IV
Another Day, Another Decade - 120' WI3+ IV
Disco Party - 70' WI3 IV
The G-Spot - 200' WI3 IV
Strong Persuador - 80' WI4 IV
East Fork
Palisade Falls Area
Palisade Falls - 130' WI3+ II
Omega - 100' WI5 II
Alpha - 80' WI4 II
Left Out - 30' WI2 II
Seeds and Stems - 85' WI4- M4 R II
Emerald Lake Trailhead
Misguided Youth - 300' WI4 M4 III
The Comet - 130' WI4+ III
The Asteroid - 300' WI3 5.7 III
High Fidelity - 500' WI4- M4 III
Slight of Hand
- 120' WI4 II
Cave Falls - 90' WI3+ III
Rock And Hoar Pic Show - 220' WI4 R III
Horsetail Falls - 250' WI4 III
Fools Gold - 280' WI4+ IV
Lower Flanders
Champagne Sherbet
- 200' WI4 II
Champagne Slot
- 180' WI3+ II
High Crimes And Misdemeanors - 300' WI4+ M3 II
Upper Flanders
Butterflies On Tears - 200' WI5 5.8 III
The Ice Miser - 160' WI3 III
Slick Willy - 100' WI3 III
Truth - 165' 5.8
Fact Or Flander? - 230' WI5 A1 III
Flanders Field - 275' WI4+ III
Lizard Head - 80' WI3- III
Wedgy - 80' WI3 II
Red Dog - 80' WI4 III
Code Red - 100' WI5 III
Bulging Blues - 100' WI3- III
Pigs In Zen - 80' WI5+ IV
The Ghost Of Flanders - 90' WI4 IV
North Side of The Mummy
Killer Pillar (Totem Pole) - 530' WI5 III
Corkscrew Silliness - 140' M6 III
Women Are From Venus - 120' M7 III
Men Are From Mars - 120' M6- III
Bobo Like - 450' WI5 M5 IV
The Big Sleep - 400' WI6 M6 IV
Direct Start to The Big Sleep - 120' M6
Resurrection Start - 275' 5.9 WI4
Rude Awakening - 240' WI6- IV
Guide Books
Though I can put information up here on SummitPost, there are two local guidebooks that provide an overwhelming amount of beta for these climbs and many, many more in the surrounding areas.
Big Sky Ice
- by Ron Brunckhorst - This guidebook details 600+ routes all over the state of Montana and northern Wyoming, from short roadside topropes to harsh grade V climbs.
Winter Dance
- by Joe Josephson - This guidebook contains routes only in south-west Montana and northern Wyoming, but provides excellent photos and history of many of the climbs.
A big plus for the Big Sky Ice book is that it lists more climbs, some which have only seen a single ascent,
and
the grade of each climb, which can be very valuable information in planning an outing. However, Winter Dance has a large colour photo for over half of the climbs listed in the guidebook. For the best of both worlds, think about getting both books as they are very valuable together for a complete guide to the ice in this area.
Guide Services
There are two main guide services in the area
Montana Alpine Guides (MAG)
- The local guide service for rock and ice climbing as well as many other outdoor activities
Reach Your Peak
- The guide service of Ron Brunckhorst, the author of Big Sky Ice.
Climbing Grades
Every climb here is labeled with two or more grading systems to properly express the difficulty of the routes. A description of the grading system can be found
here
from
Alpinist.com
Grading systems are generally equivalent in any given area, but may differ from state to state just a bit. Montana's grades are typically equal to Wyoming's grading, but a bit lower than other states such as Colorado - meaning a WI3+ in Colorado would be equal to about WI4 in Montana. The same is true for the YDS and NCCS systems as well. To know for sure, go out and climb a moderate route to set your bearings straight.
UNDER CONSTRUCTION
This page is under construction and will be expanded shortly.
style="display:block"
data-ad-format="autorelaxed"
data-ad-client="ca-pub-6523272176520096"
data-ad-slot="7132222476">