Overview
The hut is located in central part of Prenj, one of the most beautiful mountains in Bosnia at altitude of 1655 m ASL near Taraš peak. Jezerce is starting point (or Base Camp as we call it) for many hike and climbing routes on this mountain.
History
There are some suggestions that on this location was "Katharinen Hütte" built by Austria-Hungary goverment.
In 1933, MC "Prijatelji Prirode" from Sarajevo has built small hut on this location.
After World War II, Mountaineering Union of Bosnia and Herzegovina made enlargement and in 1951 gave it to MC "Borašnica" from Konjic then to MC "Prenj" from Mostar.
In the middle of 80's, the hut wasn't locked anymore and maintained and supplied by mountaineers themselfes which functioned good.
This hut has been destroyed during the war in Bosnia.
How to get there
The main starting point is Konjic, small town 60 km south from Sarajevo. You can reach Konjic by bus, train or by car.
1. Via Gornja Bijela
From Konjic drive to willage Gornja Bijela (or take taxi if you get there by bus or train). Leave the car near the timber mill (N 43.5935 E 17.9423). From there follow marked trail to Jezerce.
Gornja Bijela - Jezerce 3 - 4 hours.
2. Via Crno Polje
From Konjic drive to direction of Borci willage or Boracko Jezero (lake). Near Borci turn rigth into Boracka Draga walley. From here the road is macadam and you should have 4X4 or something. Follow marks, watch for crossroad to Crno Polje and drive till the end of road (N 43.5312 E 17.9746). Leave the car here and continue on marked trail to Jezerce.
Crno Polje - Jezerce 2 - 3 hours.
Under reconstruction
Group of Bosnian mountaineers from
Zone-2000 Mountaineering Web Magazin
and Mountaineering Club Borasnica from Konjic tries to rebuild it using donations and wolunteer work. Major part of job is already done and only roof is left to build. We need about 2000 euros to finish it, so any donation is welcomed.
Current situation
We continue with construction: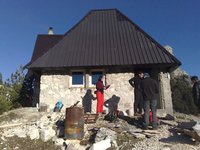 External Links
This is
main project web page (in bosnian)
where you can follow the building progress, list of donators, and information how to give your own donation.
Transaction acc: Union Banka dd Sarajevo, filijala Konjic, no: 1020080000070635
Purpose: For Jezerce reconstruction
SWIFT code: UBKSBA 22, ID No:42274280980003