Overview
This is a nice link up located in Smith's most popular & crowded area known as The Dihedrals. Karate Crack is visible from the main parking area – look for the 40-foot fishhook-shaped crack. Pack your 10 essentials, take a compass bearing from the parking area & follow it till you arrive at the base of the crack. If you cannot locate this climb, you immediately need to sell me your rack & stop climbing.
In addition to scaling what is one of the most recognizable routes at Smith (for sub-5.11 lines anyway), the climb will take you into the rarely ventured territory of
Peapod Cave
- a nice chimney climb…well, there IS a nice climb somewhere in there under all that bird shit. I'm sure of it.
Rock seemed solid but again this is not popular so some junk might come off - don't do it when there's a crowd below. Be considerate.
FA of both routes was done in one season back in 1966 by D. Caldwell & B. Babcock; FFA was done on the same day in 1973 by the duo of D. Fry. and S. Lyford.
Getting There
Follow driving & hiking directions given under
Four Horsemen
formation. For additional hints, see above.
Route Description
Pitch 1, Karate Crack:
5.10a, 40 feet. Climb the hand crack, traverse, enter chimney and down climb to bolted anchors. Don't forget to protect your second for the traverse and down climb.
Pitch 2, Peapod Cave:
5.10a, 40 feet. Climb up the chimney. Crux hits at top when you have to exit and do a short (thin) traverse above the
Cinammon Slab
directly below. Belay from bolt anchors atop P1 of the latter.
Pitch 3:
about 30 feet, at least three options:
- 5.5, Follow the wide-crack/dihedral & face to the top. OR
- 5.7R, Climb up the face just left/above the 5.5 crack (called
Cinnamon Toast
in Watts' guide). OR
- 5.9, Climb the bolted and exposed arête left of the 5.7 face. Route is reported as name "unknown" in the Lawson Smith Supplement book. Recommended! Arete above climber's head in
this photo
.
Descent:
Rap from any pitch on the route. If you rap from very top, it
might require two ropes.
Essential Gear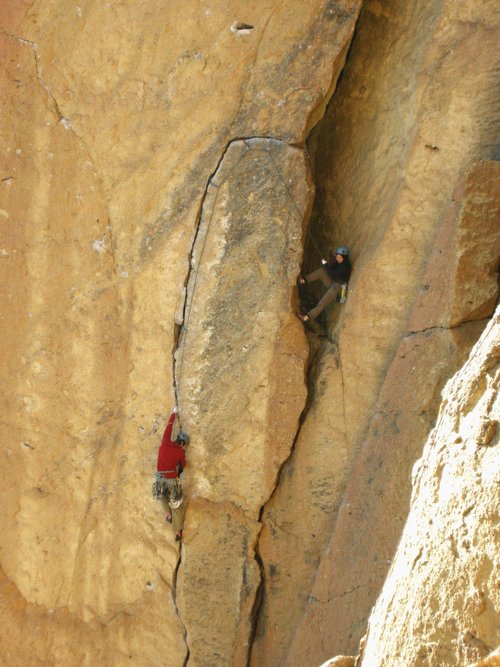 Though the old
Oregon Rock
guidebook by Jeff Thomas features a Karate Crack climber on its cover sporting a healthy count of hexes on his harness, these days
Karate Crack
seems to enjoy a steady diet of spring-loaded camming units, most especially from climbers like me (weak). #1 Camalots seem to be a favorite of this crack but it will consume a #2 or two as well. Additionally, it occasionally likes to eat #3 Camalots. Bring #0.75 to round out the meal and a #0.5 (red Alien would do too) for dessert (hint, hint!!).
Peapod Cave
takes a good dose of large pro and it even ate my largest (#5 Camalot) cam. Just when you think it's done, it'll consume your finger and hand sized pieces too.
The top pitch is either a low-5th scramble to the top, or a sport pitch.
Mo' Photos
[img:134386:aligncenter:medium:Karate Crack (photo by Martin Cash)]