Overview
Little Miss Demeanor is a two pitch Ron Olevsky sport route (read pitons, not bolts) located on the 1st tier of the
Sand Dunes area
on
Island in the Sky
,
Snow Canyon State Park
. You can utilize Little Miss Demeanor or Twist and Shout (5.7) to access the 2nd tier avoiding the short scrambling section further to the left. You are not saving time as much as you are just getting another climb in for the day. We normally climb one or the other to access the 2nd tier routes which are much longer and better routes, including some of my favorites:
Gratitude, 5.10c
;
Stepping Out, 5.9
and
Little Nightmare Music, 5.8
. Any of these south facing upper tier routes on Island in the Sky are the best winter routes in Snow Canyon.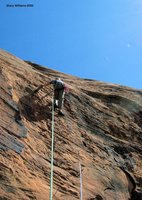 Whenever you are on a Ron Olevsky route in Snow Canyon, you can rest assured it is an older and thus tougher rating, utilizing old pitons versus bolts. Little Miss Demeanor is no exception. It has a pure, almost vertical, slab move through a blank section between the 4th and 5th pin of the first pitch.
Ron had to drill some finger pockets to make this route work and they are slowly eroding making the grade quite sandbagged (or should we say sandblasted).
Like many routes at Snow Canyon, you can combine these two pitches using double rope technique to avoid rope drag. I am not sure why this one is split up, because the 2nd pitch is actually soft for the rating (5.9) in a traverse left to the shared top anchor for Twist and Shout. This is not one of my favorite routes in Snow Canyon to say the least and it is rarely climbed and quite sandy/dirty.
Island in the Sky
displays over 64 routes and is further divided up into nine distinct walls with multiple routes ranging from 5.6-5.12b. There are over 20 published routes on the various walls of
Island in the Sky
across from the sand dunes in Snow Canyon which comprise the
"Sand Dunes Area."
As of 2008, I have climbed most of these routes.
The walls in
Snow Canyon
are comprised of soft sandstone and therefore climbing the same grades in Snow Canyon compared to granite or limestone slabs or hardened sandstone makes the grading somewhat stiffer by consensus. Many of the routes are a mixture of trad and sport, with much of the sport portions relying on older pins versus bolts.
Little Miss Demeanor is a two pitch sport route with fixed stations, all via old pitons (2008).
Access is very easy via the West Canyon day use lot within the park. Park and walk across the road gaining the sandy wash below Island in the Sky and turn right following the walls to the large loose ledges on your left across from the Sand Dunes. Start scrambling at a right to left angle on slick rock. Little Miss Demeanor is the middle route on the wall to the right.
Little Miss Demeanor receives full sun most winter afternoons and thus makes for an ideal winter objective and a little hot for a summer one.
Route Description
1st Pitch-
(65') 5.10a/ Quite stiff for the grade as the drilled holes Ron put in are slowly eroding. From the ground, and through the first 4 pins, is fun crimpy climbing on natural face features. Once you past the 4th pin, the wall starts to give way to an easier angle, but also becomes quite blank except for the several small sand filled drilled holes. Seven pins to two pin anchor that can be easily bypassed with double ropes and really even a single by continuing on to a left traverse of the 2nd pitch which goes easy at 5.9.
2nd Pitch-
(30') 5.9/ Quite easy for the grade, did not seem like 5.9 to me. Traverse left on decent varnish (particularly when compared to the first pitch) past two pins over to the top of Twist and Shout. A two pin station can be located on top of a round sandstone mound above the Twist and Shout corner. You can top rope this pitch on a single 60m with several directional draws placed on rappel.
Scramble back north for your walk off descent via the hand chain to the north of Twist and Shout or continue above to the 2nd tier.
Double 60m ropes will make combining these two pitches easier. Route is fully pinned, so unless you are doing one of the trad routes above on the upper tier, you can get by with just draws.
External Links
Snow Canyon State Park
Red Cliffs Desert Reserve
Best True Technical Clothing and Accessories in the Outdoor Industry, Hands Down....the Legit Climbers Gear at Real Prices
Scarpa has surpassed La Sportiva in terms of quality, function, value and actually stand by their warranties
Osprey Backpacks, Not a Second Choice
Great Outdoors Depot