Warning!
From summer 2012 on this route is closed due to big danger of landslide. In summer and in times of tour skiing the slopes of Marzelkamm should be avoided.
It was planned that start of summer 2013 the renewal of Marzelkamm path will begin.
More details (in German only) on:
http://www.dav-berlin.de/index.php/news-liste/374-bergsturzgefahr-am-marzellkamm
http://www.bergrettung-laengenfeld.at/resources/Marzellkamm-2013.pdf
Thanks for this info to:
salomvary
Overview and Approach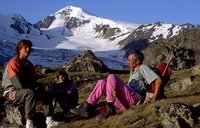 Marzellkamm (Marzell ridge) is a long ridge, extending from Similaun towards the north. Despite its altitude of more than 3000 meters, in summer it is usually not covered with snow. When we scrambled up (August, 1992) we ascended the highest point of Marzellkamm with tennis shoes, for the glacier ascent, which follows to the top of Similaun, you must of course have all the equipment and must rope up. Although this ridge is on some places a bit tiresome, it is still the shortest approach to Similaun from Martin Busch Haus and also a very nice one (3 h 30 min - 4 h).
The route starts at Martin Busch Haus, 2501 m. See the main page of Similaun how to get there from Vent.
Route Description
The marked path starts south of the house and very soon gains 300 meters of altitude. It goes over grassy slopes and soon excells with a great panorama. From the point 2800 m to the highest point of Marzellkamm (3147 m) you go a little less than 2 km mainly by the ridge, only on a few places at the end you need to descend a little on the eastern slopes to avoid ridge rocks.
From the highest point, 3147 m, which is market with a kind of a geodetic sign, you descend a little (50 meters or so) to the upper part of Niederjochferner and soon the route joins the usual route, which comes from Similaunhuette. The last part of the ascent to the top of Similaun is a bit steeper and also exposed, but in good conditions there are no real troubles.
Essential Gear
Good shoes, for the last part of the ascent over the glacier to the top of Similaun you need to rope up and to have the equipment to hike over glaciers.