Overview
Mount Lineham is located in the rugged, windswept
Canadian Rocky Mountains
in stunning Waterton Lakes National Park. Waterton Park, in the southwestern corner of Alberta Canada, is a non-commercialized, beautiful piece of nature often referred to as the Crown of the Continent. Home to lofty mountain peaks, crystal-clear lakes, a superb variety of plants and animals, and calm gently rolling prairies, Waterton is a nature lover's dream-come-true.
Mount Lineham sits to the left of center in this 505 sq km (195 sq. mi) park, offering breath taking, panoramic, views in all directions. To the east is Buchanan Peak. To the north is Mount Blakiston. To the west of the summit one sees the Lineham Lakes . To the south is Mount Rowe.
Mount Lineham is one of the peaks of the Clark Range which forms part of the Continental Divide and also the boundary between the Canadian provinces of Alberta and British Columbia. A small portion of this range extends into the far northwestern section of Glacier National Park, Montana, USA. The range is named for Captain William Clark of the Lewis and Clark Expedition.
Getting There
Mount Lineham is located in Waterton Lakes National Park in Alberta, Canada. This Park is situated 270 km (162 miles) south of Calgary, Alberta, 43 km (27 miles) west of Cardston, Alberta, and about 80 km (48 miles) from the St. Mary entrance to Glacier National Park, Montana. When driving to Waterton Lakes National Park it can only be accessed from its eastern side.
From Calgary take Highway 2 south to Fort Macleod, then west on Highway 3 to Pincher Creek, then south again on Highway 6. The drive requires about three hours.
From Cardston take Highway 5 west, through the village of Mountain View. The drive is less than 40 minutes.
From Glacier National Park, Montana, take the Chief Mountain International Highway (closed in the winter). From the St. Mary entrance of GNP it is approximately a 1 hour drive. In the winter take Montana Highway 89 to Alberta Highway 2 to Cardston, then Highway 5 to Waterton.
Once you arrive at the Park follow the entrance parkway (Highway 5) toward the town site, which is located 8 km (4.8 miles) down the road. En route, you will pass Mount Crandell, which is located directly across the highway from the famous
Prince of Wales Hotel
, about 1 km (0.6 miles) shy of the town. As you pass Mount Crandell, and start down the hill watch for the Akamina Parkway (aka Cameron Lake Road) on the right, as you will want to take that road. The Rowe Lakes trailhead,
the typical starting point for climbing Mount Lineham
, is located 10.2 km up this narrow winding road. Prior to the Rowe Lakes trailhead is the Lineham Falls trailhead at 8.8 km up the road. Just before the Lineham Falls trailhead at 7.7 km is the Discovery Well - a National Historical site commemorating the discovery in 1902 of the first producing oil well in Western Canada.
Click here for a map.
Camping
Camping is not allowed on Mount Lineham, however there are 9 wilderness campsites in Waterton. You should
contact the park
to make reservations for wilderness campsites.
Additionally Parks Canada operates four campgrounds in Waterton Lakes National Park.
Click here
for details.
Routes
Route 1
Drive up to the Rowe Lakes Trailhead as outlined in the getting there section. Follow the Tamarack Trail towards the Upper Rowe Lake for 5.2 km at which point you will come to a trail branching off to the left. The branching trail will take you to the Upper Rowe Lake after 1.1 km. Taking the left will take you to the lake which is a lovely detour but is not necessary. Instead continue more or less straight and the trail will curve back to the north heading up the Lineham Ridge. At the top of the ridge leave the trail, and make your way east to the peak. Notice the Lineham Lakes below and to your right.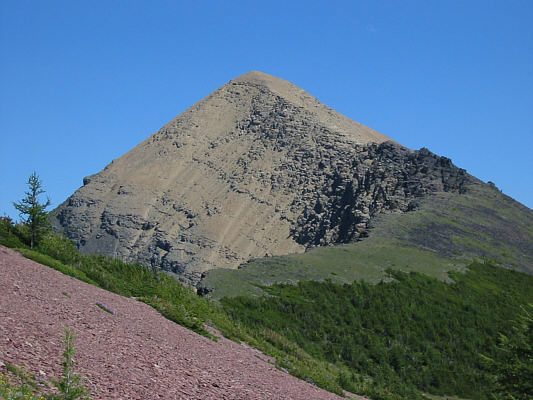 This is the view of Mount Lineham from near the crest of Lineham Ridge.
(Above image is displayed from and belongs to sonnybou.ca)
Route 2
A variation on route 1 is to follow the Tamarack Trail 4 km (or so) into the Rowe Basin, and then instead of going south and up toward the Upper Rowe Lake go north picking your own way up the south aspect of Mount Lineham.
Route 3
Mount Lineham is often climbed as part of the Hawkins Horseshoe, which includes Mount Blakiston, and Mount Hawkins. See the
Routes
section of Mount Blakiston for that option.
Weather
The summers in the Mount Blakiston area are brief with some hot spells (high 35*C/94*F). Winters are long and relatively mild (high 10*C/50*F), with occasional warm spells caused by Chinook winds. This area is often one of Alberta's warmest places in the winter, despite ample snow and temperatures that can occasionally drop as low as -40*C/-40*F.
Wind is a noticeable element of this area's climate, and shouldn't be ignored. Gusts of over 100 km/hr (60 mph) are common, but thankfully they occur mostly in the fall and winter rather than the summer. Note that gusts of over 150 km/hr (90 mph) have frequently been recorded in the area.
This area receives Alberta 's highest average annual precipitation of 1072 mm (42 inches) per year.
Red Tape
In the spring, summer, and fall, one must pay an entrance fee in order to get into Waterton Lakes Park, home of Mount Lineham. There is no fee in the winter. As of summer, 2011 the Canadian dollar daily rates were $7.80 per adult or $19.60 for a family/group.
Click here
for the most up to date rates.
Also note the park has no gas or groceries available in winter.
When traveling to Waterton Lakes National Park from Glacier National Park in the US state of Montana one must be aware of the Canada Ports of Entry operating schedules. Chief Mountain port of entry is open seasonally (closed in Winter) from May through September and Carway/Peigan port of entry is open year round from 7:00 a.m. to 11:00 p.m.
Interesting Facts
This mountain was named in 1916 after the late John Lineham. John Lineham was Canadian politician and businessman involved in the lumber, oil, and agriculture industries. He was elected to the Territorial Legislative Assembly in 1888. Born the 21st of March 1857 in Mitchell, Upper Canada he passed away at the age young age of 56 at his Empress Hotel in Calgary leaving behind a fortune worth $436,000 (a lot of money in 1913 Canadian Dollars).
Frank Globe, in his book "Bears I have Known", states this "John Lineham, a partner with Russel Patrick and G.K. Leeson in the Rocky Mountain Development Company. The company did a lot of drilling around Oil City. Lineham Lakes, Lineham Mountain, and Lineham Creek (orginally named Seepage Creek because of a big heavy oil seep beside the creek at the first small falls in the mounth of the Lineham Valley) are all named for John Lineham."
An interesting geological feature of Mount Lineham is its Purcell Sill. When viewed from the Akamina Parkway a horizontal black stripe is very noticeable on the impressive North East face. This stripe is the Purcell Sill, created when molten rock was injected under incredible pressure between layers of sedimentary rock. The magma (molten rock) then slowly cooled to become diabase, the coarse grained equivalent of basalt. Igneous rock such as this is very rare in the Canadian Rockies.
Mount Lineham sits to the left of center in Waterton Lakes National Park. Waterton was Canada's 4th national park, and is the smallest in the Canadian Rockies at a measly 505 sq km (195 sq. mi). To get an idea of just how small the park is, at its widest point it is about 30 km (less than 20 miles), and its largest length is around 23 km (14 miles). A 195 sq miles is a square approximately 14 miles long by 14 miles wide. Nonetheless for such a small area, Wateron is full of numerous mountains, lakes, streams and wildlife, and one could spend many years exploring it.
Peaks of Waterton
Lineham is one of the 25 named peaks* of Waterton. Which are:
1. Alderson, Mount
2. Anderson Peak
3. Bauerman, Mount
4. Bellevue Hill
5. Bertha Peak
6. Blakiston, Mount
7. Boswell, Mount
8. Buchanan Peak
9. Carthew, Mount
10. Crandell, Mount
11. Dungarvan, Mount
12. Festubert Mountain
13. Forum Peak
14. Galwey, Mount
15. Glendowan, Mount
16. Hawkins, Mount
17. Kishinena Peak
18. Lineham, Mount
19. Lone Mountain
20. Lost Mountain
21. Newman Peak
22. Richards, Mount
23. Rowe, Mount
24. Sofa Mountain
25. Vimy Peak
* The list of 25 named peaks in Waterton was arrived at by comparing http://www.glaciermountaineers.com/pdfforms/peaks-waterton.pdf to http://www.peakfinder.com/displaypark.asp?ParkName=Waterton. The six ridges included in both lists were removed as was Bears Hump from the glaciermountaineers list. The peakfinder list appears to be missing two peaks namely Kishinena Peak, and Festubert Mountain.
Panoramic View
Panoramic View From Nearby Mount Crandell, with Mount Lineham labeled on the far right
(you will need to use the horizontal scroll bar below to see the label for Mount Lineham).
The image below is displayed from and belongs to
explor8ion.com