Overview
Mount Pervical is a beautiful summit located in the New Hampshire Lakes Region of central New Hampshire. This summit has excellent views of the many of the lakes in the Lakes Region as well as the Belknap Mountains and the many of the White Mountains including Sandwich Dome. The rocky summit provides a lot of bang for the effort and is fun summit either to combine with nearby Mount Morgan to for it by itself.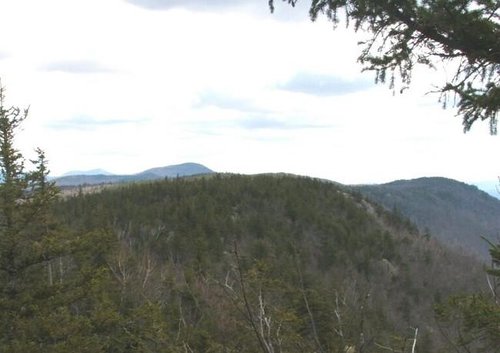 The mountain itself is popular destination for hikers in May before the higher White Mountain melt out of snow and in the fall when many of the White Mountains have already lost there leaves. The trail up though is steep rocky and has some exposure in places which doesn't leave it as desired in winter. In winter if you choose to go up be prepared for icy open and exposed terrain. Even though this summit is small by New Hampshire standards it still be quite hazardous if a hiker is not well equipped for winter travel.
Route Description
Mt. Percival Trail
1.9 miles
1419 elevation gain
The Mt. Percival Trail is the harder of the two trails to hike. Unless you plan on taking the cliff trail to the top of Mt. Morgan, use this trail as your ascending route. The trail begins like the Mt. Morgan Trail as a very gradual climb . It moderate a little each time until around 1.6 miles it become very steep and rocky. Due to the steep angle, very poor footing and some dropoff this section raises to a Class 2 trail. The trail continues it's steep climb until nears the summit at 1.9 miles. There is a side path that go through a boulder cave and is even steeper and rockier than the trail.
Directions
VIA MOUNT MORGAN TRAILHEAD: From I-93 get of Exit 24 and head east through the town of Ashland. Stay on the road and take 26 east to Holderness. At about 2 miles you will at the town center of Holderness. Make a left onto Route 113 and head roughly 10 minute on the road. there will be parking 5 miles on your left. The Mount Percival trail will start on the 0.3 miles down the road on the left. This trailhead will be filled on the weekend so get prepared to park on street.
Essential Gear
In summer no major gear is needed to hike Mt. Morgan. However in winter both snowshoes and crampons are highly recommended due to the fact that this trail can become very icy. The trail also has poor footing and in winter would not be a good descending route.
Links
Trip report to Mount Percival
More information on Mt. Percival
Another trip report on Mount Percival