Overview
This is perhaps the easiest route up Mount Yeckel. In winter, the trail is well marked and well used, though navigation skills are still required.
The route itself offers great views of the Elk Range all along the way.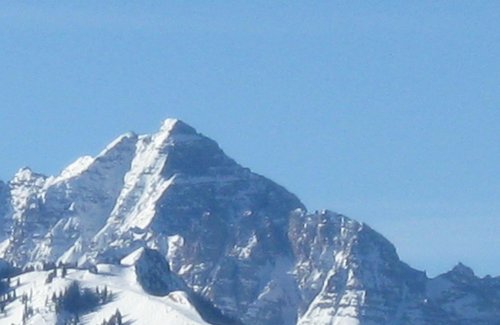 Getting There
Luckily, this trailhead is easy to find, in contrast to the trailheads closer to Aspen. Turn east off Highway 82 and onto the Woody Creek Canyon Road 6.5 miles NW of Aspen. Turn left on CR 17 just after 1.2 miles and turn right onto Woody Creek Road (CR 18/FR 103). Drive 8.5 miles to the parking lot near the end of the plowed road. Although the trailhead is easy to find, the parking lot is often full so you may have to park down the road a ways.
Route Description
From the trailhead, the trail heads east up (summer) FS Road 103. The trail crosses Woody Creek and after a short distance, the route leaves FS 103 and heads up a marked ski trail along Silver Creek before turning east switchbacking up Johnson Creek. The trail steepens here until reaching another roadcut to where the route heads east and then north to a saddle (near Point 11,376 on the topo map). From here the trail turns northeast and through the trees to Margy's Hut (note: if using this trail as a decent route from Margy's make sure to follow the map carefully and make sure not to head down the creek to the Northwest. Keep in mind the trail actually crosses the saddle just east of Point 11,376 before heading south).
At Margy's Hut, make sure to get out your map and follow carefully. There are several routes up Mount Yeckel from Margy's hut. You can head north and then east along an old road or head northeast and more or less up the minor spur to the summit. Along the way you will pass over several false summits before arriving at the true summit. Enjoy the fine views of the Elk Range, Holy Cross, and Hunter/Frying Pan Wilderness, each area with a sea of peaks.
There are potential avalanche slopes around Mount Yeckel, but with careful routefinding they can be avoided.
This route has 3450-3500 feet elevation gain and is about 15 miles route trip, depending on which route you choose for the final assault. In winter, most people will want to make this a two day trip while spending one night in Margy's hut.
Essential Gear
Snowshoes or skis and normal winter gear is required. An ice axe and crampons are not required.