Overview
Of all the peaks to the east of Aspen, Mount Yeckel probably has the most spectacular views. The mountain is right on the edge of the Hunter Frying Pan Wilderness. Mount Yeckel is located just over one mile Northeast and 500 feet above the Margy's 10th Mountain Division Hut and the peak also is above Aspen, one of the most famous ski resorts in the United States.
The mountain can be climbed year round, but most people come in the winter and in the summer with few coming in the spring and fall. Summer and winter views of the Elk Range and Holy Cross Wilderness are superb. Those who aren't into winter camping can also stay in the hut, so a lugging a huge pack in winter is not necessary.
Getting There
Lenado Trailhead
Luckily, this trailhead is easy to find, in contrast to the trailheads closer to Aspen. Turn east off Highway 82 and onto the Woody Creek Canyon Road 6.5 miles NW of Aspen. Turn left on CR 17 just after 1.2 miles and turn right onto Woody Creek Road (CR 18/FR 103). Drive 8.5 miles to the parking lot near the end of the plowed road. Although the trailhead is easy to find, the parking lot is often full so you may have to park down the road a ways.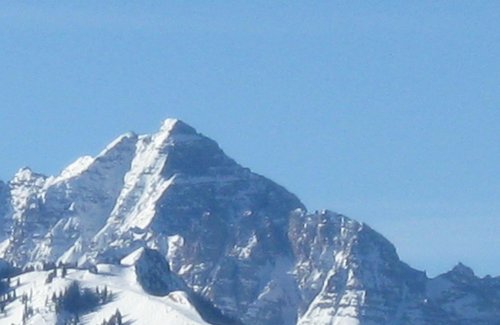 Routes Overview
The
Lenado Route
is only route I am familiar with. In winter, this would be a very long ski or snowshoe (15 miles round trip with 3200 feet elevation gain), so most people stay overnight in the Margy's Hut. In summer, it would be an easier day hike, especially if you can drive up the road.
Some people take the route over from Margy's Hut near Mount Yeckel and to Bald Knob and the McNarma Hut and the route is a nice three day loop taking in both Mount Yeckel and
Bald Knob
.
The
Norrie Route
is another possibility. This route is 17.4 miles round trip. Since I haven't done the route, please consult the
Colorado Hut to Hut Guidebook
.
The
Granite Lakes Route
is another possibility, but is apparently sees very little use and I'm not familiar with it. See the book mentioned above. This route is about 20 miles round trip.
Red Tape
There is no red tape.
Camping
Camping around Aspen in winter is problematic at best. I assume you would be safe to sleep in the vehicle at the trailhead since most everyone parks there overnight anyway, but there usually isn't any room to put a tent up, which would be frowned upon anyway.
In summer there are many campgrounds in the area, but they are often full.
The Aspen/Basalt Campground is open year round. The address and phone number is as follows:
20640 Hwy 82
Basalt, CO 81621
Phone : 970-927-3405
Fax : 970-927-1059
email : abcrv@comcast.net
If you want to book the Margy's Hut, see the website below, but make sure to do so well in advance, especially on a weekend:
10th Mountain Division Huts
The hut is open Thanksgiving to April 30 and July 1 through September 30.
When to Climb
Anytime is a good time to climb the peak and it has easy access year round. Winter and early Spring may be best since the peak has easy access. In summer, there is a road pretty high on the mountain, so it may be less attractive than in winter. Much of fall brings hunters, but the aspens would be nice in late September.
Mountain Conditions
Click Here For Area Weather Forecast
Weather and climate data for Independence Pass 5 SW Station at 10,510 feet elevation is below. *National Weather Service Data 1948-1980.


MONTH
AVE HIGH
AVE LOW
REC HIGH
REC LOW
AVE PRECIP (in)
AVE SNOW (in)
JAN
27
-2
48
-26
3.51
50.1
FEB
30
-1
50
-24
2.46
39.6
MAR
36
7
58
-24
3.97
58.8
APR
42
12
60
-18
3.48
45.1
MAY
51
22
65
0
1.96
20.6
JUN
63
30
78
12
1.11
3.8
JUL
68
35
80
22
2.23
0
AUG
66
34
76
22
1.91
0
SEP
57
29
73
4
1.70
4.9
OCT
47
20
69
-10
1.76
20.3
NOV
34
7
56
-20
2.72
43.0
DEC
27
0
50
-30
3.02
50.8