Overview
The standard and shortest route to the summit of Mt Whymper.
Runs from the top of spur C29 west up the slash and into old growth above. Class 3 bluffs lead to open, gentler angled ridge hiking to the summit.
Getting There
Follow the directions from the Island Highway to the gated Copper Canyon Main as described in the parent page.
At ~ 42 km from the gate, watch for a marked spur "C27" on the right. Lock in 4WD here. Proceed up C27 for 1.5 km and make a very sharp uphill right turn onto spur C29. Note that C29 can also be accessed directly from Copper Canyon 2.5 km beyond the C27 turn. From the C27/29 junction proceed a further 3.5 km right to the top of C29 being careful to keep right at a critical junction 2.0 km after turning on to it. Elevation at the top of C29 is 1,080 metres.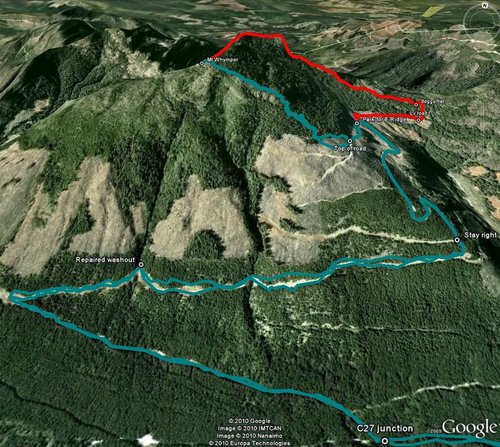 Park at N48 56.807 W124 09.010 for the standard SE Ridge Route.
Route Description
From the parking area at the top of C29 walk up the road to about N48 56.759 W124 09.093 and pick up a flagged route through the logging slash and hike west to the old growth forest above.

Continue on the flagged route (snow) and a use-trail (dirt) heading up through the forest in a northwesterly direction. In winter or early season on snow, some will appreciate an ice axe or even crampons here.





After 10 to 15 minutes of climbing a series of bluffs bar immediately obvious progress. However, a nice Class 3 line is well flagged through them and soon brings the climber out onto the open alpine of the SE Ridge with the summit microwave tower in view.

Thereafter, simply follow the easy ridge to the top. Best done in early season on snow.

A MapSource GPS tracklog of the road approach and route is available to any reader on request. Simply email or send me a PM.
Essential Gear
Ice axe when the route is under snow and often crampons for steep, frozen snow in the old growth below the bluffs.
Weather, External Links, Red Tape, Maps etc
Refer to the parent page
Page Visitor Statistics