Introduction and History
Situated between the headwaters of the Chemainus and South Nanaimo rivers on southern Vancouver Island, Mt Whymper and its neighbours, Mts
Landale
, Service and El Capitan, mark the southern terminus of alpine terrain on the Island. Mt Whymper also has the distinction of being the highest mountain in Canada ......
....... south of the 49th Parallel.
The mountain bears a name familiar to all mountaineers but is not named after Edward, conqueror of the
Matterhorn
. Rather, it is named for his elder brother Frederick.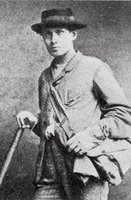 In the days before photography, those with artistic skills were sought after and readily employed by entrepreneurs needing a permanent visual record of their activities in the burgeoning economic milieu of the west coast. Frederick Whymper (1838-1901) was one such artist and had already worked in the Cariboo and for Alfred Waddington in the Homathco Valley before arriving on Vancouver Island in 1862.
At this time the Vancouver Island Exploring Expedition (VIEE) committee, under Dr Robert Brown, was formed in order to extend knowledge of the Island beyond the east coast and a few west coast settlements that could be reached by sea. Brown hired Frederick as the expedition's artist and he spent the summer of 1864 exploring and sketching the mountains, rivers, lakes and valleys of southern Vancouver Island.
There is firm evidence that the younger – and arguably more famous – Whymper visited Vancouver Island sometime in the period 1901-1905. Since the first year in this period coincides with his brother's death, it would be logical to conclude that he did so for family reasons. There is also a suggestion that Edward climbed
Mt Arrowsmith
in 1905. There is no evidence, however, that he climbed to the summit of the mountain that bears his family name.
In contrast to a century and a half ago, Mt Whymper and its neighbours find themselves at the centre of the industrial carnage all to often evident on Vancouver Island. The Cowichan, Chemainus and Nanaimo river valley bottoms and far up every remotely accessible slope have been clear-cut to devastating effect. Intermittent road closures can often frustrate access. A gated road with a surly custodian may turn you away one day only to be replaced by his charming and welcoming brother the next. You take what you're given in this neck of the woods.
In spite of all this, Mt Whymper is well worth a visit. If the roads are open and clear, the summit is only an hour or so from the highest road and, if you ignore the devastation in the immediate area, the southern Island views of mountain and sea are spectacular.
Getting There
Vancouver Island can be reached by air from Toronto, Vancouver, Seattle, Calgary and Edmonton to Victoria, Nanaimo, Comox or Campbell River and by ferry from Port Angeles to Victoria on
The Coho and on
BC Ferries from Vancouver to Victoria or Nanaimo. Public transport on the Island is notoriously poor and anyone arriving by air would be advised to rent a car.
There is some gravel road involved in getting to the access spurs but, generally, a normal 2WD sedan is fine. Progress up the access spurs is for high clearance 4WD vehicles only.
Most visitors will approach the area from the Island Highway 19. Just north of the Chemainus traffic light on the highway turn west (left) at either Smiley Road or McMillan Bloedel Haul Road. Both lead to Copper Canyon Main. Proceed ~ 1km to the gate and begin your negotiations with the gatekeeper. Assuming success, proceed west on the graveled but well surfaced road.
At about 35 km from the gate at the turnoff for Reinhart Lake keep left to follow the Chemainus River. The turn is well marked by an old donkey engine.
Current Road Conditions
As well as patience with obdurate gatekeepers, come prepared with a sufficient amount of the same quality in reserve in case you have to walk the access spurs. Upper Copper Canyon Main has been worked very recently and winter blowdown and washouts are a non issue. As of mid June 2011, Copper Canyon Main is completely clear and 2-wheel driveable. C27 and C29 are both 4WD accessible. A major washout on C29 at the 1.3 km mark noted in January 2010 has been repaired and the road is currently accessible to about 800 metres elevation. It would look to be another 2 weeks before the road melts out right to the top parking area. Always check conditions with Timberwest beforehand.
Park at N48 56.807 W124 09.010 for the standard SE Ridge Route or a little lower at N48 56.913 W124 08.976 for the E Ridge option.
Summary of Summit Routes
Red Tape
The whole trip described above is on private land leased by the Crown to Timberwest Forest Corp. You should consult
their website
regarding road openings and closings before you go.
A very useful number to have is the gatehouse at the entrance to Copper Canyon Road at 250-246-9808
As always, make sure that you have left a detailed trip plan with someone responsible. The RCMP and the appropriate SAR agency will respond in an emergency but it is up to you to have the mechanism in place that will initiate the call-out process if it becomes necessary.
Camping etc
Currently there is a ban on camping in the watershed. Mt Whymper is generally considered a day trip anyway. Fires are strictly prohibited. Giardia is well documented throughout Vancouver Island, so if you collect any water in the area, sterilise it by boiling or chemically.
Useful links
For additional route information refer to
Island Alpine
– A Guide to The Mountains of Strathcona Park and Vancouver Island, Philip Stone, Wild Isle Publications, 2003, ISBN 0-9680766-5-3
For precise directions get hold of a copy of
Backroad Mapbook. Volume III: Vancouver Island
Weather and other considerations
Youbou weather
will likely reflect the most accurate forecast for Mt Whymper.
For winter trips consult
Vancouver Island Avalanche Conditions
Maps
The correct map for this trip is the government topographical map sheet 92 C/16, "Cowichan Lake". Advance copies can be ordered on-line at
this link.
Copies are usually readily available in good bookstores and outdoor stores throughout the Island.