Overview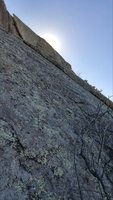 The wall is one of many on the "backside" (north side) of Enchanted Rock, and it is almost the farthest west (climber's right) of the walls considered to be part of the Backside.
Trad routes here are on good granite, and the bolted lines are slabby.
Getting There
From any parking area, get to the Summit Trail and follow it. After it gets pretty steep, look left for a sign diverting hikers to Echo Canyon. Take that fork, go over a divide, and then descend to a large board with all kinds of regulations and other information posted.
Now bear right on a prominent hiking trail; this is the Backside Trail, not the Loop Trail, though it can be part of a loop around the dome. Hike on it until you see the blue climbers trail, which leads uphill to the base of the wall. It puts you almost right at the base of Sweat, probably the most recognizable route on the wall. Sweat (5.7) is also the best trad route on the wall, arguably the best 5.7 trad route in the park, and one of the best routes overall.
Routes
From left to right along the base of the wall:
Baba Wawa (5.7-)-- TR route. Climbs a right-facing flake to an alcove.
Nobody Likes Bryant Gumbel (5.9-)-- TR. Climbs a black water streak.
Late Night (5.6+ R)-- Above and left of Walter Funkite is a notch. From that notch climb past a flake and then up the face. (This is basically copied from Sean O'Grady's Enchanted Rock: A Climber's Guide.)
The Today Show (5.7- X)-- Start on Walter Funkite. After pulling the "crux" to reach the huge crack, go straight up.
Walter Funkite (5.4)-- Head up to the small overhang. You might get a gear placement along the way, but it's so easy that you might not bother. You can protect the pull over, which is the crux. Then you follow the huge crack up and right. The crack is at first low-angle and so wide that you might just skip pro, drop one leg in, and scoot along, but it will take 3.5, 4, and 5 cams if you want to protect it. It might even take a 6. The traditional route ends at anchors by a large tree, but a short second pitch follows a seam to the top of the dome, from which you can hike down and bask in the admiration of non-climbers who marvel over your gear.
Good Morning America (5.8 X)-- Can also be done as a TR. Start between Walter Funkite and No Sweat and go straight up to anchors.
No Sweat (5.5)-- Crack route up and right to anchors. Some use this to set a TR for Sweat or the harder sport and TR lines by it. Please don't do this if trad parties show up wanting to do Sweat.
More Sweat (5.9)-- TR. Use the Sweat anchors and go straight up the face left of Sweat.
Sweat (5.7)-- The O'Grady guide calls this a 5.6. Just about everyone else calls it 5.7, and although I usually post the published grade, here I am going with the consensus. Plus, having led this route, I can say it is a definite step up from the 5.6 trad lines I have done here (so far-- Smorgasbord, Cave Crack, and Chimney Crack). Anyway, this is a must-do lead for any trad leader. It takes a variety of gear up to a 3.5 cam, which protects the start. Bolted anchors.
Pro Sweat (5.9)-- Bolted line just right of Sweat. Bolted anchors.
Face Right of Pro Sweat (5.9)-- 3-bolt line right of Pro Sweat. Crosses the overlap and ends at bolted anchors.
Slippery When Sweat (5.6)-- Things can get confusing here. I only know of this route from the Mountain Project Page for News Wall; the O'Grady guide does not mention it. Both the guide and the MP page list Chunky Tuna (5.5), which follows the overlap to the right of the other Sweat climbs, as part of Center Wall, yet Slippery When Sweat is clearly to the right of Chunky Tuna. Anyway, use my pictures to locate the route, which is the other one here that can be extended to reach the top of the dome. Go up an easy slab to an overlap that has a horizontal crack beneath it (you can place pro in the dihedral to the right, but it might make serious rope drag later on). Traverse beneath the overlap, placing pro, until you round the corner. Then follow the overlap up until it runs out not far below another one. Build a gear anchor from the crack beneath that higher overlap; the problem is that it is dirty, but hey, if you use three pieces, at least one should hold! From the belay, use Caver's Nightmare (5.4) to reach the top. From below, there is a horrible-looking flake/chimney. Up high, you see a slot just to its right; that is CN. It is not 5.4, really just a scramble, though a very tight squeeze for a gear-laden 6', 180 lb leader, but you can protect the entrance with a cam.
Best recommendation for a good multi-pitch here: Climb Sweat, clip the left bolt of its anchors, and climb easy ground to the Funkite Anchors. Belay. Climb the short seam to easy ground above and belay. Scramble to the top of the dome and walk off. To make the second pitch more interesting, walk left above the seam to a nice crack splitting a short wall. Place pro from the ground (I used a stopper) and then climb this 10' crack, which feels about 5.6.
There are bolted anchors, as noted, for several climbs, but it makes sense to know how to build gear anchors as well.
Red Tape
There is a $7 daily entrance fee.
Climbers and rappelers are required to sign in. You are not required to pay a fee, get a permit, or list where you will be climbing; but you have to name the members of your party, note your climbing dates, and sign a waiver.
Periodically, the park closes for permitted hunts. Check the park website (final section below) for these and other possible closure periods.
On weekends and holidays and during school breaks, the parking lots often fill by as early as 10 or even 9 A.M. When that happens, the park closes for up to three hours at a time. Signs on major access roads will announce these closures, but that doesn't help if you're not local, so you might want to call before leaving. From the park's website: "Flashing signs on approaching roads will also alert you if the park is closed. One sign is north of Fredericksburg on R.R. 965; the other is on Hwy. 16 near the R.R. 965 intersection."
I saw this situation myself on Thanksgiving Day 2016 (fortunately, I had come in two days before and was camping), so it is no joke.
When to Climb
Early spring and late fall are best, but winter has a lot of good climbing days. Unless you're out here really early or really late, you pretty much don't want to touch this place May through September, though there are climbs in the park that are good in the summer.
Camping
The park has a campground and also allows primitive camping (backpacking) in designated zones. Reservations are strongly recommended. See the park website.
External Links