Overview
It is a gorgeous, surprisingly featured yet calm snow ridge. All of the harder sections can be traversed around to the west, usually through trees. The ridge is nearly a mile long so it can take quite a bit of time. From the north it doesn't have a lot of prominence but it carries itself with the swagger of a bigger mountain. Maybe it is the rounded knob of a summit being dwarfed by two ridges that makes it look so large. The entire climb the summit looks farther away than it is and then at the last bit sneaks right up on you.
Getting There
In the winter, approaching from the Silver Fir Express(Snoqualmie Central) parking lot is the easiest/quickest option. If you are not comfortable snowshoeing/skinning up where your not supposed to be, then start at Hyak(Snoqualmie East).
From the ski run furthest to the east; Outback, take Tanner's Way up to the central hub of the nordic trails and continued to the west along the Nordic Loop. Once in Olallie Meadows, Silver Peak is directly to the south, and just across the clearcut.
Here is the same photo, with a fun little green line on it.
Route Description
Begin the ridge wherever you would like, if you would like to save time and the avalanche danger is low you can climb directly onto the ridge from the bowl at many points.
If you have enough time to start the ridge right up out of the flats, I would highly recommend it. The 2009/10 season left a few out croppings of rock to scramble over and it gave the climb some variation. The climbing is simple and fun, with or without crampons.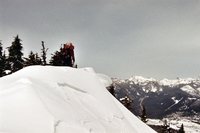 One of the many flatter sections perfect for staring around in awe.
Looking up at the false summit.
There are trees somewhere under there.
Strong winds blowing up and over the summit.
Recommended Gear
Ice Axe and Crampons.