Overview
Omega
IV,6M. 700m.
Patrick Gabarrou and Feran Latore, 24-25/03/1994
.
Original grade: IV/6 UIAA VI A2/A3
Second ascent:
Philippe Batoux and Benoit Peyronnard, 9-10/12/2004
.
Third ascent, and probably first free ascent:
Nick Bullock and Stuart Mac Aleese, 4-5/01/2005
Probably 4
th
(?) ascente:
Ildi e Manu Pellissier, 26/12/2006
Our ascent 5
th
(?):
Giampaolo Betta and Matteo Faganello, 27/12/2006
Free and one-day ascent
Getting There
From France - Chamonix-Montenvers - (Refuge de Leschaux)
Follow the Mer de Glace (same as for Rif. du Requin) until it turns to right.
Now you have to cross it (red marks) until the lateral moraine to get the Glacier de Leschaux.
Cross the medial moraine and follow directly on the glacier.
Now you can see the North-West face of Petit Jorasses.
Before the glacier becomes steeper you can see the Refuge de Leschaux on the left.
You can reach the base of the face in 5 hours from Montenvers.
Route Description
Pitch 1
The "rimaye" is followed by a 80° corner of neve and ice. During our ascent the rimaye was very opened and the first ten meters of the corner were dry. (60m)
Pitch 2
A very nice and steep (85°) pitch of neve and ice in an opened wall leading to the suspended glacier. (60m)
Pitch 3-4-5-6
Follow the snowfield (40°). A steeper step leads to the gully (70°). Then follow the snowgully till its top. (250m)
Pitch 7
A very nice gully (75°),
an overhanging V-grove (90°),
and finally a thinly iced slab (80°). (60m)
Pitch 8
A short step (70°) above the belay leads to the second snowfield (40°). Follow it till its top. (60m)
Pitch 9
A nice chimney-gully (75°)with thin ice on the right side. (60m)
Pitch 10
An amusing gully (75°) and an overhanging difficult step (95°). (60m)
Pitch 11
Another chimney-gully (75°)
and a thinly iced slab (80°) on the right,
followed by an easy overhanging stone. (35m)
Pitch 12
An amusing iced corner (80°) and then a difficult thinly iced or dry slab (85°). (35m)
Pitch 13
A short gully (75°) with an easy dry step leads to the last snowfield. Follow it (40°) until the col between the nord pillar and the nord-west wall of Petites Jorasses. 60m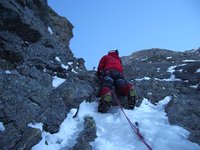 Pitch 14
Follow the mixed "couloir en plein nord" (65°) as described by Damilano. A thinly iced or dry step leads to the belay. (60m)
Pitch 15
A thinly iced slab (65°), a snowfield and a last dry step (75°) lead to the summit ridge, 15 meters far from the summit of Petites Jorasses. (50m)
Descent
15 abseil.
Actually all anchors (except for one abalakov) are well equipped in the rock.
Essential Gear
We had:
Friends Camelot: 0,5 - 0,75 - 1
Excentrics Camp: 9 - 10
Stopper Serie DMM
5 short and medium screws
Several pegs, but we didn't use any peg
External Links
http://www.alpinist.com/doc/ALP11/climbing-notes-bullock
http://www.sportclimbing.de/news/news.php3?ID=4106&time=01&year=2005&show=
http://www.ohm-chamonix.com/fiche.php?id=02&req=1&ling=Fr
http://www.gulliver.it/modules.php?name=gulli_itinerari&file=dettaglio&n_area=&id_gita=9678
http://pbatoux.perso.cegetel.net/alpes_images/omega/
http://www.intotherocks.splinder.com/post/10884247