Overview
Quito
(population 2.1 million) is the world's highest capital city.
Located at 2,850 m (9,350 ft) and in the central valley or "
Avenue of the Volcanoes
" it is considered as the perfect base city for those seeking for outdoor activities such as mountaineering, hiking, trekking and rock climbing activities.
Even though Ecuador is not a good rock climbing destination due to its natural volcanic poor rock quality which is very rotten and loose, there are many climbable cracks and rock slabs suitable for climbing scattered along the country, some of them are located within Quito's city limits, surrounding valleys and in its residential areas outside the city.
Climbing crags near the Quito area
These following are some of the new developed rock climbing areas located within the city limits and surroundings:
-
Rocodromo
This outdoor climbing gym is located just 15 minute-walk from La Mariscal area, right across Coliseo General Ruminahui in the neighborhood of La Vicentina.
The climbing facility consists of three artificial climbing walls and a boulder area. It is run by
Asociacion de Escalada y Andinismo de Pichincha
(AEAP).
There are many sport climbing routes there, some of them as hard as 5.12c in the Yosemite Decimal System.
Climbing gear such as ropes, harnesses, shoes, chalk bags and carabiners can be rented at the rock building facility (castle-like structure).
El rocodromo is open daily from 8 am to 7:30 pm.
Rocodromo Info
-
Las Canteras de Cumbaya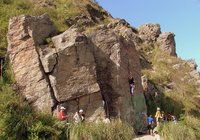 These are huge volcanic slabs suitable for climbing scattered right next to the old highway to Tumbaco and just 10-minute-walk from Quito.
This area offers a wide diversity of interesting and challenging routes rated from 5.7 to 6.11b (YDS) and are about 12 meters high.
The routes are bolted and the anchoring systems on top of each slab are very well placed for setting climbing protection or top roping.
Las Canteras Routes Info
-
Sigsipamba
It's the most visited climbing zone for Quito's climbers especially on weekends. It has 20 routes of different styles and complexity ranging from 5.9 to 5.13b in the Yosemite Decimal System.
It is located 50 minute-bus ride from Quito on the way to Papallacta, better known for its hot springs.
The routes here are tall and bolted with many options to choose from. There's a wide open area at the base of the climbing wall and can be used as a campground. New routes are being developed lately in this area which stimulates more challenges on climbers from Ecuador and abroad.
- Campo 4
One of the coolest Indoor Rock Climbing Gym In Quito. Great installations with fun climbing walls, bar/cafeteria and even a sauna!
Check their site out for more information and directions, pretty awesome! 
http://campocuatro.wix.com/escalada-quito
Getting there
The climbing areas can be reached easily by car or public transportation from
La Marin
area in downtown Quito and from
Estacion Rio Coca
"ecovia" in the north.
Red Tape
-Entrance fees are collected at Rocodromo and Sigsipamba. No parking fees required.
-Pets are allowed in all the climbing areas.
-Bring insect repellent.
Camping
Camping at the rock climbing areas near Quito is not advisable, but in Sigsipamba where the nearby neighborhood took responsibility for the safety and area maintenance.
External Links
www.monodedo.com
Miscellaneous Information
Guidebooks
:
-
Ecuador, Climbing and Hiking Guide
. Rob Rachowiecki and Mark Thurber. (6th Edition). Aug. 2008.
-
Ecuador & the Galapagos Islands
. Regis St Louis, Lucy Burningham, Aimee Dowl, Michael Grosberg. (8th Edition). Aug. 2009.